We having a picture that has been spread on the internet lately. The picture got the eyes of so many people that uses Twitter an other social media platforms. It's not anyone that can say they have seen this kind of things happening. People are surprised with what the boy did. 
Photo: Twitter.
Some people are really into labels, when they are wearing one they will make sure they show it to everyone, an that's not how it supposed to be. This young man her wanted peoole to see that he is wearing one of the most expensive brand.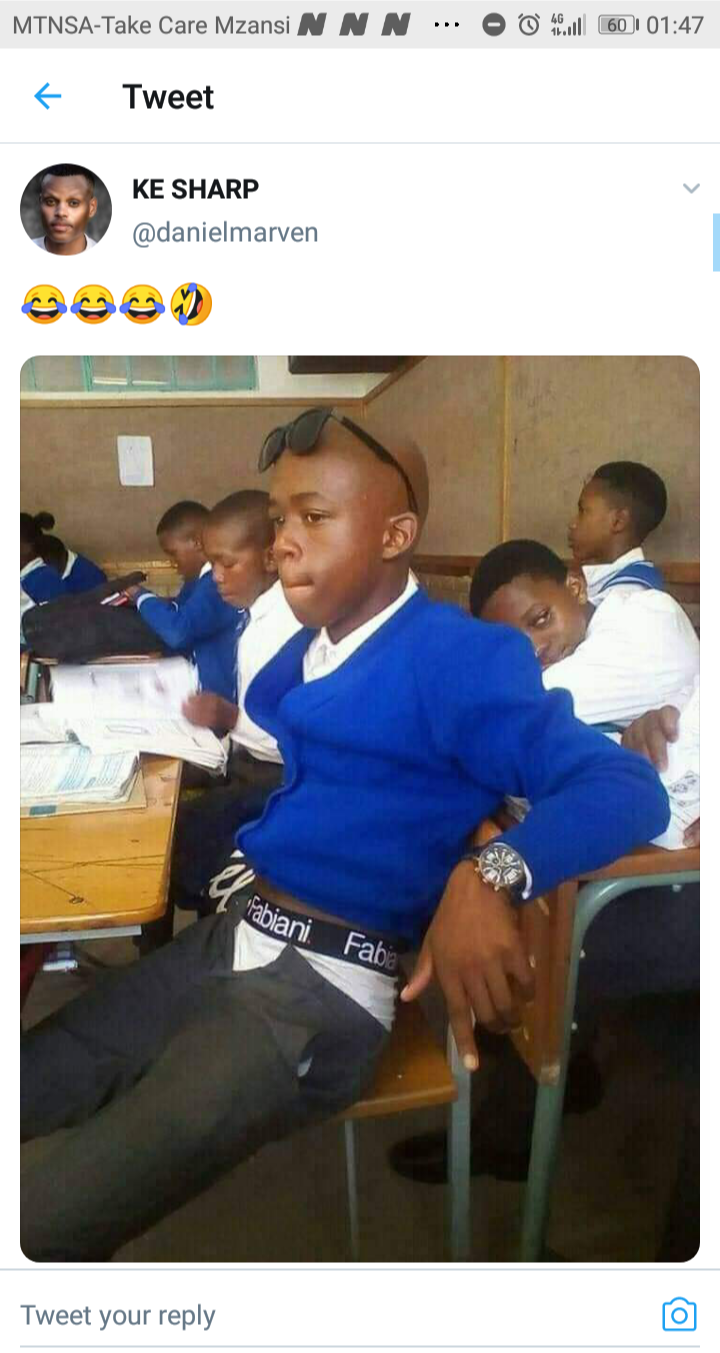 Photo: Twitter.
We having those kind of people, they are acting as if they own everything because of their label. Look at that young boy, he shows that sometimes he doesn't respect his teachers, because there is no one gbag can wear like that.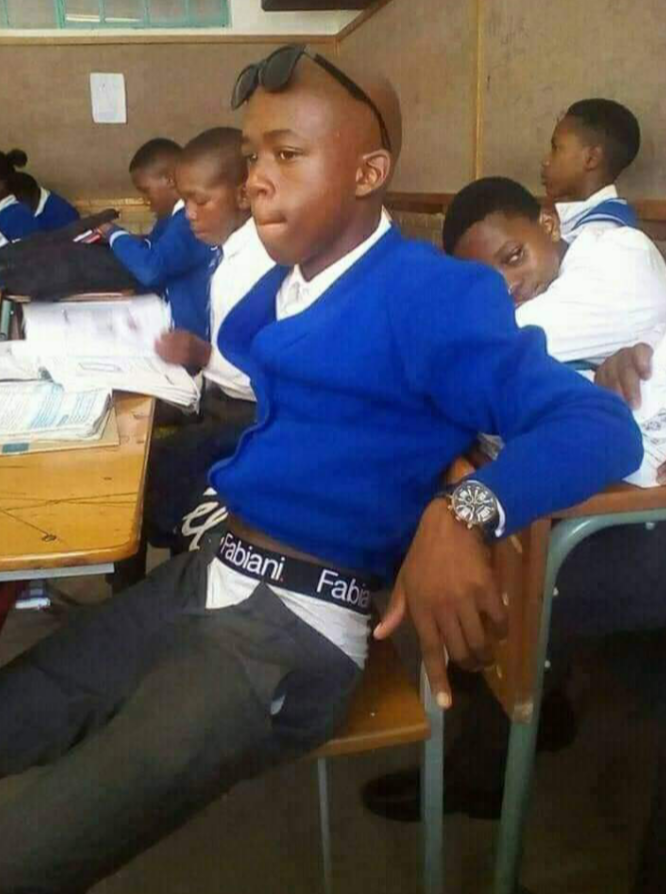 Photo: Twitter
What he is doing there doesn't show any respect, because the teachers won't love that. He must wear properly like other learners, because he is not even special. He is there for learning not to show off the things he wears.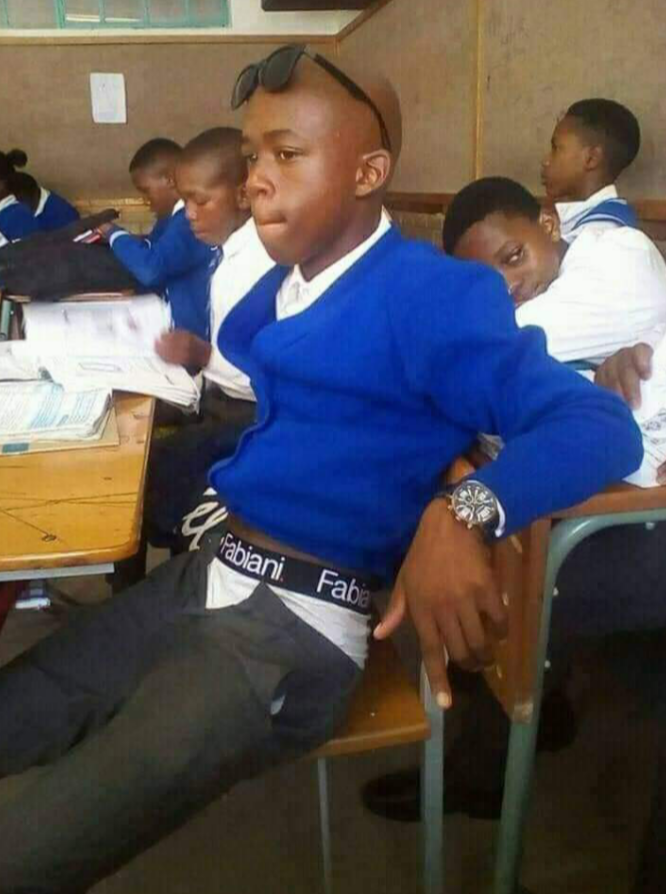 Photo: Twitter.
We don't disagree with the fact that he rocks good clothes, but somehow he is disrespecting his teachers. They must make sure they give him a punishment, because what he is doing can corrupt other learners around.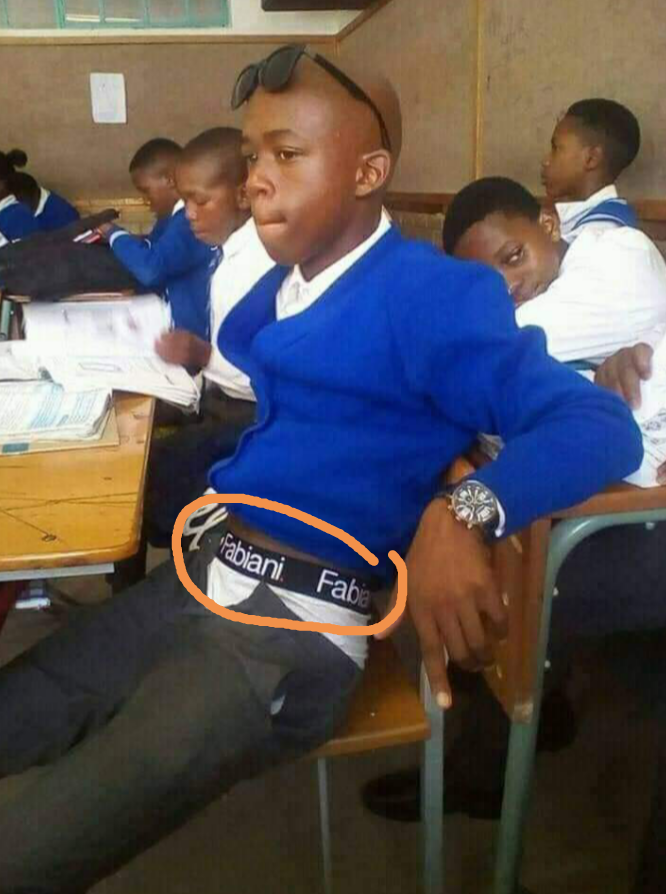 Photo: Twitter.
Some of the learners will also start wearing like him, when they also wearing their expensive boxers. People are amusing about all of that, because it's their first time seeing a person doing such thing, especially at school. 
Photo: Twitter.
The boy must be given a serious lesson because his attitude doesn't seem like a person, that wants to see himself schooling. They must make him choose between the two, it's either he is going to a cheese boy of he is going to be a student.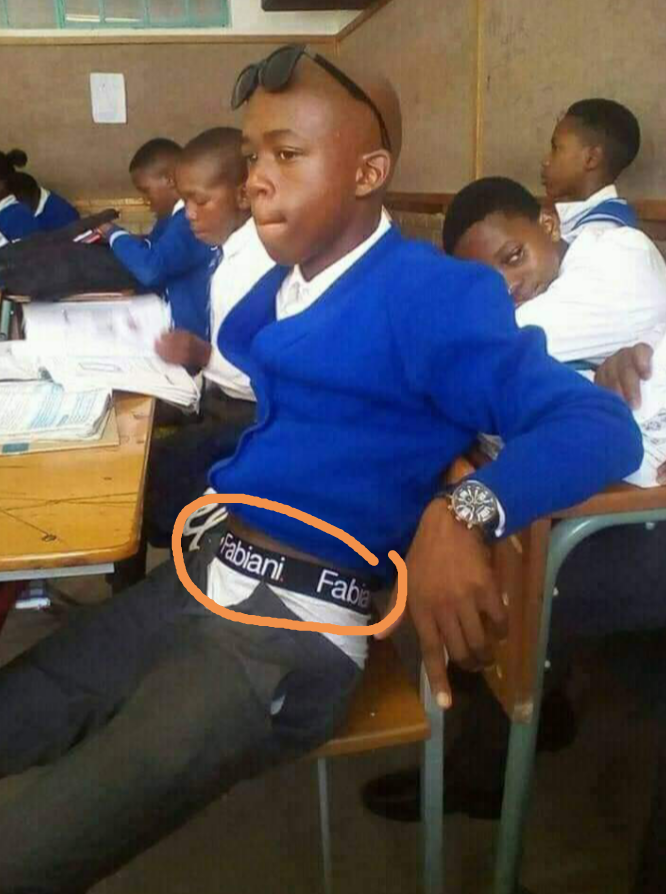 Photo: Twitter.
He cannot be a student an a cheese boy at the same time, because those two things doesn't even mix. He will have to quit one in order to save one, an he will have to quit being a cheese boy because it won't pay him money.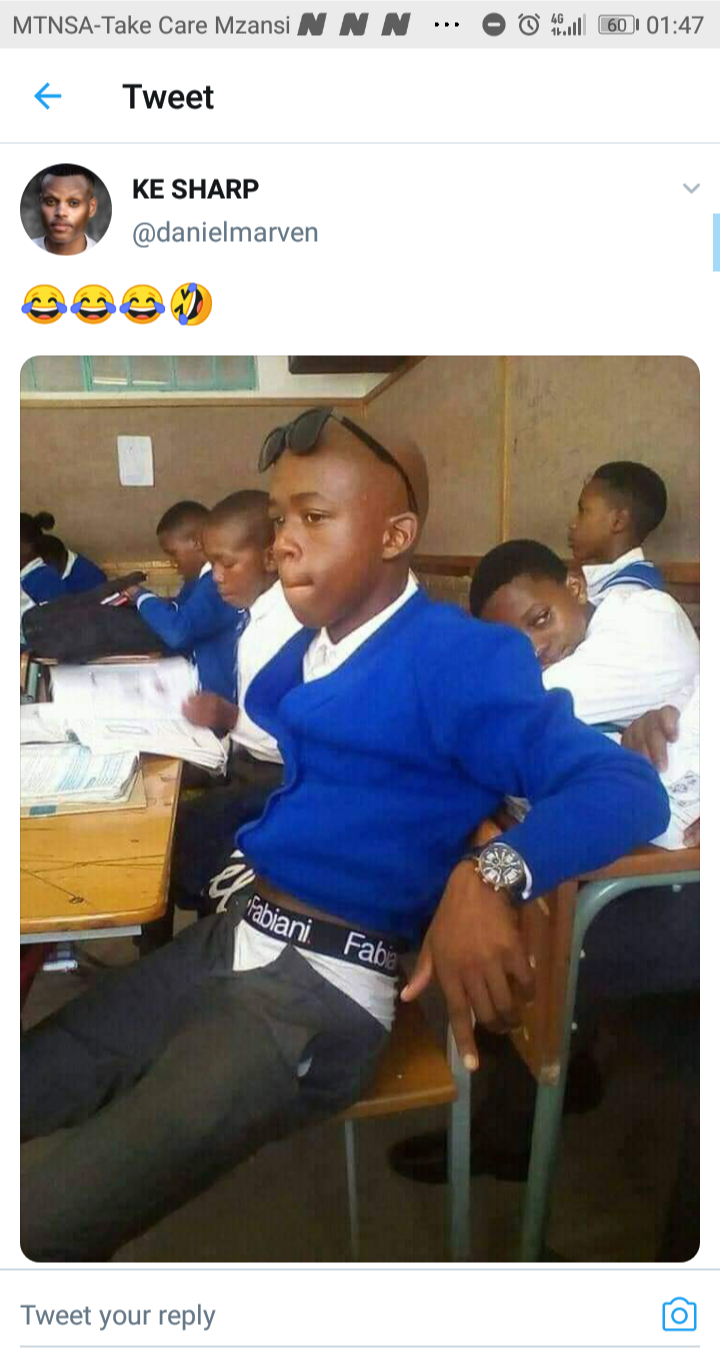 Photo: Twitter.
It looks like he doesn't know that school is famous, an he should make sure he focus before it too late. We having people that dropped out, an now they are regretting all of that, that's why it is important for kids to school.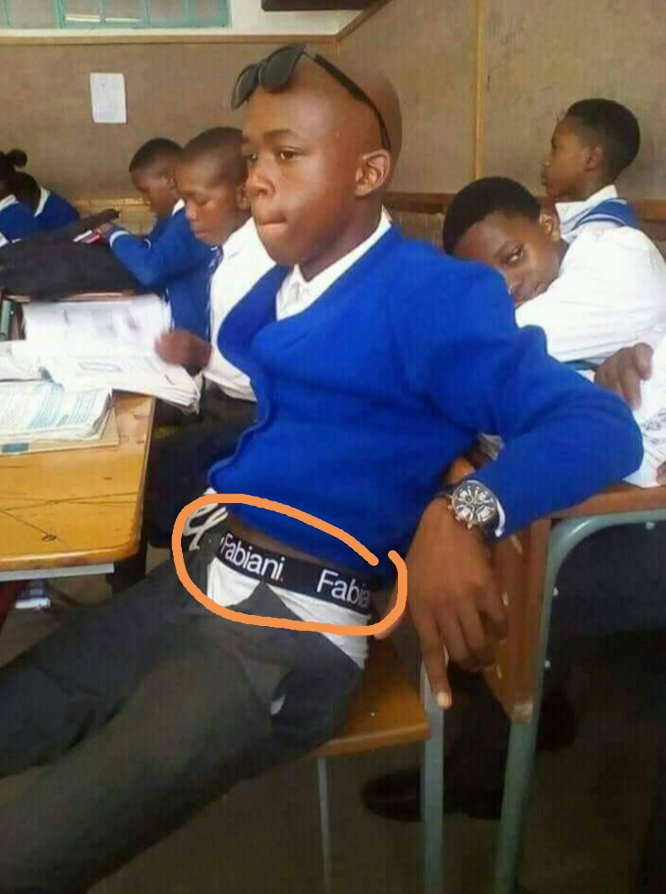 Photo: Twitter.
Some people are just rushing things, they seeing things moving slow when they are schooling. They have lied to themselves, an it looks like there is no one telling them to bounce back. Every parent should tell their kids how important school is.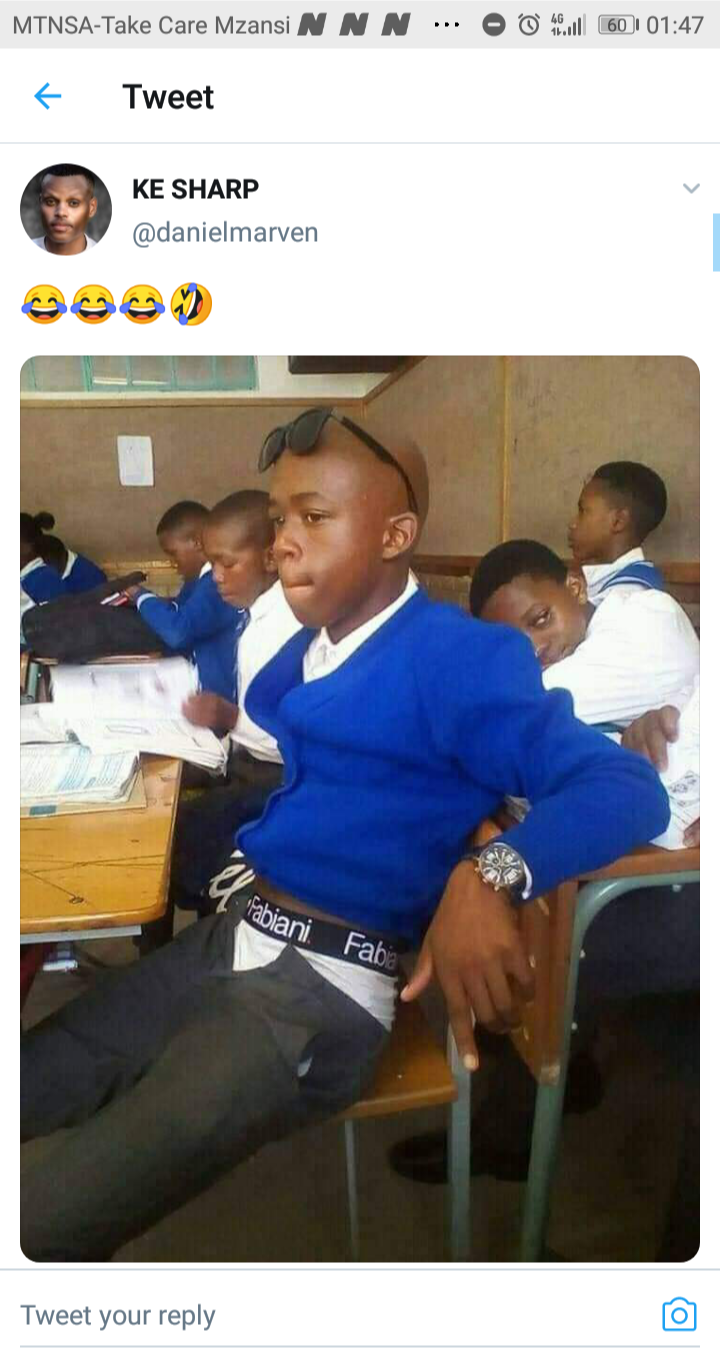 Photo: Twitter.
Reason why we having high unemployment rates in South Africa is because, so many people have dropped out an now they want good jobs. They will only get jobs that will condemn them, an its not good to be condemned.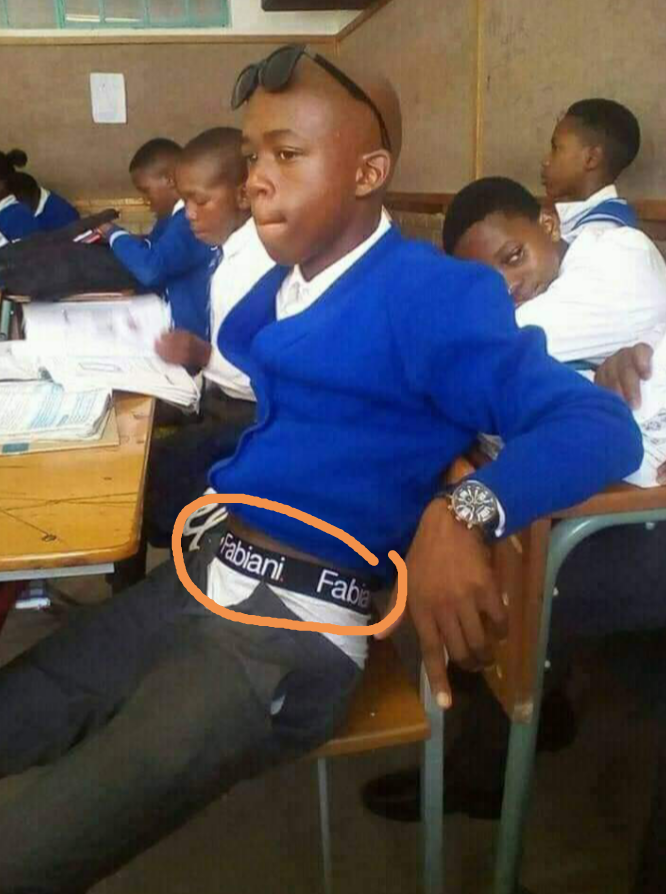 Photo: Twitter.
Please follow for more articles. 
Wear your mask everyday, an don't forget to wash your hands with sanitizer. 
Kindly like, comment, sharing is caring.
Content created and supplied by: LocalNewsUpdates (via Opera News )