Written by Sphe J Hadebe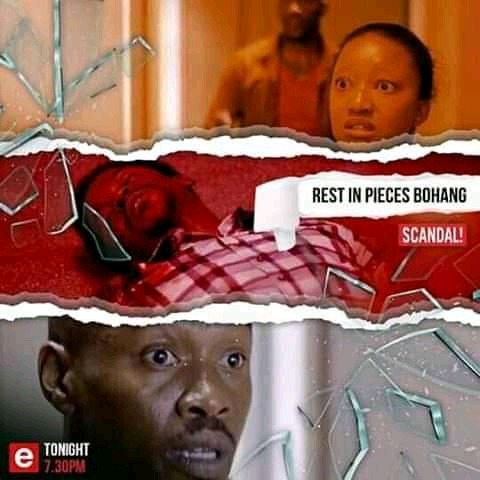 FINALLY E TV Scandal fans can breathe a sigh of relief as Bohang will die.
Scandal introduced to us this new character, who is a wolf in sheep's clothing, a master at hiding his true intensions, a true emotional manipulator. However, he seems friendly and professional, respectful and complimentary towards others. A possessive lover whose deepest desire is to be needed, which satisfies his drive to control.
On the positive side he likes to be helpful, has a bit of generosity in his heart and incredibly supportive. His biggest fear is to be unwanted, rejection. If he loves you completely, he will own you completely. His jealousy is like a ticking time bomb.
He has been a nuisance lately to the viewers of Scandal after he locked Seipati and Tibi in their home while he framed Bra Neo of drugs and had him locked at the prison cells. Bohang has been very calculative in his schemes as he first sent Lerumo to a mansion far from his home so that he can have time with Seipati.
Now that Lerumo is back in town and all about saving Seipati and Tibi, the walls are slowly closing in on Bohang plus Bra Neo is out from prison cell. Bra Neo swore that he will pay back with all his might to Bohang for falsely accusing him of drug dealing and locking him up.
The next few weeks will be very interesting in Scandal as we will finally see Bohang going down, in death.
Question is, who will kill him?
Content created and supplied by: Mzansicelebritynews (via Opera News )