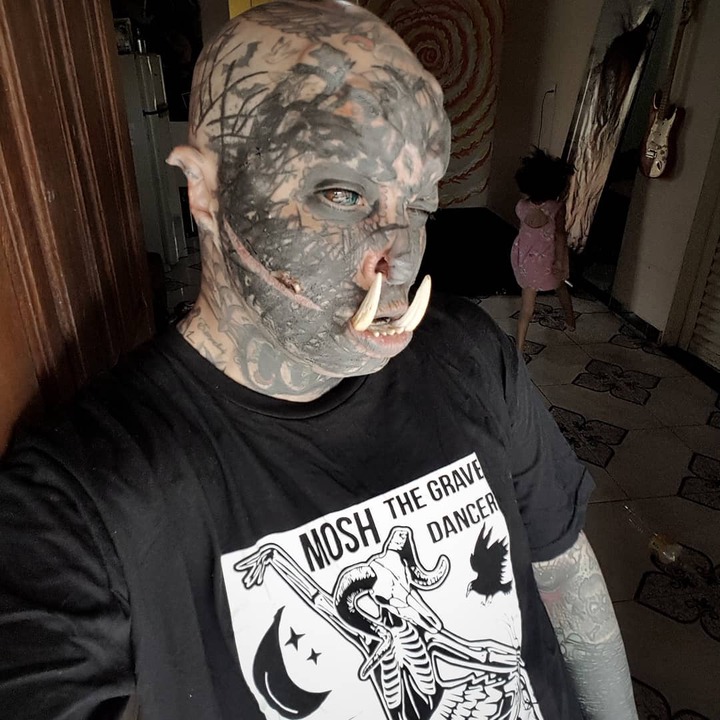 A man obsessed with body modifications gets tusks to complete his dream appearance to look like a fictional monster. The 41-year-old Orc already has 80% of his body covered in tattoos, had his tongue split, and boasts about having eight subdermal piercings. Dermal piercings, also known as micro dermal piercings or single-point piercings, are piercings that lie flat against the surface of the skin. This anchor is around six or seven millimeters long, and the top of it sits on the surface layer of the skin, making it look like there are beads directly underneath the dermis. Orc also had his eyeballs tattooed.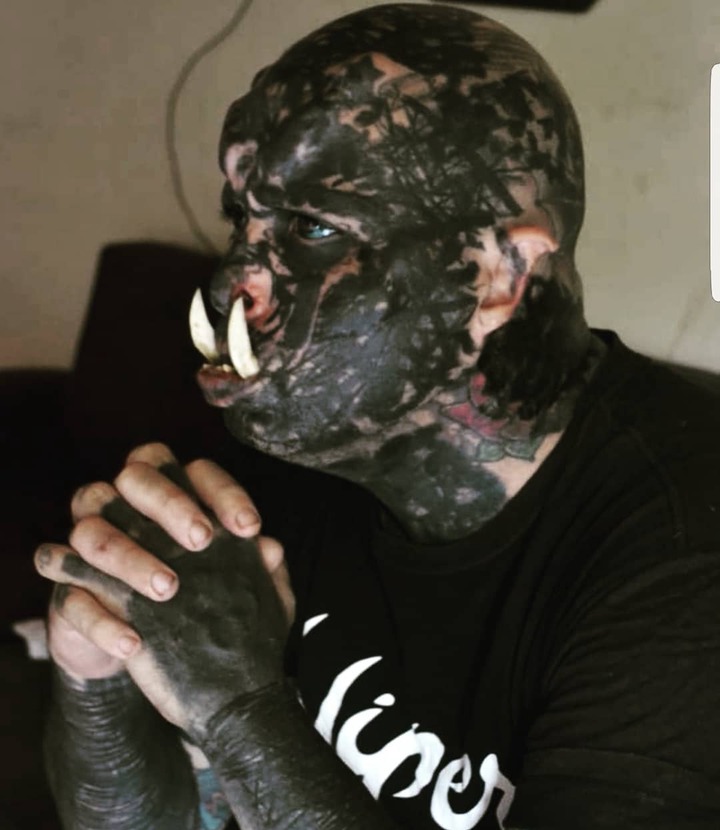 A tattoo artist himself, Orc, who is from the small town of Iguatemi on the border of Paraguay and Brazil, got his first piece of ink at the age of 15 and began getting body modifications when he turned 35.
His latest alteration of adding tusks to his teeth cost £400, which is a whopping R7 000. All this just to make himself look more like an orc, resembling those found on the mythical Orcs in fantasy game series and film Warcraft
Speaking about his appearance, Orc said, 'I am trying to be myself, these are just my ideas, my inspirations coming from the heart. I am not inspired by anyone.'
He explained, 'My mum doesn't like it, my dad tolerates it and my friends find it weird.' However, he doesn't let this stop him and advises others to 'live, be happy, travel, love' and 'do whatever they want'. Orc added, 'Life goes by fast and death is certain'.
Even though a load of people thinks he looks really weird, he insists that he's only being himself, which is all any of us can do, really.
Perhaps unsurprisingly, Orc said that he receives quite a bit of attention for his unique look. However, despite what you might think, most of the comments are apparently positive. He continued: "They tell me good things that motivate me to continue.
To watch the video of Orc talking about his body modification and his recently added tusks, click on the below:
https://www.unilad.co.uk/life/man-obsessed-with-body-modification-gets-tusks-fitted-to-his-own-teeth/
Content created and supplied by: KatethaLeen (via Opera News )