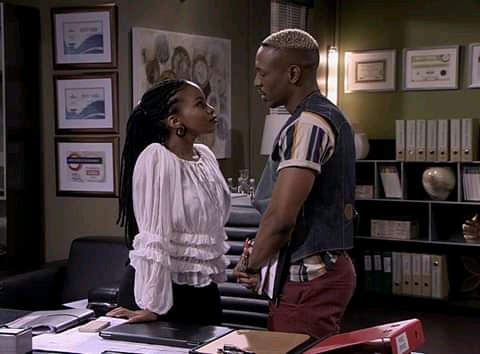 Don't is a woman who goes after what she wants. She's a go getter and she doesn't give up easily. She went from zero to hero because of her never giving up attitude. Don't let used to be a gold digger she dated Daniel Nyathi, Mangi Nyathi and Quinton Nyathi (Mangi's cousin). While married to Mangi Nyathi, Dintle was impregnated by Quinton. When the baby was born Mangi saw that the baby wasn't his because of how the child looked and this caused Dintle and Mangi to split up.
Even after her pregnancy Dintle didn't refrain from her gold digging ways. She dated Ingrid's father Wesley Thompson but things didn't work out between. Then she got a job and NFH and she worked her way up to being a CEO of the company. When Dintle became CEO Layla had to be demoted and she was not happy with her demotion.
Layla tried by all means to sabotage Dintle so that Dintle can be demoted or fired but her plans failed. She gave up and made a truck with Dintle. The truth is Layla still wants to get back to the top and if an opportunity to take Dintle down avails itself she'll grab it with both hands. Even Dintle knows that Layla didn't forgive her wholeheartedly for stealing her job.
Ever since Dintle became CEO she's been sneaking around with Amo(Hlengiwe's boyfriend). They are doing this behind closed doors and they don't think that they will be caught. But we all know that what's done in the dark shall come to light. The two will be caught and Hlengiwe will be hurt a lot.
Hlengiwe will work with Layla to take Dintle down. And eventually they'll succeed in their plans. Dintle will lose her job and Layla will go back to the top where she belongs. Dintle's relationship with Amo will be her greatest downfall.
Content created and supplied by: Progy.com (via Opera News )