After DJ Fresh and DJ Euphonic went off sir I couldn't find a different between the radio stations in this day and PSL clubs. At PSL a coach who didn't do well at Chiefs will be hired by Maritzburg United and expect him to deliver the results .
A coach who will fail on another team will be hired by another team and be expected to bring miracles.Same coaches will rotate in the PSL and will make the standard of football to drop as there's no fresh energy.
A football player who change clubs that it affects his performance. Without taking away the talent and ability that DJ Fresh have on broadcasting ,are we not having presenters in the country . All radio stations they do have demos and CV of new presenters who persue careers on radio.
It's insulting to those people who apply for the job daily to see one person moving from one radio station to another over and over like a football coach.Ifs not DJ Fresh problem but it's radio stations. We talk about unemployment in South Africa hence the radio stations are hiring same people over and over.
Without being labelled as jealous people or what , How would you justify this , Somizi Mhlongo has never be a volunteer in a Community radio station but he went straight to Metro FM.There are people who were told go and seek for experience in a community radio .
If being a celebrity or an actor in a popular soapie qualifies you to be a radio presenter then why colleges are still offering radio presenting courses. Without discussing about what led DJ Fresh and Euphonic to leave the radio station even thou now they have been removed officially , The truth of the matter they can live a better life without a radio job.
Sometimes we tend to criticize young people from being lazy but these acts discourages other people's dreams.This shouldn't been interpreted politically but is just a fact of what is currently happening.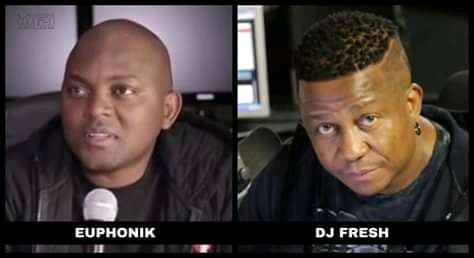 Content created and supplied by: Journalism (via Opera News )