She is well known as one of the best and also legendary actress. She has outdone herself and and also showed off a character that no one knew about it. She is a humble person and was never caught up in Mzansi Scandals. We have managed to learn a lot about her role and personality. Thanks to the Fergusons Films for showing us another dangerous side of her. 
She is well known as Sindi Dlathu. She is known for the fearless and also business woman character. She was Muvhango's best and also very own actress. She served years at that soapie and nailed it. She was Nomthandazo and she has portrayed the character for so many years.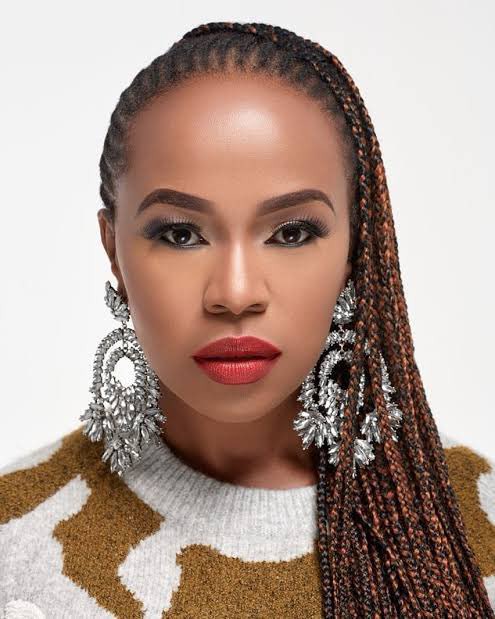 This was sad until she left the soapie to join the legendary actors and actresses. She joined the River as Lindiwe. Who is a powerful and also corrupt business woman. Followers got to learn so many things about the character and also the dangerous woman in her. The character has been saluted and also loved by so many people. 
She has been posted by followers so many times, saluted and also imitated by followers on application like tik tok. She joined the Fergusons Film and she is still nailing it. She does go to the Queen and assist Harriet then goes back to The River.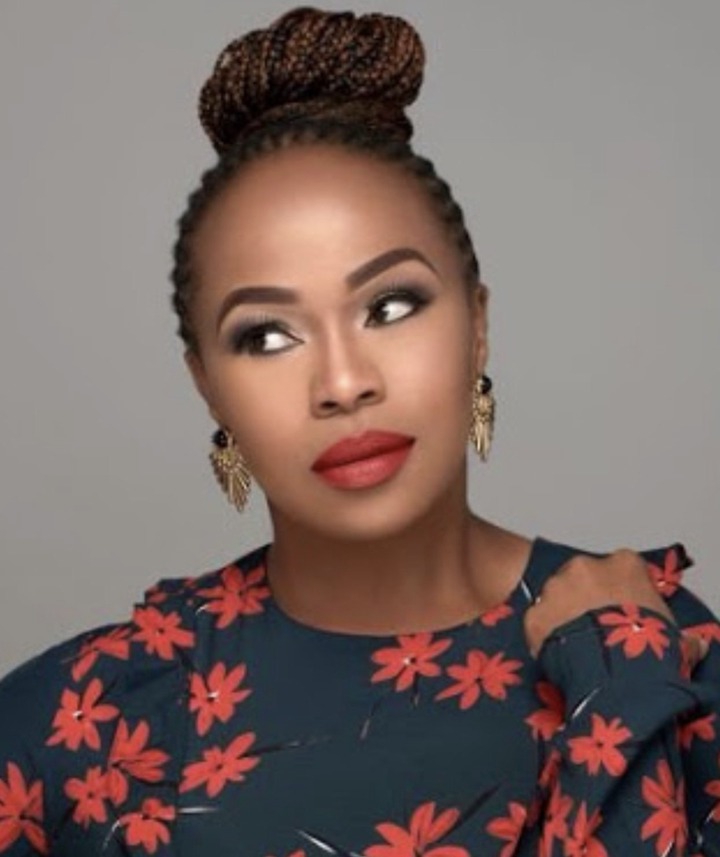 She is a legend and also she is always saluted for the character she serves as a fearless and also brave woman. Another news have been revealed about the future she is having at the River. These news were revealed by a follower on social media platform called Twitter.
@Kgopolo, "TV: Sindi Dlathu promoted. Dlathu, who plays the incomparable Lindiwe Dikana on #TheRiver1Magic, is promoted to series co-executive producer. A huge milestone in empowerment. Dlathu is a major factor in the success of the show, now she'll benefit as co-boss."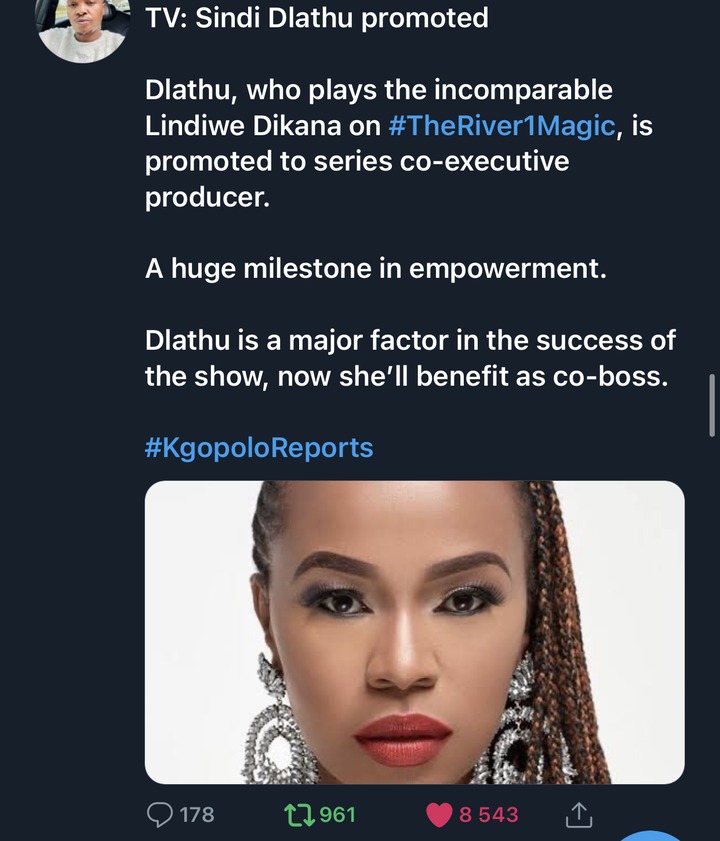 Here is the link to the post and also comments- https://twitter.com/philmphela/status/1337345037580066817?s=21
Sindi Dlathu has been promoted and also she will be one of the bosses. She has proved herself many times that she deserves such. This is such an amazing achievement and also inspiring. 
@Ameni, "Wow This is big I saw which many productions can learn from this... Imagine if Kenneth Mashaba and Menzi Ngubane got this from Generations Big up to Tshedza"
@melios, "When are we gonna see stories of how Africans used to live before colonization and invasion, when are we gonna see stories about Ubuntu and how Africans used to share.... Congrats to her"
@karabi, "To think that I thought nothing of Sindi and her acting while she was in Muvhango. It just shows how a bad production and poor story line can end an actor's career. Well done Sindi! You're phenomenal indeed"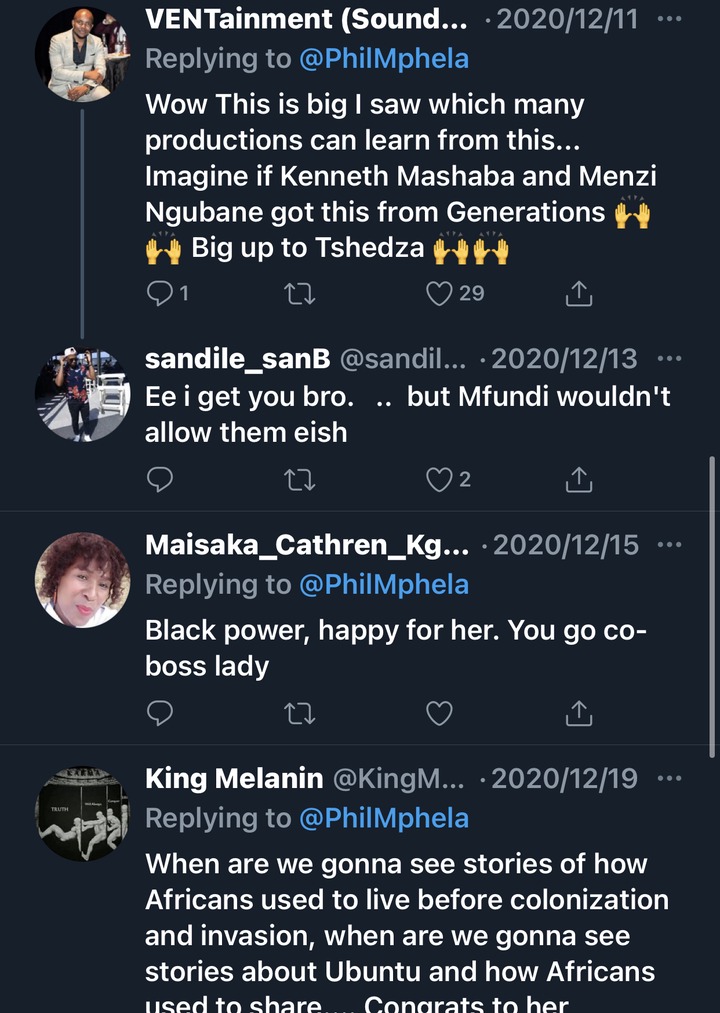 Many people have thanked the Fergusons for helping them reveal such an amazing character and also talent. Who would have new that Sindli Thathu had that Lindiwe in her!?
@Momezo, "Mama @S_Dlathu you represented yourself to us by force!Leaving our hearts astonished!Us as young actors and actresses we are stumbled and again blessed to watch you showing us how to do it!"
@keletso, "#TheRiver1Magic Thank you so much for giving #sindidlathu the stage to show us her capabilities as a black South African actress... You are doing justice to the character"
SOURCE: SOCIAL MEDIA TWITTER 
Content created and supplied by: TumiMore (via Opera News )