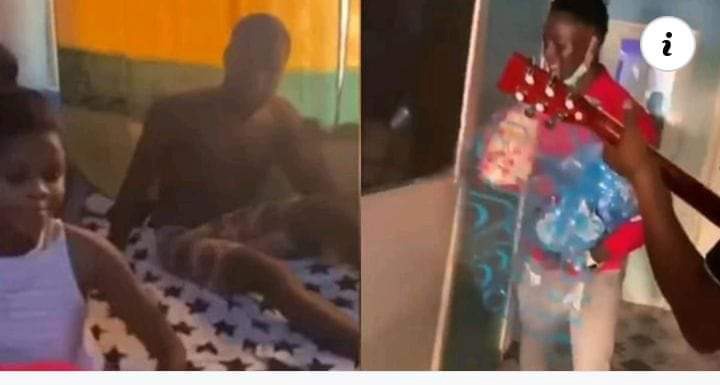 Boyfriend had a perfectly planned lunch date all for his girlfriend but it ended in tears!
"Honey, honey, my caramel ,sausage ,chocolate, conchider , I'm HOME"
He went all out just to make this Date a success., as he even invited a guitarist to come and bless them with beautiful melodies. He purchased a special gift to surprise her partner, but he was the one who ended up getting surprised.
This was after the lady he was meant to surprise was found in bed with another man. In the footage that was shared ,the gentleman had a guitarist who was singing and led the way into the lady's room for him to deliver a hamper he had purchased.
As this special moment was captured live on camera, as they entered the lady was found chilling in bed with another man, who was topless
After the lady saw him, she got on her knees and started begging him! "it is not what you think please let me explain"
 However, the disappointed boyfriend would have none of that as he packed his package out and run off together with the guitarist he paid to accompany him.
https://www.facebook.com/599420080156332/posts/3562095227222121/
Content created and supplied by: Nozipho.Omhle (via Opera News )