We all know that Mzansians love drinking especially when it's alcohol. However irrespective of the repercussions and effects this alcohols pose, Mzansi won't stop taking alcohol especially the youths.
Belgravia is one of the most preferred alcoholic drink in Mzansi particularly because it's relatively cheap and can give you highness as well but people are beginning to say a lot about it for instance, this picture I saw on the internet.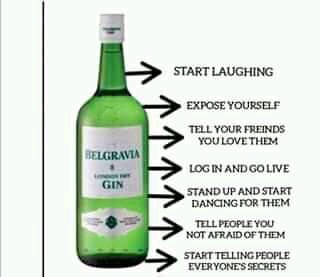 I have never taken Belgravia but after seeing this, I'm now very curious to drink it and see if all these are true. This as well will most likely apply to other people who have not tasted Belgravia but after seeing this, they would want to try and see if it's true.
Now as an amateur in the game, a person who knows little or nothing about alcohol is this true that Belgravia after the first shot can make you start laughing and then subsequently as you keep drinking, it can make you expose yourself, tell your friends you love them, log in and go live, stand up and start dancing for them, tell people you are not afraid of them and finally, start revealing everyone's secret?
Content created and supplied by: Focke-Wulf_F190 (via Opera News )