FREEDOM deserves an extended edition and a sequel.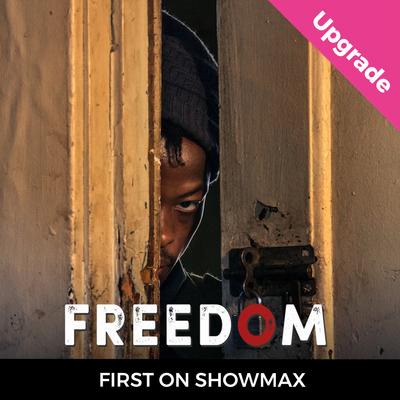 "This South African film, set against the backdrop of the #FEESMUSTFALL campaign, is driven by a star local cast. A university student in desperate need of money runs into trouble with a loan shark."
Please Note: I will exclude (here and there) using the actor's real names and use their character names.
That way we will get to focus on the film itself and not the actors
This movie was produced I am guessing, around the year 2018 because of the makeup set and wardrobe. And obviously it was set around the time Mama Mary Twala was still alive, (RIP).
I actually bumped into this movie after a careful promo on Instagram by Olwee who happens to be a cameo in the film. Which most people on the film felt like guests more than anything, because of the manner they are introduced in.
In this review I want to first point out their silly mistakes which when I was watching the film I sort of noticed that it was not the writer's fault. Which is a huge problem in their industry, but nonetheless let us get into it.
Production houses, whether collaborative or not, they really should let people produce their own version and their own vision.
Firstly, the movie made a back drop, but it never even followed it through, because Freedom (the main character) who anchors the events of the story, is first introduced to us as though like he is a typical Jozi hobo, but when they introduce Sonia (supporting actress), they happen to be close schoolmates and if not friends. Meaning that Freedom is not a hobo.
Which felt a little off to me because throughout the movie we only hear about school but we never actually get to see them go to school and take up the #FEESMUSTFALL back drop, so everything becomes lies, and it doesn't tie together with their storyline, further making Freedom remain in that state of "hoboness".
And I felt off a little because if they knew each other (Sonia & Freedom), how could Freedom not know who Sonia's father was.
The opening of this film is poorly placed and I don't know who made that call because that opening was misplaced.
Reason being: Freedom has a knife in that opening scene, and I didn't understand why he would have it, because that knife was a symbol of some sort, so introducing it in such an odd way and then have Sonia ask "since when do you carry a knife" was further proof that that opening scene was not meant to be there.
It would have made sense if they opened the scene with Freedom using his hands to help Sonia from Chris (another character), from there, have Freedom be beaten up and then we introduce the knife.
To avoid such silly mistakes, Easter egg & Symbols.
A few elements such as Freedom using a tap, tricks the audience's mind into thinking that we will revisit that setting again and we will again see water in the film.
Which happened, we actually saw water again, however; here is the misplaced issue with these symbols, (water and a knife), Freedom used the knife to stab someone with it, and then when he was running away, he stamped into some paint (another Easter egg/ symbol).
However, when he was washing his shoes, he somehow did not use the same water and brush to clean off the blood from his blade.
Because we later jumped into a scene that showed that same knife, yet it still had blood on it. So, there was an issue of editors not paying attention to detail. Because when you set up an Easter egg, you need to have a pay off or close it off.
The audience would then assume that we will see this bloody knife again, and that is how Freedom will get caught.  
Wrong story board
We then have a scene where Freedom goes to this old woman (loan shark played by mama Mary Twala), and to my "FYI" the movie clearly suggested that Freedom got in trouble with the loan shark, but in all scenes where the loan shark is involved, Freedom is actually selling things to this woman in doing so, he is trying to get her to give him more money and then he only pays a fraction off of that money.
The movie neglected to show us the actual loan process.
In any case, Freedom got in a scuffle with this old lady and he hit her with a knobbed stick on her head and she died.
I have only a few issues with this scene, when we were introduced to the old woman, she literally had no one coming to her flat. Only Freedom was her frequent visitor.
But immediately after she get murdered she then had random people coming by. It would have been interesting if we saw people leave every time Freedom came by, that way, the tension of someone coming would have been built intensely, instead we just had a random vendor and a crackhead rock up for convenience sake, because the movie said so.
Also, I could not help but wonder if that scene (killing of the old woman) was meant to be an opening scene, because it also felt out of place, like it was on the wrong story board. Because had that scene been the opening scene, we would have walked backwards to understand the main drivers that led to that situation.
A lot of scenes were just rushed and they did not follow the writing direction. Because the film was written in such a way that minimized exposition, characters were doing things, they were moving from one place to another, it was a motion picture.
However, someone with money came in and said "noooo let us have them sit down and talk about things" that they can physically do.
Remember the golden rule of film: Show me do not tell me.
There is a jail scene where they arrested the crackhead who was painting a nearby flat when Freedom killed the old woman.
The scene puts Freedom and the crackhead in the same jail cell… I actually thought that the crackhead was going to say "no vader, you can even ask this guy, he was there that day" but that did not happen.
I was very much interested in how Freedom was going to get out of that one. And also, I wanted to see how they (producers) were going to further show us how SAPS in reality deals with such cases.
Kenneth Nkosi is also an edition, which his character and Ms. Kate (Kenneth's wife, stepmom to his daughter Sonia) were also key players because Kenneth was hit by a car in the film and he died, the movie sort of neglected to tell us why?!
We had to make up our minds as to what could have happened, and I thought that the wife was behind it because she wanted the house and she was tired of supporting that alcoholic of a man.
However; the stepmom was not seen with Chris yet she introduced Chris to Sonia, at the same time, she still kicked out Sonia yet she nagged her about making money. So some scenes were just shuffled around and some were taken off the board.
Without dragging this review further, I overall thought that the film was cleverly written, excellent picture quality, amazing cinematography, views of Jozi CBD were great…
I am truly not a fan of exposition but when Freedom spoke, I loved it. And the cast selection was fantastic because there was no superficial crap of make-up and rich b* vibes, even Samkelo gave an outstanding performance, for minute there, I was convinced that she was actually Prudence. Legit.
Even though producers threw characters at us, like introducing Freedom's sister was so random, but over all how they executed those introductions and gave them their own stand alone plots and storylines was insane, Jafta knew exactly what he was writing.
 I am also not a fan of "tell our own stories" the subgenre of films (South African typical storylines of drugs and suffering) but the writing technique of this film was great because they played on a lot of metaphors, stereotypes, and actually followed through with the practical meanings and literal escapes.
Let's not forget Mandla Gaduka, who is also a bundle of mints whenever he has an exposition. Which I also think that, they should consider a sequel because there is plenty of room for a sequel.
Imagine now, Mandla runs into Freedom's sister at a brothel and then they set a new chain of events. Given how his character loves prostitutes.
Anyway, that is my review. I do recommend the movie, it is fast paced, it is funny, it is very intriguing and has a lot of plot twists and bloopers.
So, Freedom might have a sequel? I hope so, because I have plenty of questions. The movie was good, because I was engaged, I was drawn in, I was connected with Freedom, I was torn between him being an antagonist and a protagonist, that trajectory is the reason why I knew that that film was amazing. 
Content created and supplied by: ErnestRens (via Opera News )
Opera News is a free to use platform and the views and opinions expressed herein are solely those of the author and do not represent, reflect or express the views of Opera News. Any/all written content and images displayed are provided by the blogger/author, appear herein as submitted by the blogger/author and are unedited by Opera News. Opera News does not consent to nor does it condone the posting of any content that violates the rights (including the copyrights) of any third party, nor content that may malign, inter alia, any religion, ethnic group, organization, gender, company, or individual. Opera News furthermore does not condone the use of our platform for the purposes encouraging/endorsing hate speech, violation of human rights and/or utterances of a defamatory nature. If the content contained herein violates any of your rights, including those of copyright, and/or violates any the above mentioned factors, you are requested to immediately notify us using via the following email address operanews-external(at)opera.com and/or report the article using the available reporting functionality built into our Platform See More