No Strings Attached & Friends With Benefits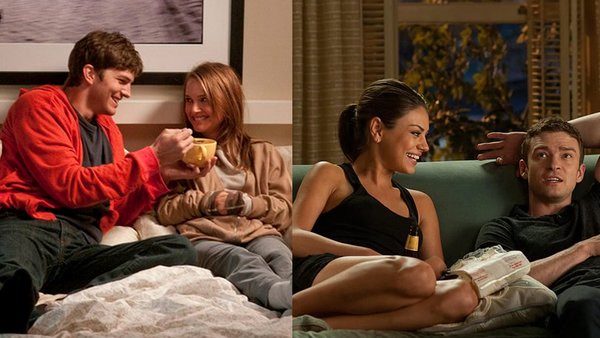 Give yourself a pat on the back if you can tell these two 2011 rom-coms apart.
No Strings Attached and Friends with Benefits, both released six months apart, feature two groups of young, attractive people who enter into no-strings sexual relationships with no interest in true romance. Feelings are bound to abound.
To add to the confusion, the films star Natalie Portman and Mila Kunis, who, in addition to looking alike, co-starred together in Black Swan the year before, while their romantic partners are played by Ashton Kutcher and Justin Timberlake, who aren't all that dissimilar.
No Strings Attached was initially titled Friends with Benefits, but the title was altered once the producers learned of a "rival" movie in the works.
Both films received mediocre reviews from critics but did well at the box office, but they're both such bland, forgettable rom-coms with similar plots that it's difficult to tell them apart without a simple Google search.
Exorcist: The Beginning & Dominion: Prequel To The Exorcist
Two prequels to The Exorcist were released in a nine-month period from the summer of 2004 to the spring of 2005, in what remains one of the most perplexing wastes of $80 million you'll ever see.
Exorcist: The Beginning was originally set to be directed by famed director Paul Schrader, but after producers were dissatisfied with the footage he submitted, Renny Harlin (Die Hard 2) was brought in to essentially re-shoot the entire film.
The Beginning's budget ballooned to $50 million as a result of this, and when the film bombed artistically and economically, Morgan Creek handed Schrader a pitiful $35,000 to finish post-production on his own $30 million version of the film.
As a result, Schrader's film was repackaged as Dominion: Prequel To The Exorcist, which opened to lukewarm reviews the next year and only grossed $251,495 worldwide. Oof.
Because the two films are loose adaptations of the same plot and both star Stellan Skarsgrd as a youthful version of Father Merrin (as played by Max von Sydow in the original Exorcist), they blend into a sludge.
Aero Flux and Ultraviolet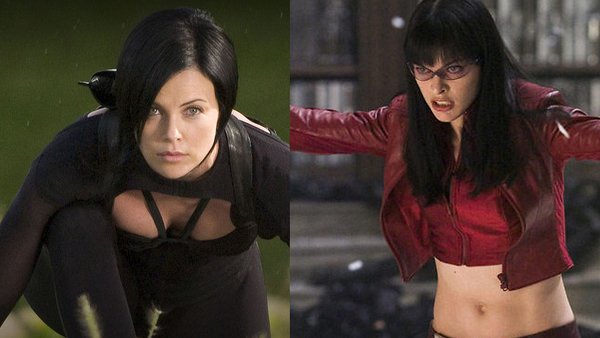 Aeon Flux and Ultraviolet, both released in December 2005 and March 2006, starred raven-haired, athletic girls in grossly overbaked, style-over-substance sci-fi action pictures with convoluted narratives and, well, not much else.
It didn't help matters that both films were promoted with nearly identical posters depicting their stars amid bleak teal-toned cityscapes.
However, both stories concentrate around an impractically-dressed female soldier striving to deconstruct a cartoonishly terrible dystopian authority.
To be honest, Aeon Flux barely manages to be watchable in comparison to Ultraviolet, which is without a doubt one of the most visually gaudy films of the previous 20 years.
Nonetheless, neither film achieves anything to separate itself from the other - at least not in a good way - and both were panned by reviewers, with moviegoers staying away as well.
Unfriended & Friend Request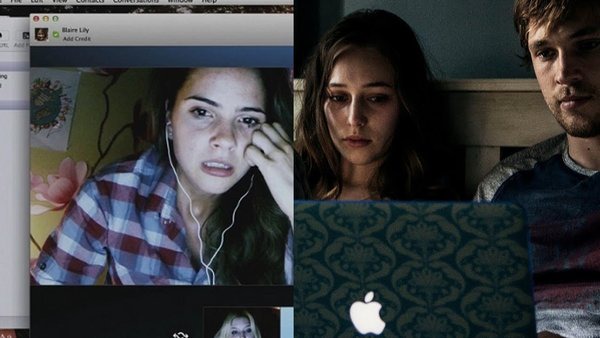 There have been a slew of social media-themed horror films published in recent years, and keeping track of them may be difficult considering how many of them have infuriatingly similar names.
Unfriended was one of the first entries into the emerging "shared screen" subgenre, in which the entire film takes place on a computer screen, and follows a group of high school students who are preyed upon by a dead fellow student.
A year later, Friend Request, a film about a bunch of teenagers who are systematically murdered by a supernaturally inclined classmate, was released, however without the shared screen gimmick.
To add to the confusion, Friend Request was also released abroad under the moniker "Unfriend," most likely in an attempt to capitalize on the success of the former.
Friend Request barely recouped its budget and was widely lambasted by reviewers, whereas Unfriended was a great economic success relative to its budget and received positive reviews.
The Shadow & The Phantom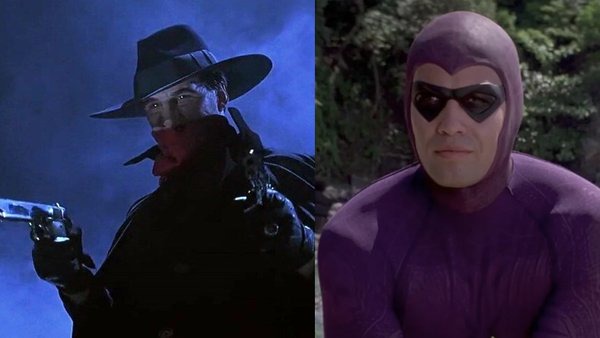 If you can remember which of these two films starred Alec Baldwin and which starred Billy Zane, more power to you.
The Shadow and The Phantom, both released in the summers of 1994 and 1996, are superhero films based on 1930s pulp fiction characters, focused on the titular heroes as they face megalomaniacal evil forces in New York City, and starring Baldwin and Zane, who are strikingly similar.
Though the films are tonally distinct – The Shadow is grittier and noir-inspired, whilst The Phantom is significantly more goofy – they both tackled similar material with such little fanfare that they became entwined in the cultural consciousness of moviegoers.
Both films received mediocre reviews from critics and flopped at the box office, however The Phantom was even more of a bomb than its genre, grossing only $17.3 million against a $45 million budget.
The Bounty Hunter and Killers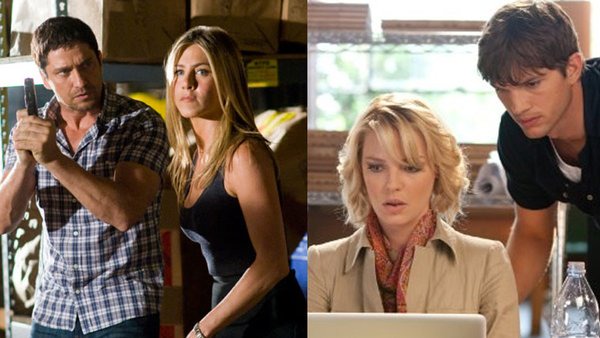 The Bounty Hunter and Killers are two incredibly awful "action rom-coms" that came out a few months apart in 2010, both about odd couple pairings who are forced to flee for their life when their perilous missions go horribly wrong.
Both The Bounty Hunter and Killers star Gerard Butler as a bounty hunter pursuing his ex-wife (Jennifer Aniston), with Katherine Heigl falling for an assassin (Ashton Kutcher) in both films giving up a staggeringly low-effort, aggressively bad, and formulaic rom-com.
While many people prefer to include the Tom Cruise and Cameron Diaz-starrer Knight and Day in the mix, it's simply too well-crafted and, yes, memorable to compete with these boring, flavorless drecks.
Despite the fact that both films were critically panned, The Bounty Hunter was a commercial success, whereas Killers failed to make a profit above its absurdly bloated $75 million budget.
Olympus Has Fallen & White House Down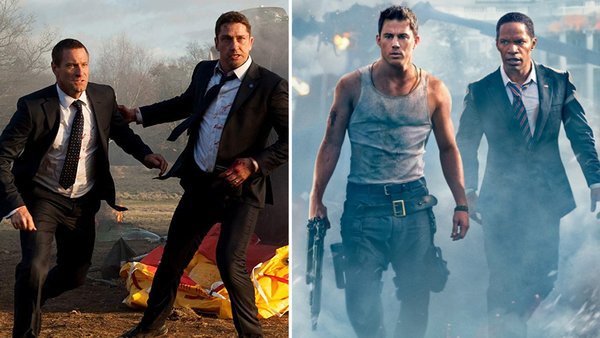 Gerard Butler is back, this time in one of the two "Die Hard in the White House" films that were released in 2013.
Butler plays a Secret Service agent attempting to protect the President (Aaron Eckhart) following a terrorist attack on the White House in Olympus Has Fallen, while Channing Tatum plays a police officer forced to protect the President (Jamie Foxx) during a tour of the White House in White House Down.
Though Olympus Has Fallen has a more serious tone than White House Down, which is more comedy-focused and has a larger budget, the two films' shared concept is so hilariously similar that you'd be excused for mixing them up.
The only significant difference between the two is that Olympus Has Fallen was lucrative enough to spawn two sequels, but White House Down barely made back its absurdly high $150 million budget.
Source:https://whatculture.com/film/10-movies-everyone-confuses-with-other-movies?page=10
Content created and supplied by: RefilweSylvester (via Opera News )
Opera News is a free to use platform and the views and opinions expressed herein are solely those of the author and do not represent, reflect or express the views of Opera News. Any/all written content and images displayed are provided by the blogger/author, appear herein as submitted by the blogger/author and are unedited by Opera News. Opera News does not consent to nor does it condone the posting of any content that violates the rights (including the copyrights) of any third party, nor content that may malign, inter alia, any religion, ethnic group, organization, gender, company, or individual. Opera News furthermore does not condone the use of our platform for the purposes encouraging/endorsing hate speech, violation of human rights and/or utterances of a defamatory nature. If the content contained herein violates any of your rights, including those of copyright, and/or violates any the above mentioned factors, you are requested to immediately notify us using via the following email address operanews-external(at)opera.com and/or report the article using the available reporting functionality built into our Platform See More