LaSizweDambuza is known of having shortest relationships its revealed that on Mondays all his crying was over his new Bad might have been nothing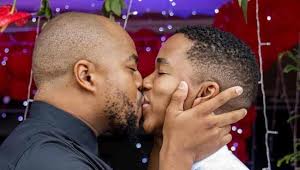 The socialite Lasizwe was crying over the weekend after they says their goodbyes to each other.The bae's friend went live on his Instagram mocking LaSizwe's pain.
Thevidoe was going viral the two were heard laughing at LaSizwe and constantly saying "why are you heartbroken?"and the guy in bed with LaSizwe's ex wàs holding doom spray which kills cockroaches.
He then sprays it on the camera and says " I will doom you swirie".Comments were flooding in tweeps had something to LaSizwe,"Mjolo will nyisa u"#LaSizwe#,others gave her advice #LaSizwe #"Mjolo u should keep your relationship silent now where are the tears of joy".another tweeps said"Mjolo we social media shame,it always ends in twitter relationship counselling room",'The one who cares the least in relationship controls it the most"
https://googleweblight.com/sp?hl=en-ZA&u=https://nalebrity.com/
Content created and supplied by: Mahungu-Amsaba (via Opera News )