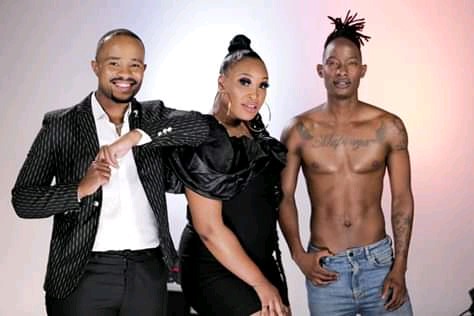 Social media platforms have been used by a lot of people. Especially YouTube where a lot of people have gained fame through their YouTube channels.
Inno Matijane is one of those people. A lot of people knew him from his YouTube channel which he started a few years ago. He had a lot of fans who loved it when he posted skits on YouTube.
Then last year he started off a new venture. Going into reality TV looks great but no one tells you the bad side of it. This is because no one can control every situation thrown at them on camera.
Some things can get out control and because it's a reality show, you can't tell them to cut or pause the filming, they want good content and drama is the best content of all.
Last year we had the first season of The Way Ngingakhona. A lot of people already knew Inno Matijane and so we got to meet two of his friends on the show.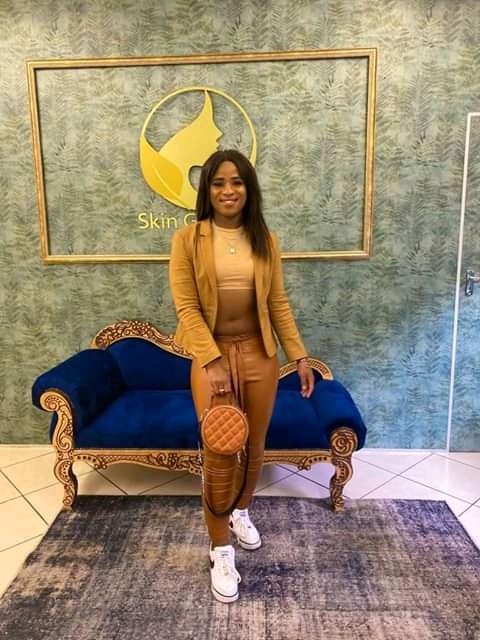 They're all members of the LGBTQ community. Inno Matijane is gay, MJ Maponya is bisexual and Tholang Motsumi is transgender.
The three of them had a successful season one of the show as fans enjoyed it very much. There was a lot of drama, especially on the last episode of the show.
Inno and MJ had an argument on the show, things got heated up so much that it almost got physical between the two of them. Tholang was like Switzerland and not siding with anyone.
A lot of people had been anticipating season 2 of the reality show. It has only been a few episodes so far but there's already drama, so much so that Inno doesn't even feel like going outside.
The last episode was a complete mess where the cast member and Inno's family got into a very heated argument where the police had to be called in to calm down the situation.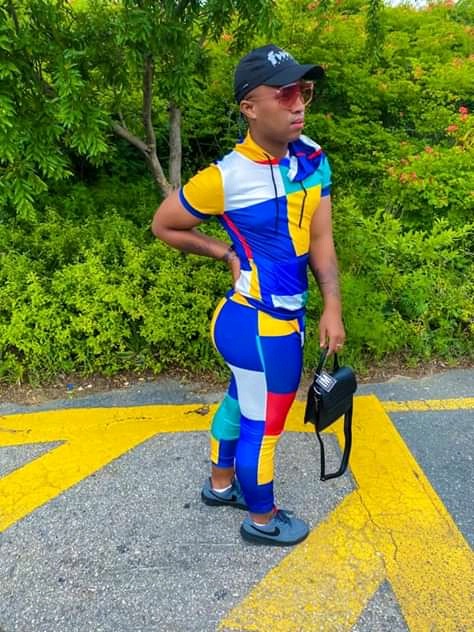 Now Inno has expressed that he always knew that he didn't want to be part of the The Way Ngikhakhona season 3. He said that reality TV was very hard.
He also expressed that a lot of people will do anything for fame where as he had to work very hard for his, he also stated that he won't be working with any of the cast members going forward.
Things don't always go according to plan with a lot of people who are on reality shows. So many people have things they wouldn't like other people to see and sadly they sometimes get exposed to such on reality TV.
It's sad that at the end of the day it's not just the show but the cast of which some are friends of his are now going to part ways with each other.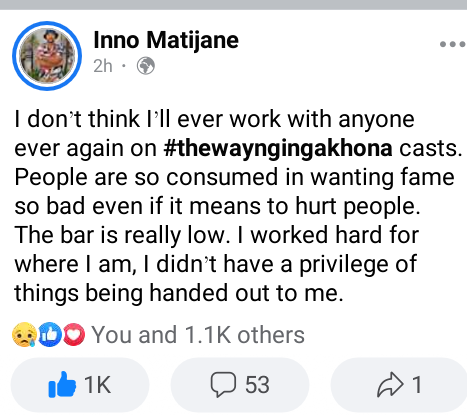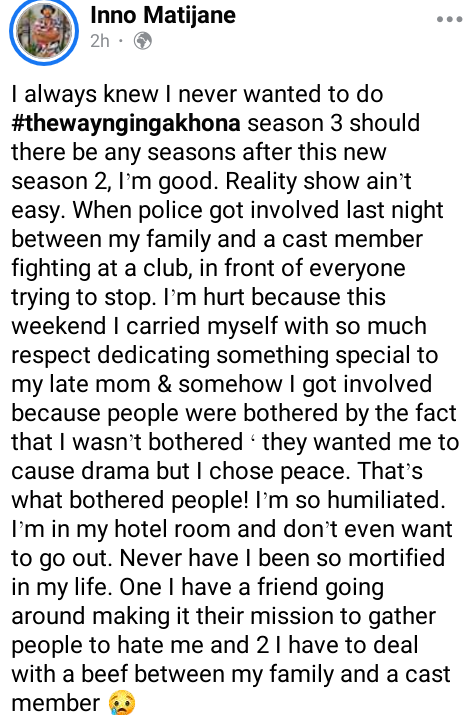 Content created and supplied by: Nonkulie (via Opera News )