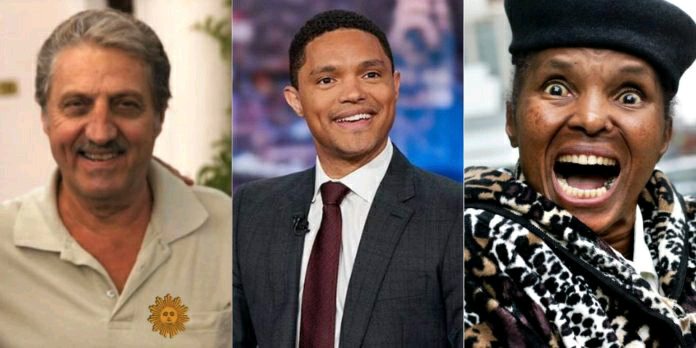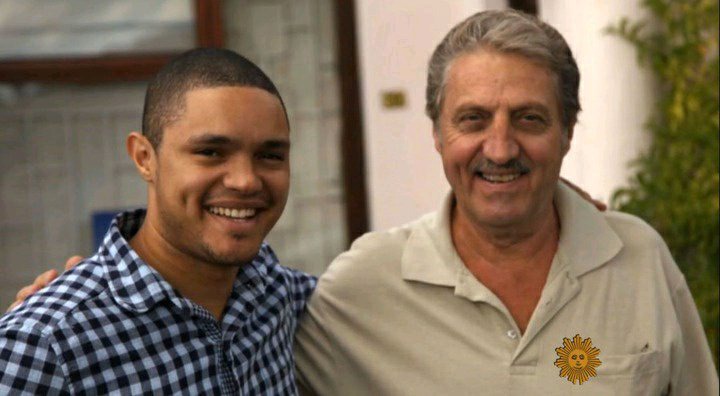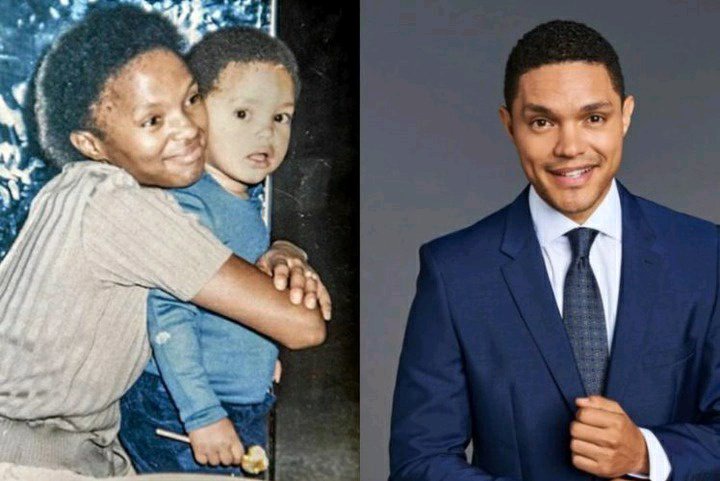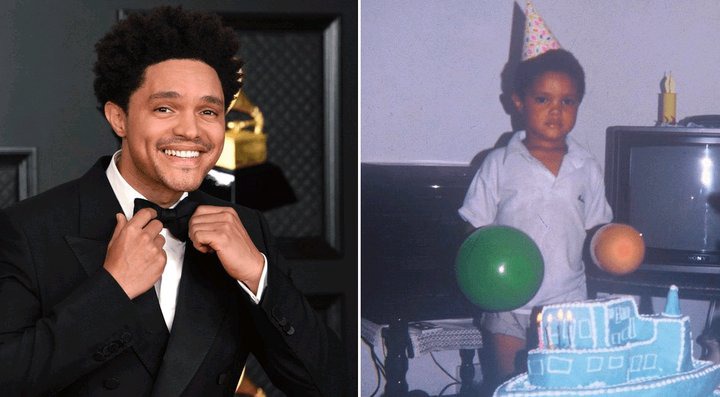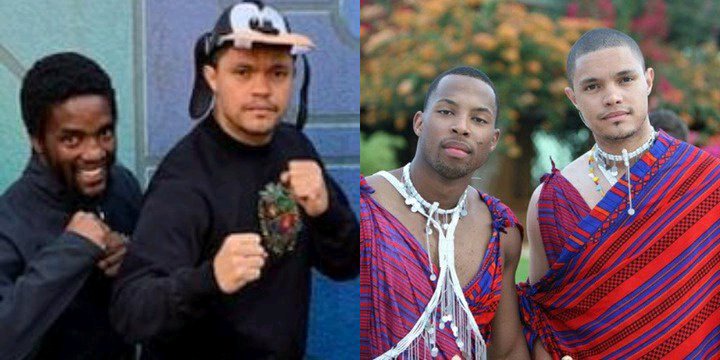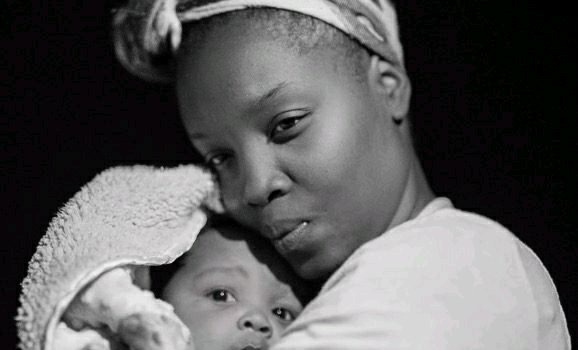 Trevor Noah is widely regarded as one of the most talented comedians to come out of South Africa. He has the ability to make light of weighty problems in real life while at the same time drawing attention to those problems from the general public. Because the comedian, who is also skilled in a variety of other areas, is so proficient at what he does, inquiries into his past are becoming an increasingly common topic of conversation these days. The parents of Trevor Noah chose to get married and have a child despite the restrictions placed on them by apartheid-era South Africa at the time. Although his parents are not as well-known as he is, we were able to unearth some fascinating information about them. According to him, his parents committed the "crime" of giving birth to him, which he describes in his book "Born a Crime."
Both of Trevor Noah's parents are from Africa, but his father is Swiss-German and his mother is South African.
Trevor Noah, who is now 37 years old, was born on February 20, 1984 in Johannesburg, Gauteng, South Africa. His parents, Robert Noah and Patricia Nombuyiselo, raised him. His father, Robert, came to South Africa from Switzerland and Germany, and his mother, Patricia, is a Xhosa woman from South Africa. Robert is an immigrant. Under the apartheid system that existed in South Africa, Robert was automatically classified as white, while his partner Patricia was categorized as black. On the other hand, Trevor was regarded as a member of a minority group.
Trevor Noah
Robert moved in Johannesburg, South Africa, as a 46-year-old to oversee the establishment of a network of Swiss-oriented supermarkets in the country. Patricia, on the other hand, lived and worked in Hillbrow, a varied suburb in Joburg that featured many white inhabitants who were opposed to racism. Perhaps Robert was one of these white individuals.
Trevor Noah's parents were claimed to live in the same building, where they met, became friends, and ultimately fell in love. Because apartheid regulations prevented it, Patricia didn't want to marry Robert outright, but she did want to have a child with him as a way of opposing the rules. Robert, on the other hand, objected because he would have no rights to any (colored) children born as a result of this. With the passage of time, he changed his mind and agreed to Patricia's wishes, resulting in the birth of Trevor Noah.
Facts About Robert Noah, Trevor's Father
Trevor Noah and his father Robert Noah
Full name: Robert Noah
Nationality: Swiss-German
Date of birth: Unknown
Age: Unknown
Age he met Trevor's mum: 46 years old
Occupation: Businessman
Current marital status: Unknown
Many people in South Africa had never seen a man like Robert Noah before. At the time, many white men would have been hesitant to consent to have a kid with a black woman, but he did. Robert, on the other hand, is a private individual, and little is known about him in the public eye. For instance, Trevor's mother ended up getting remarried, while very little information is available about Robert's mother. According to the information that we've gathered, prior to moving to South Africa and establishing a network of supermarkets owned by Swiss companies, he worked as a chef in both Canada and New York. After that, he moved to South Africa.
Later, Robert opened the first integrated restaurant with a special license to serve black people in Johannesburg, South Africa. This restaurant was named after him. Despite the fact that a significant number of white people called on the authorities to terminate the operation, the business was a big success. At first, it was believed that he had neglected to keep the restaurant clean, which had led to health issues; however, this turned out not to be the case. Even though he refused to create separate restrooms for black people and white people, he was ultimately forced to close the restaurant in order to avoid the disruptions caused by the apartheid government. Despite his refusal, the restaurant was forced to close.
Learn More About Trevor's Mother, Patricia Nombuyiselo Noah
Both Trevor Noah and his mother, Patricia Nombuyiselo, are well-known comedians.
Full name: Patricia Nombuyiselo Noah
South African is one's nationality.
Unknown as to the date of birth
Age: Undetermined
She was 24 years old when she first met Trevor's dad.
Occupation: a mystery at this time
Current marital status: Divorced (Ngisaveni Abel Shingange)
Patricia Nombuyiselo is an indigenous South African, namely of the Xhosa ethnic group. She received her education in reading and writing at a Transkei missionary school. She was quickly employed in a factory, where she made more than enough money to pay for her three meals a day. She had the conviction that she could do better for herself, so at the age of 21, she uprooted her life and moved to Soweto in search of better opportunities. There, she attended a secretarial school and acquired the skills she needed to make a better life for herself.
She was working as a typist for a major pharmaceutical company in Johannesburg at the time, and she illegally leased an apartment from a foreigner in the city. Patricia was so skilled in her work that after some time she was eventually elevated to the position of head of the clerical division. Due to the fact that she had recently changed careers, she was now in a position to quietly provide for both herself and her kid.
What are the implications of Trevor Noah's parents' marital status, if it was known?
At the time that Trevor Noah was born, his parents were not married to one another. Both of them were well aware of the repercussions that their relationship would have, which included Patricia spending a lot of time in jail. As a form of resistance to the apartheid regime, she planned to become pregnant by her white partner, Robert, and give birth to a child for the two of them.
Which of Trevor Noah's Parents Had the Largest Influence on His Development as a Child?
Patricia did not want to get in trouble for breaking the regulations that prevent black women from dating white men, so she kept her romantic relationship with Robert a secret from everyone, including her family and friends. When she found out she was pregnant, she did everything in her power to avoid meeting Robert in public. After Noah was born, she did not change her behavior and continued to avoid Robert. The relationship that Trevor Noah's parents had with him is one that is unusual for youngsters growing up in South Africa today.
The majority of Trevor Noah's formative years were spent at home with his mother. When his mother was arrested and sent in prison for violating one or more apartheid restrictions, he went to stay with his maternal grandmother, Nomaliza Frances Noah, for several weeks at a time. The young boy was always confused as to why his father was never there, but as barriers between white culture and black culture began to crumble, he was able to gain more access to his father, albeit in a covert manner. The young boy was always perplexed as to why his father was rarely there.
When Patricia would go down the street with her child, she would leave a significant amount of distance between the two of them so that no one would mistake her for Noah's mother. On the other hand, Robert would meet them in the park, but if little Trevor saw him and ran up to him, calling him daddy, he would frequently speed away until they were out of sight. This would happen if Robert saw little Trevor meeting him in the park. At other times, the three members of the family would get together at Robert's house, which, once they were inside, was the most secure location for them to be in.
Therefore, despite the fact that it seemed as though Trevor Noah spent more time with his mother than with his father, the latter wasn't completely missing from Trevor's life, and the two of them formed a strong connection whenever they were given the chance to do so. On the other hand, when he was about 13 years old, his father moved the family to Cape Town, and after that, he didn't hear from his father for the next seven years. On the other hand, once at a time his mother convinced him to go look for his father, and he did as he was told. When Trevor saw his father, who had painstakingly gathered printouts of Trevor's appearances in local newspapers as well as advertisements from his comedy events, he immediately felt at ease. His father had done this.
Trevor was raised by Patricia to have a Brave Heart.
In his book "Born a Crime," Trevor makes the confession that his mother was the primary influence in shaping him into the person he is now. He made the remark that she is the most significant person in his life and that, if it weren't for her, he would have evolved into a different person. Patricia chose to bring up Trevor in South Africa's black communities so that she would not have to answer questions from the authorities about how she came to have a child of a different race. Despite this, she took him to the township, albeit in a covert manner, so that he might gain a better understanding of the circumstances.
Patricia made it her mission to ensure that Trevor was able to devote sufficient time to learning as a child. She did this by providing him with a vast collection of books, as well as by instructing and motivating him to become fluent in a number of different tongues. Trevor is now fluent in a number of South African languages, including but not limited to Xhosa, Zulu, Afrikaans, Tswana, Tsonga, and Southern Sotho, in addition to English. In his autobiography, Trevor reveals that his mother raised him not in the cultural sense of being reared as a white child, but rather in the sense of instilling in him the concept that the entire world is his oyster.
On the other hand, Trevor's grandma Frances Noah played a significant role in his development throughout his childhood. Trevor was primarily taken care of and comforted by his grandma throughout the time that his mother was serving time in prison for violating apartheid restrictions. In addition to that, he acknowledged her for the role she played in shaping him into the person he is today.
Trevor Noah Had a Stepfather Named Ngisaveni Abel Shingange Who Was an Abuser.
Andrew and Isaac Ngisaveni are other relatives of Trevor Noah. They were born after his mother got a divorce from Robert Noah and married Ngisaveni Abel Shingange. Robert Noah was Trevor Noah's father. On the other side, no one would volunteer to be a witness to the wedding between Patricia and Ngisaveni because it was so awkward. Patricia was so violent toward Ngisaveni that he once beat her into a coma in front of their neighbors using discarded bicycle frames. This was a common occurrence at their slum house because of Patricia's violent behavior toward Ngisaveni.
She eventually worked up the nerve to file for divorce from him in 1996, and she wed Sfiso Khoza in July of 2009, but she had no idea that her problems were far from finished at that point. After being rejected by Patricia, Ngisaveni went in search of her and shot her in the face. The bullet went through Patricia's ear, nose, and skull, but it didn't hit any of her major nerves. After leaving her for dead, he went in search of Trevor with the intention of shooting him as well. However, he was unable to locate Trevor, and Patricia was able to get away. He wound up in jail, as was to be expected, and that was the last time any of us heard from him.
During the time that Patricia was recovering in the hospital, Trevor's feelings of resentment toward Ngisaveni were at an all-time high, but his mother managed to convince him to let it go. Although he didn't comprehend the reasoning behind his mother's statements at the time, he now acknowledges and values their profound significance. Because Trevor has been pushed to the side in all of the drama involving the famous comedian, his mother, father, and stepbrothers, it is unknown what kind of relationship Trevor has with Ngisaveni. On the other hand, Trevor's relationship with Ngisaveni is unknown.
The Relationship That Trevor Currently Has with His Parents and Other Members of His Extended Family
Isaac Shingange and Trevor Noah both went to the same school in Johannesburg called Maryvale College, which is still open and accepting students. In contrast to his abusive father, he was a wonderful friend to his half-siblings and a devoted brother to them as they grew up. His father was also abusive. Other than the fact that their fathers had distinct complexions, it was impossible to distinguish between them. Isaac is a mysterious figure, and not much is known about him other than the possibility that he might be Trevor Noah's stepbrother.
The city of Johannesburg is where Andrew and his brother were both born and raised. It's possible that he attended Maryvale College alongside his siblings, but he did not continue his education beyond that. According to the most recent information available, he is now a married man with children, but very little else is known about him. He has maintained the popularity that came to him as a result of his role as Trevor Noah's younger brother.
According to the information that we have, Andrew and Isaac Shingange, Trevor's brothers, currently reside in South Africa. They have managed to keep a low profile throughout their lives. It is believed that their well-known brother, mother, and maybe stepfather (Trevor Noah's father, Robert Noah) maintain a cordial, if not exactly sibling-like, relationship with one another.
It is believed that they are doing well and have avoided any troubles, despite the fact that their chosen careers have not brought them the same amount of renown as Trevor's. On the other hand, not much is known about their harsh father, who was caught after having shot their mother and looking for Trevor. It's possible that he has reconsidered his decision, but he has been conspicuously missing from recent activities involving Trevor, his mother, and even his stepbrothers.
NOTE:
This article's content and biography have both undergone extensive investigation and been derived entirely from reliable sources.
This content is provided for educational purposes only; please contact us immediately if you find any errors, suggestions, or violations of your intellectual property rights. DISCLAIMER!!
Spread this one-of-a-kind article across all of the social media platforms, and please don't forget to keep your distance from other people, wear masks when you go out, and use hand sanitizer and wash your hands frequently. Prevention is always better than treatment.
Thank you for reading; the material presented here is open to both constructive and constructive criticism, and we appreciate your attention to it. It would be greatly appreciated if you would leave a comment below and share the story with as many people as you possibly can.
According to Opera News
The content was developed and provided by the News Hub Creator. The views and opinions that are expressed on Opera News are solely those of the author; they do not represent, reflect, or express the views of Opera News in any way. Opera News is a platform that users can access for free. Any and all written information and photos that are displayed were provided by the blogger or author, appear herein as submitted by the blogger or author, and have not been modified in any way by Opera News. Opera News does not give its consent to, nor does it condone, the posting of any content that violates the rights (including the copyrights) of any third party, nor content that may malign, among other things, any religion, ethnic group, organization, gender, company, or individual. Neither does it consent to, nor does it condone, the posting of any content that may malign, among other things, any religion, ethnic group, organization, gender, company, In addition, Opera News does not support or condone the use of our platform for the purpose of supporting or endorsing hate speech, violating human rights, or making statements that are of a defamatory character. You are kindly requested to immediately notify us using the following email address [email protected] and/or report the article using the available reporting functionality built into our Platform in the event that the content contained herein infringes upon any of your rights, including those pertaining to copyright, and/or infringes upon any of the aforementioned factors. In the event that any of your rights, including copyright rights, are infringed upon by the content contained herein Continue reading>>
Content created and supplied by: Dailynews (via Opera News )
Opera News is a free to use platform and the views and opinions expressed herein are solely those of the author and do not represent, reflect or express the views of Opera News. Any/all written content and images displayed are provided by the blogger/author, appear herein as submitted by the blogger/author and are unedited by Opera News. Opera News does not consent to nor does it condone the posting of any content that violates the rights (including the copyrights) of any third party, nor content that may malign, inter alia, any religion, ethnic group, organization, gender, company, or individual. Opera News furthermore does not condone the use of our platform for the purposes encouraging/endorsing hate speech, violation of human rights and/or utterances of a defamatory nature. If the content contained herein violates any of your rights, including those of copyright, and/or violates any the above mentioned factors, you are requested to immediately notify us using via the following email address operanews-external(at)opera.com and/or report the article using the available reporting functionality built into our Platform See More