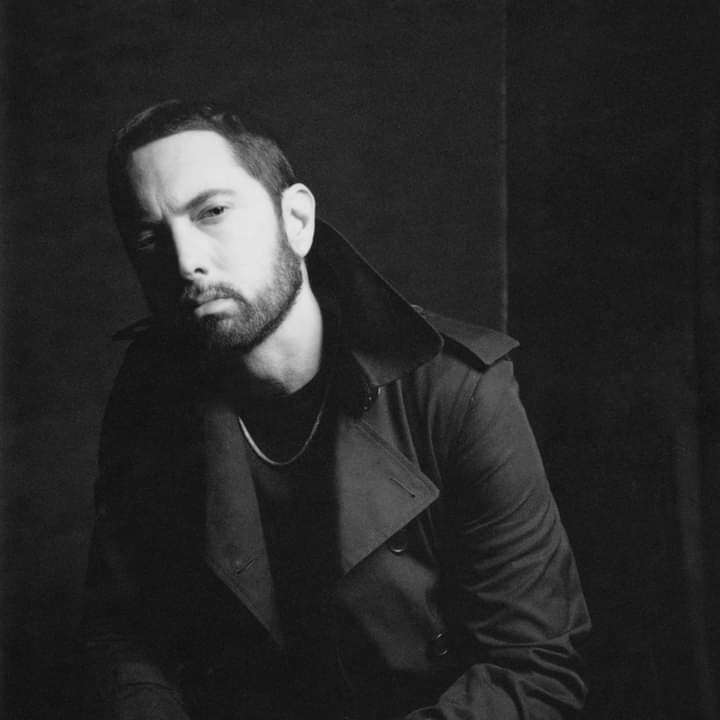 Lucky You was undoubtedly one of the best, if not the best song on KAMIKAZE. It was a surprise feature. Who would have expected Eminem to team up with Joyner?
On I'm Not A Racist, Joyner name dropped Eminem and uploading him for 'standing' with us. Let's break down Em's verse and show you some punchlines that might have went over your head.
''I done said a lotta things in my day, I admit it this is payback in a way, I regret it it that that I did it. I done won a couple Grammys but I sold my soul to get 'em, wasn't in it for the trophies just a recognition''
Eminem's career has been marked with controversy. For instance, the LGBT community demonstrated against him for his usage of the word 'f***** in songs like Marshall Mathers, Criminal, Rap God. He also made fun of celebrities like Micheal Jackson and referenced his child molestation case on 'Just Loose It''. Selling his soul is a metaphor because he said some things that no one else would dare say. He says he won some Grammys but he did not want them. He just wanted to be recognized. He got a lot more than what he had bargained for .
''Man, I used to risk it all''
When he was starting his career, Em was mindless of what he was saying because he had nothing to lose. Fast forward 2017, he had a lot to lose.
''I've been eating long enough. Man, my stomach should be full''
As of 2017, Em had been in the mainstream for 18 years and he has been selling records and winning awards and making money. He uses a metaphor here with food and money.
''I got a couple of mansions. Still I don't have any manners''
Eminem uses a homophone ''Manner'' to also mean ''manor'' - a large country house or mansion with a lot of land, creating a paradox within his lyrics where what he says appears to make no sense.
''You got a couple of ghostwriters but to these kids, it don't actually matter''
Eminem clarified that these lines are not aimed at anybody in particular. A lot of people thought he was taking shots at Drake because Meek Mill exposed him that he uses a ghostwriter.
''They're asking me what the F happened to hip, I said I don't have any answers 'cause I took an L when I dropped my last album it hurt me like hell but I'm back on these rappers''
Taking an L means to take a loss. When Marshall released Revival in 2017, it was poorly received by fans and critics. But he came back with another album KAMIKAZE
''Actually coming from humble beginnings, I'm somewhat uncomfortable winning''
Em had a tough childhood, raised by a single mother, his father abandoned them when he was just a baby. So whenever he wins or achieves something, it's a bit uncomfortable''
''We're on the upswing like we're punching the ceiling''
This a double entendre with ''upswing'', as in the general meaning; ''on an upward trend'', and as in punching upwards, as if to punch the ceiling.
''But nothing is feeling like anyone has any ability to even stick to a subject''
Some rappers can't stick to one subject in a song. They can talk about love in one line, then a completely different thing in the next line.
''The inability to pen humility''
A lot of rappers are just rapping about their possessions, drugs, and sex. Nothing personal, nothing real or deep
''Hatata batata, why don't we make a bunch of songs about nothing and mumble 'em''
Eminem criticizes mumble rap. Muble rap songs do not have meanings.
''Fuck it I'm going for the jugular, s*** is circus, you clowns that are coming up don't give an ounce of a mother**** about the ones that were here before you that made rap, let's recap, way back, MCs that wreak havoc on tape decks, ADATs, where's the G Raps and Kanes at? We need 3 Stacks ASAP and bring Masta Ace back''
New school rappers have openly disrescted legends. Ll Xan called Tupac's music boring, Lil Yachty claiming Biggie was overrated and Vince Staples claiming the 90s hip hop is overrated. Em also gives a shout to some rap legends and asks them to make a return and save hip hop.
''Cause half of these rappers have brain damage. All the lean rapping, face tats, syruped out like tree sap''
Mumble rappers glorify drug use and brag about drinking lean. Most mumble rappers have their faces tattooed.
''But I think it's inevitable they know what button to press or what lever to pull to get me to snap, though, and if I pay attention I'm probably making it bigger but you've been taking ya d**** in the back, h**
The way he pronounce ''back, h** can also be heard as 'back hole' and is referring to the rear end.
''On the brink, any minute got me thinking of finishing everything with acetaminophen and reaping the benefits''
acetaminophen is a pain killer. This line could mean that Em thought of leaving the game and leave all the pain behind.
''I'm asleep at the wheel again''
Em might be saying that he should take the pills like old times and bring his old self back''
''Cause even if I gotta end up eating a pill again, even ketamine or methamphetamine with the minithin, it better be at least 70 or 300 milligram and I might as well 'cause I'ma end up being a villain again''
Shady was addicted to prescri[tion drugs from 2002 to 2008. Many fans wish he would start doing drugs again because they believe that he made better music when he was on drugs.
''Levels to this shit, I got an elevator''
Em is playing off of Kendrick Lamar's HUMBLE and his own song Elevator off the Relapse album. He agrees with Kendrick that there are levels in hip hop, but he can easily go through them.
''You could never say to me I'm not a record-breaker, I sound like a broken record every time I break a record''
He compares himself to how a physical record repeats itself when it's faulty or worn since he repeats himself every time he achieves a new feat
''But I roll till the wheels fall off I'm working tirelessly, ayy''
He metaphorically means that he is working so hard that his wheels fall off. Because he spoke of wheels, he created a punchline because he said 'tirelessly'. When wheels fall off, your vehicle is tireless because it has no tires.
Content created and supplied by: Percivall (via Opera News )