See What A Baboon did to Simphiwe Dana in her Hotel Room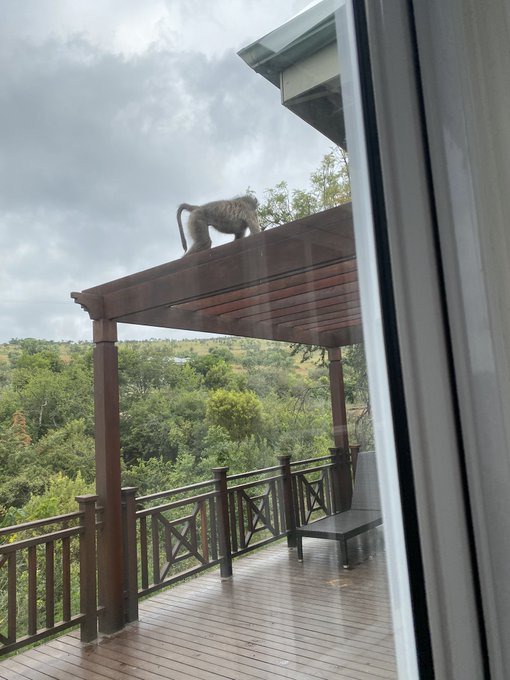 Baboon/monkey on her stoope...
Multi-award winning South Africa songtress, Simphiwe Dana said she suffered a shock Monday morning when a baboon made a surprise visit inside her room.
"I literally was in the state of screaming. And baboons have an audacity shem. He stood there calmly for a few, and touched his [dangling long thing], Dana expressed.
Dana who posted the picture of the daring baboon said he was inside the room apparently of a hotel near woods where monkeys and baboons live.
"Dude even masturbated when he saw me. Because I'm naked," Dana narrated her encounter with man-like creature.

Dana who recently came out about her sexual orientation status was on a getaway with trip, with her beau Berlin-based opera singer, Pumeza Matshikiza.
Before the early morning baboon visit, Dana had shared information about her intimate moment with her fans on Twitter, saying; "Anyway. Get you a person who takes you away when life gets too much."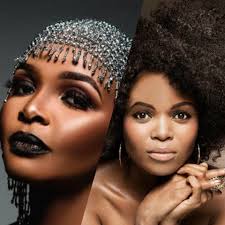 The Bamako hitmaker announced a change of her sexual orientation as gay last November when she took to her social media platform and said she was gay. Then, the soulful singer revealed that she would be getting married to her long time lover and friend Pumeza Matshikiza.
There are many traits in baboon behaviour that are very similar to that of human beings. The baboon trait that mostly resembles human behaviour lies in their sexual habits. It has been observed that male primate consider women as equal to their own female animals.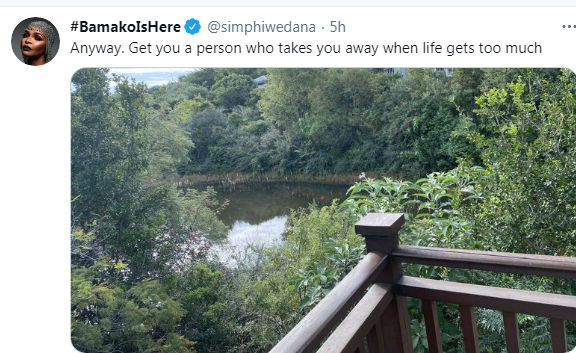 As such, while they will see a male human beings and run, they often try to intimidate women as they do to their female primate.
Content created and supplied by: Daily-Godly (via Opera News )