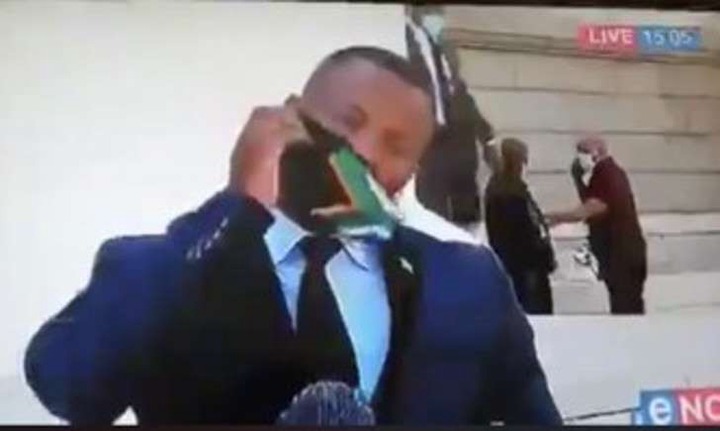 An employee of eNCA known as Lindsay Dentlinger has just implied that only black people have corona virus. who due to her unconscious bias racially abused UDM's deputy president Honorable Nqabayomzi Kwankwa on national television. She has for long been able to hide her racism behind working along side Black employees.
After she was conducting an interview with //////who had no mask on or any signs of possessing one with him she didn't have a problem with him because of his skin colour. And then when Mr Kwankwa stepped out of the building who clearly had his mask on and just took it off to conduct his interview with her, she asked him to put it back on.
So what exactly was she implying that Mr Kwankwa was not hygienic enough to conduct the interview without his face mask or was she trying to say that inly black people have the virus. And this was not the first instance where by she had conducted an interview with someone of the white colour without their face mask and she had no problem but every time it is a black person she always has a problem.
Now we are not saying she is racist but it is an act of racism. check out the video on the link below. and people on twitter had their own opinions
<blockquote class="twitter-tweet"><p lang="en" dir="ltr">What is disappointing is that CLEVER BLACKS don&#39;t see anything wrong with this clip. <a href="https://twitter.com/hashtag/eNCA?src=hash&amp;ref_src=twsrc%5Etfw">#eNCA</a> <a href="https://t.co/uem451LO0n">pic.twitter.com/uem451LO0n</a></p>&mdash; Man's NOT Barry Roux  (@AdvoBarryRoux) <a href="https://twitter.com/AdvoBarryRoux/status/1364818129138954242?ref_src=twsrc%5Etfw">February 25, 2021</a></blockquote> <script async src="https://platform.twitter.com/widgets.js" charset="utf-8"></script>
Content created and supplied by: FaithFezeka (via Opera News )