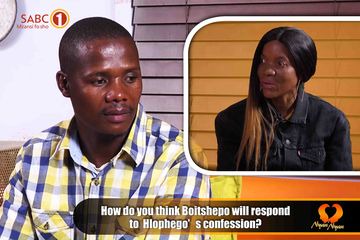 Nyan nyan, a man is in big trouble for owing loan sharks an amount of R36 000. He came to apologise to his woman for all the troubles his in. Apparently his been spending most of his money with side chicks, and spending less of it with his children.
He has put himself in a serious danger for owing the wrong people and now they threaten to kill him. He had been hiding secrets to his girlfriend, the only person who knew about all his secrets was his cousin. Right now he wants help and he have decided to let her girlfriend know about the danger his in, and the advice he got from his girlfriend is that he must look for a job and pay all his debt.
He promised his girlfriend to change and be a better man, he even promised to save money in order to pay lobola for his girlfriend. This is what happens when you love keeping secrets and telling lies at most times, secrets have a way of coming out.
Content created and supplied by: MisterLee (via Opera News )