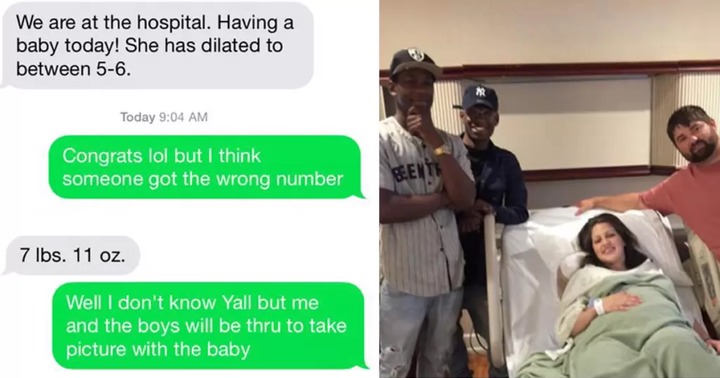 Professional Expertise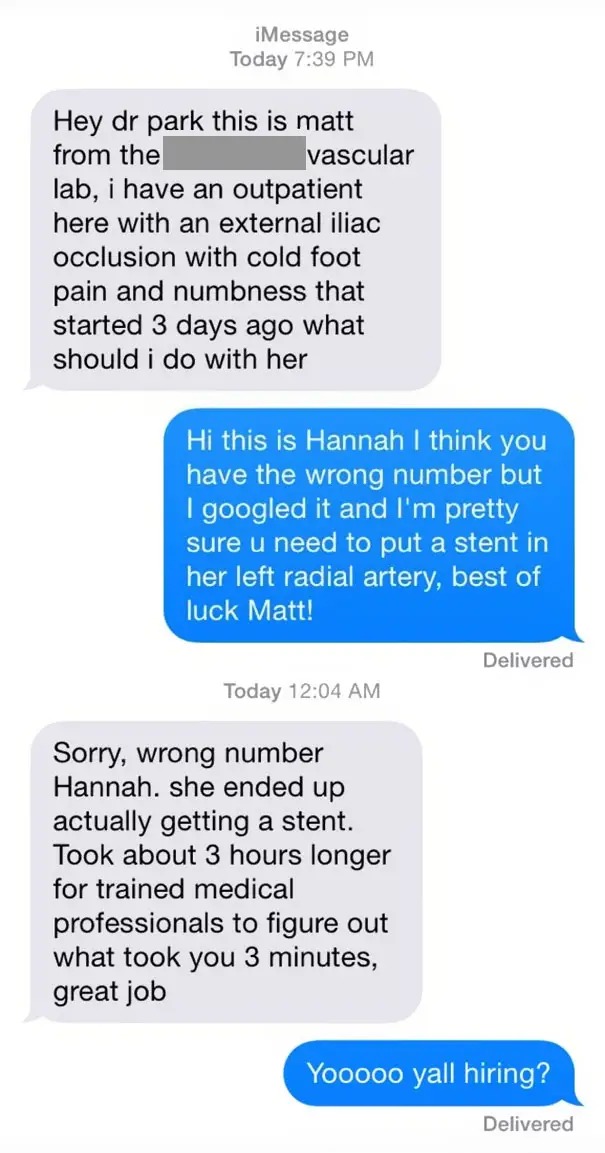 When Hannah received the wrong text from a doctor, she tried her best to help out. When Dr. Park responded over four hours later, her response is amazing. Dr. Park should keep Hannah's number handy just in case.
Queens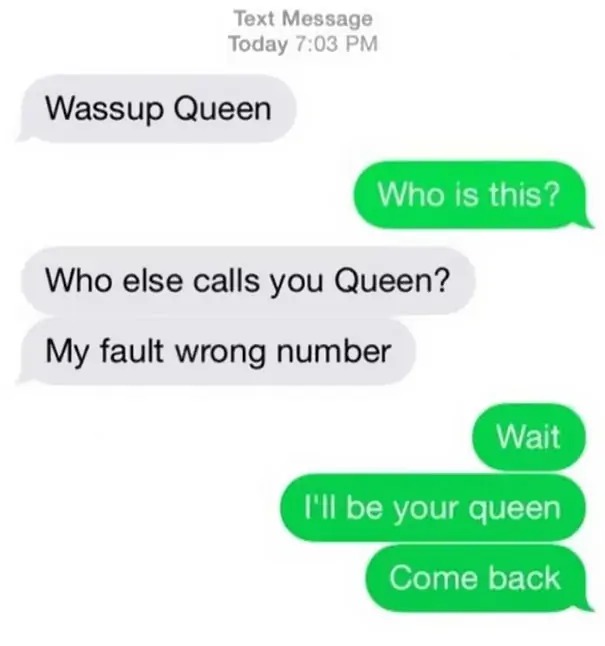 This woman was a queen! Well, only for a few seconds before he realized he texted the wrong number. You will always be a queen to us.
Quick Delete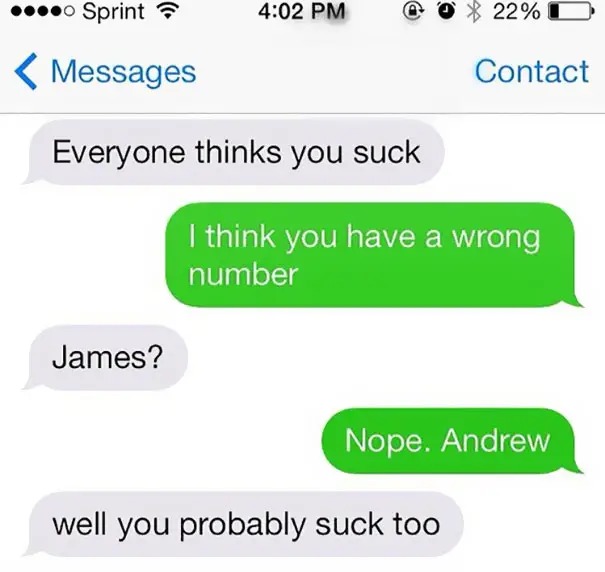 This person did not care that they sent the wrong number, everyone to them sucks. We hope this sender got in a better mood eventually! We think Andrew is awesome, James probably is too!
Girl or Grill?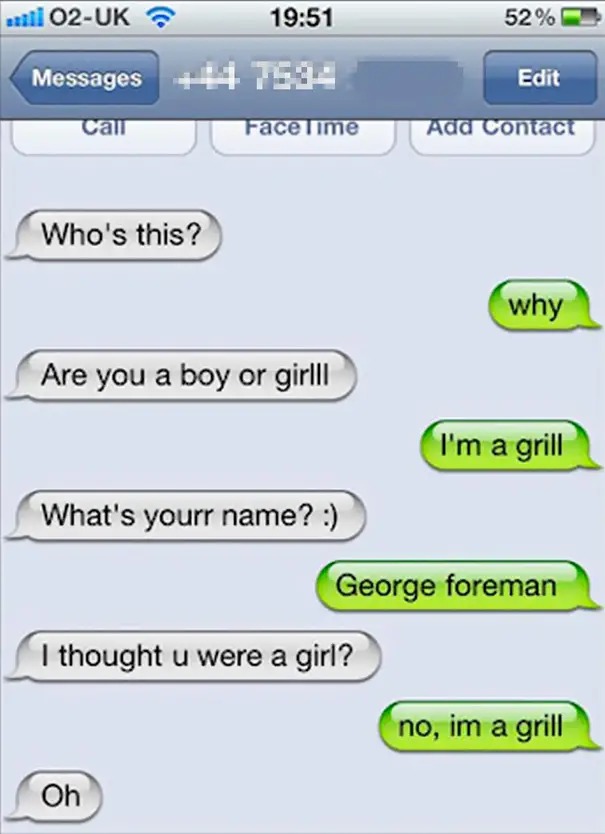 Was this a wrong number text or just a hopeful text to an unknown number? Whatever the case maybe, the response has us laughing all the way to our grills!
Strangers No Longer

When these gentlemen received a text about the birth of a new child, they did not care that they were strangers! Happiness is contagious, so they showed up in person to give congratulations. They even brought gifts!
Blanket Response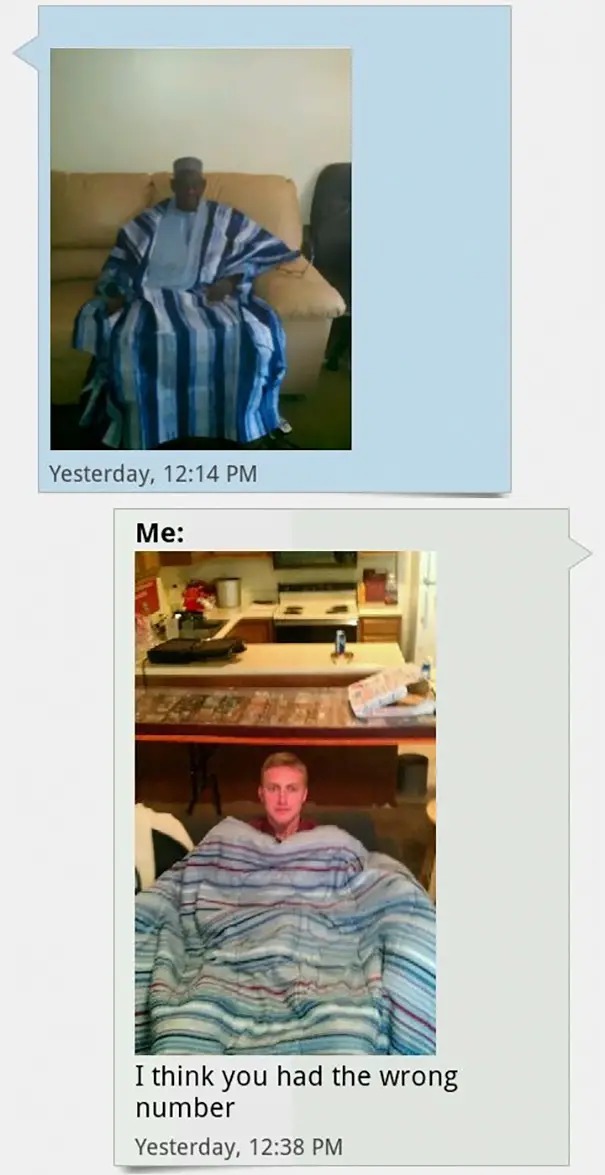 Not only did this guy reply to let this person know it was the wrong number, he recreated the sent photo! Luckily for him, he had a blanket that was pretty similar. Amazing!
Yellow Brick Road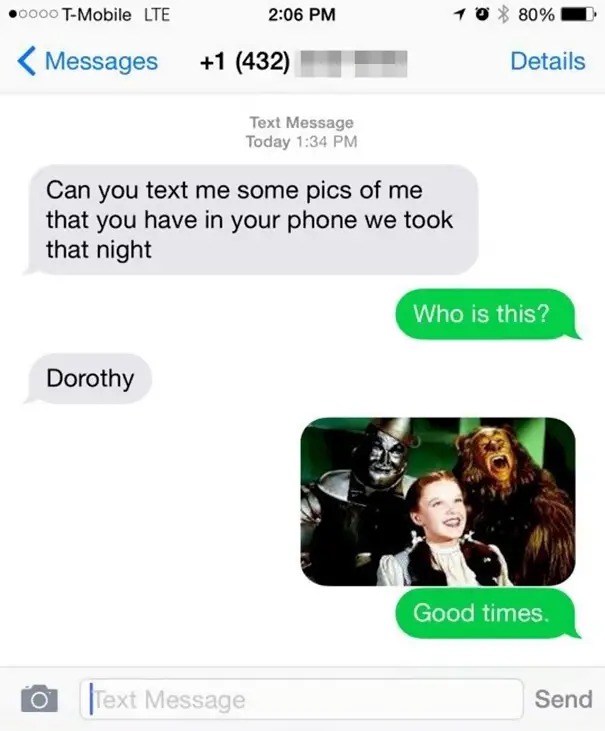 Dorothy looks like she had a great night last night with the Tin Man and Cowardly Lion. Or she accidentally texted the wrong number to a hilarious person!
Tina's Cat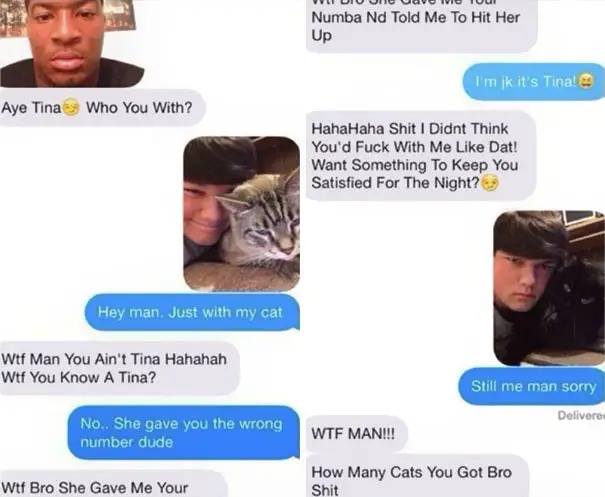 This man decided to get his cats involved when recieving a wrong text. We are so glad he did because we have the same question as the sender.
Too Quick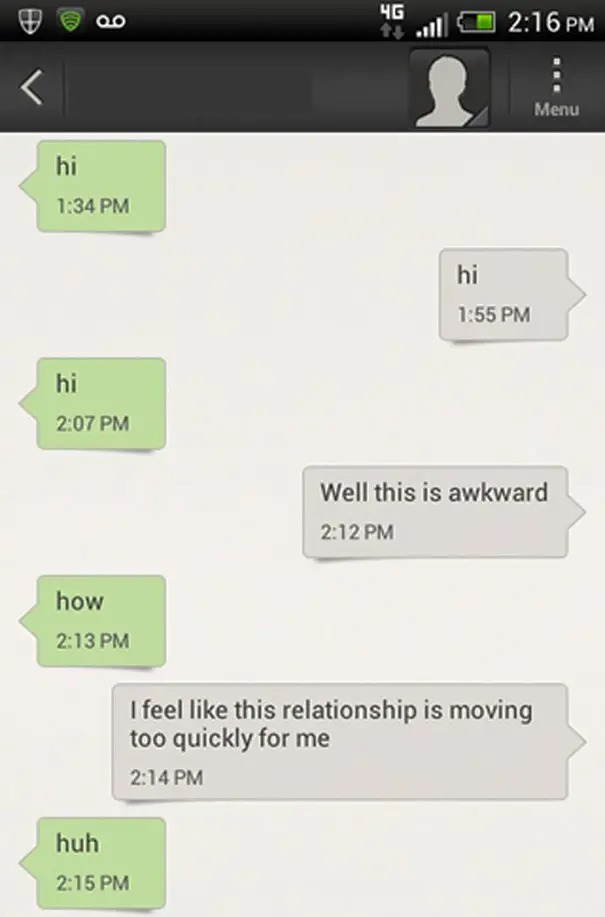 When this person received a wrong text, it all happened too fast! Without telling the other person it was the wrong number, the sender became just as confused. Pure gold!
Pizza Shop of Lies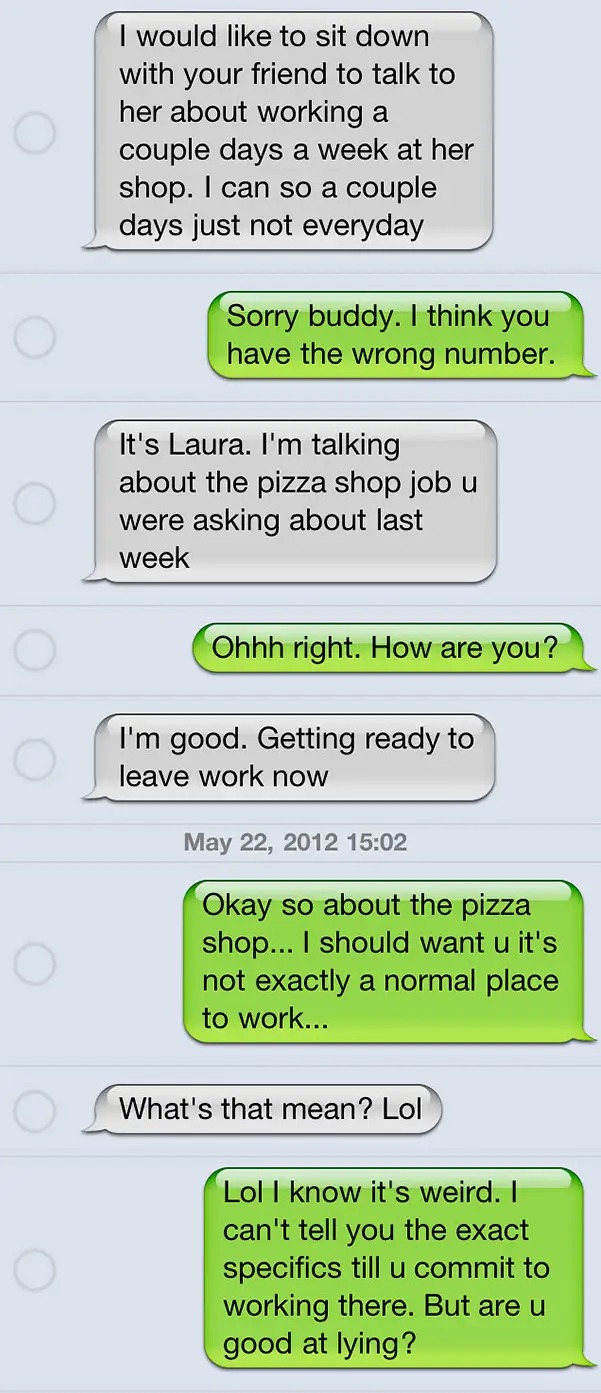 When this sender did not believe they sent a text to the wrong number, the recipient decided to go along with it. We are not sure if this person is going to want to work at this fake pizza shop of lies!
Fighting Brothers

Brothers are known to fight, so when this "brother" responded with a fight it was certainly believable! Hopefully the real Brian locked the door and that Cameron realized his mistake.
Come Help!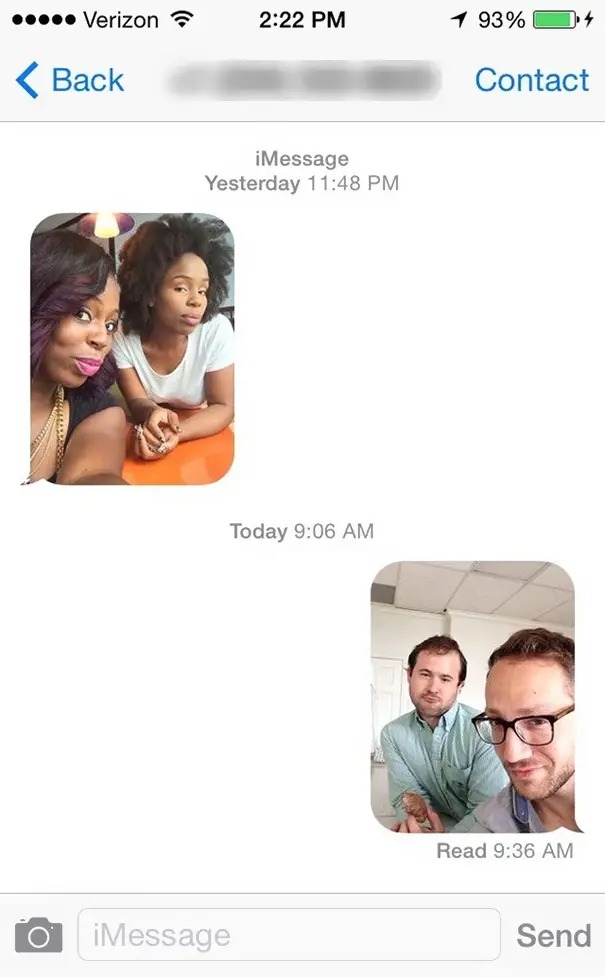 When this man received a picture from strangers, he called in for some help! Thankfully the friend help because the picture they sent back is hilarious.
"people must be like: *sees photo txt from random person with the wrong number* 'HEY DUDE! get over here some chic hs the wrong number and sent me a pic. u GOTTA match it'"
Mean Mom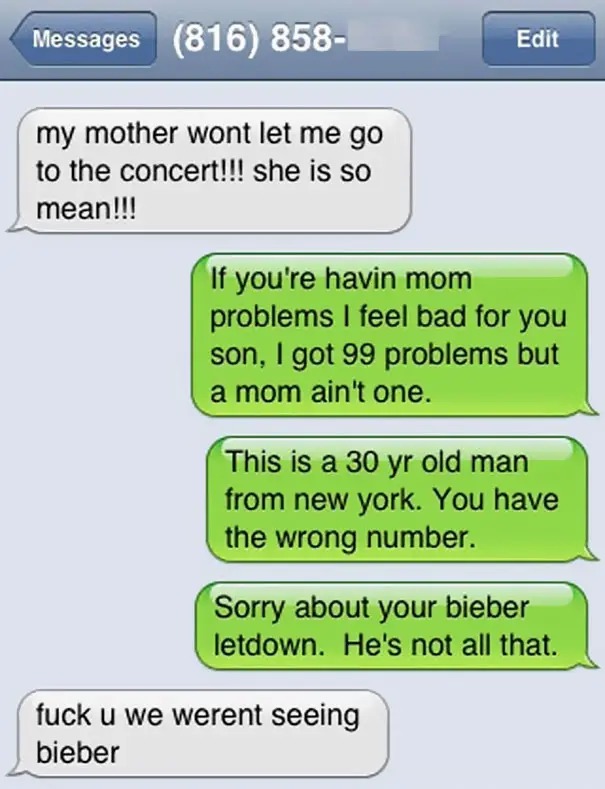 This thirty year-old man did not agree with his wrong text. He seemed to be team mom! She was not happy about this at all. The biggest question we have is, which concert was she trying to go to?
New Wendy

While this stranger was not Wendy, he did approve of the cake for the nephew. It is unsure how the sender did not realize he was not Wendy but at least this man was nice about it! Two thumbs up!
Is He Alright?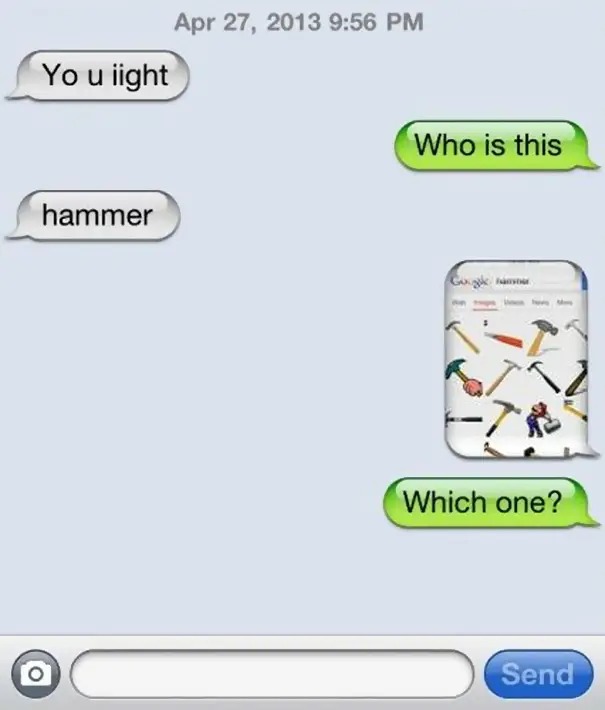 This stranger just wanted to make sure he was alright. Once he found out the sender's name though, he just could not help himself. Once the picture was sent, pure silence.
Excited Reply!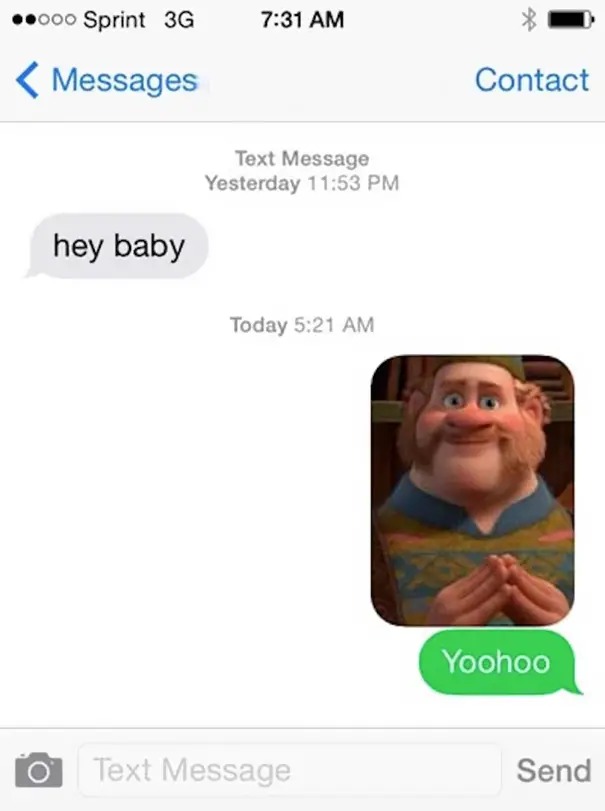 This responder must have enjoyed being called baby by a stranger! We wonder if the text sender enjoyed the reply as much as we did.
Confusion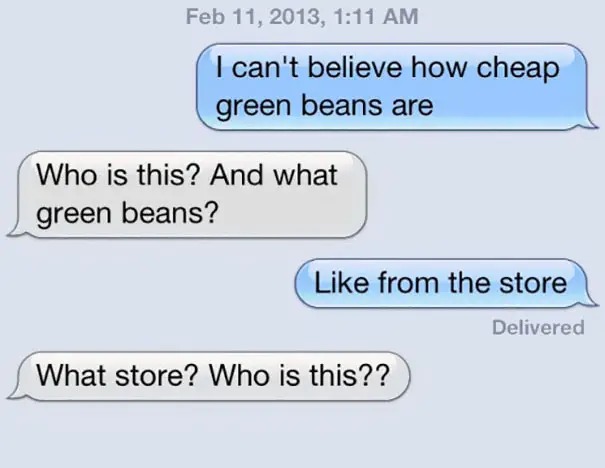 It seems that the person who received these texts was more confused than the sender. How the person still wanted to know which store is hilarious! The price of green beans is way more important than finding out who is texting you!
Couldn't Help Themselves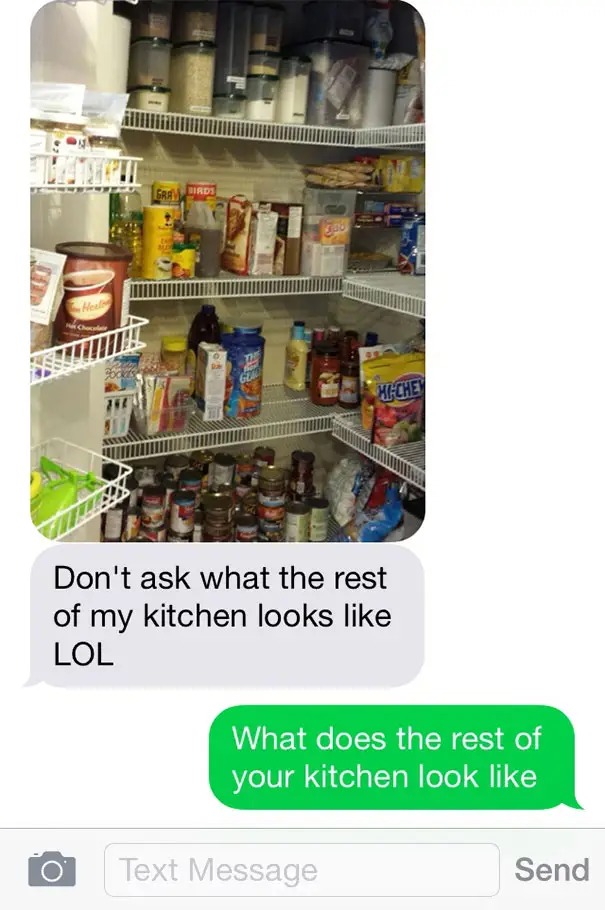 When a stranger texts you with a command, it was an immediate response for this stranger to defiant. What else did this person have to lose and maybe they did wonder what the rest of the kitchen looked like!
Beyhive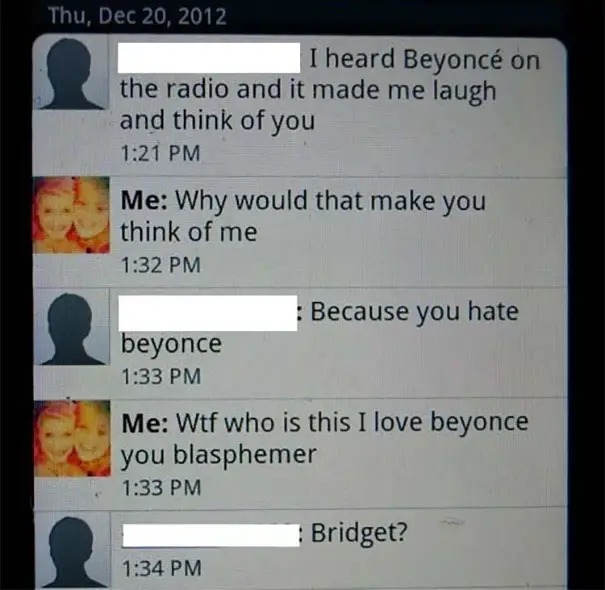 One thing is for sure, it is not safe to talk bad about Beyonce to a Beyonce fan. This woman definitely does not support Bridget!
Cat, Dog?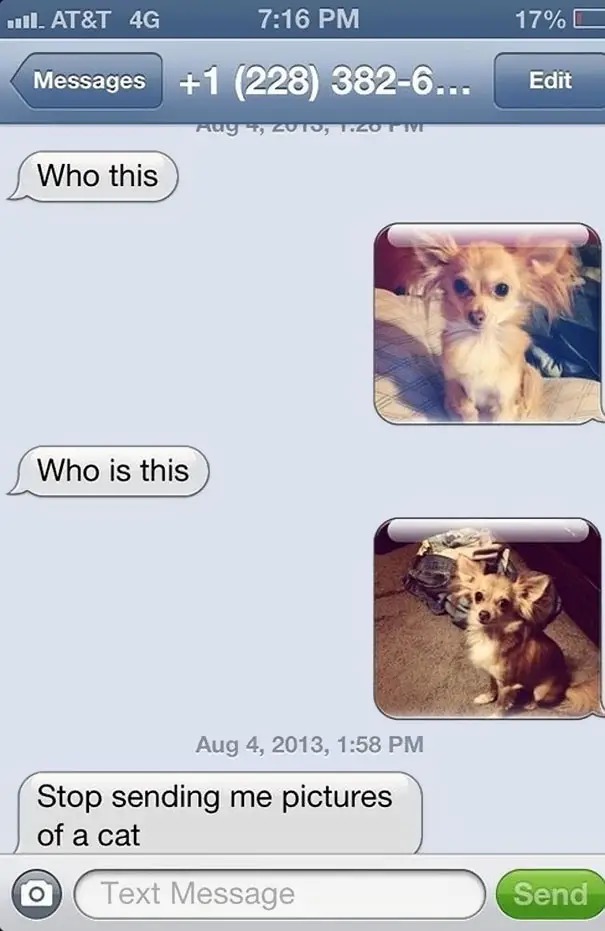 This person not only sent a text to the wrong number, they also are unsure what a cat or dog looks like! Poor dog, hopefully your owner gave you extra pets that day because you are handsome.
Sam Times Three

We have to agree with this responder to a wrong text, he is funny! While the first Sam is his favorite, mine would be Sam three! Which Sam would have you been disappointed in the most?
Wrong Number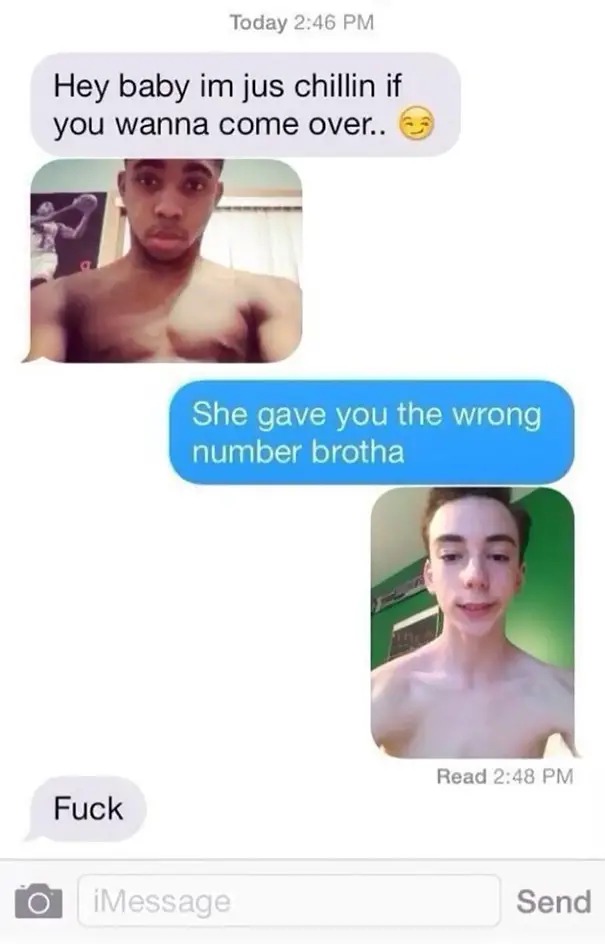 This guy did not only let inform him that he had the wrong number, he gave photographic proof! The results were amazingly funny, for everybody but the sender. Sorry bro!
What's Done?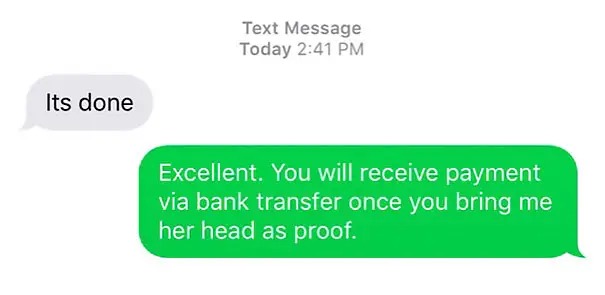 The response from this wrong text would be terrifying! Thankfully a screenshot was taken because for everyone else it's hilarious. The sender only has one question.
Me?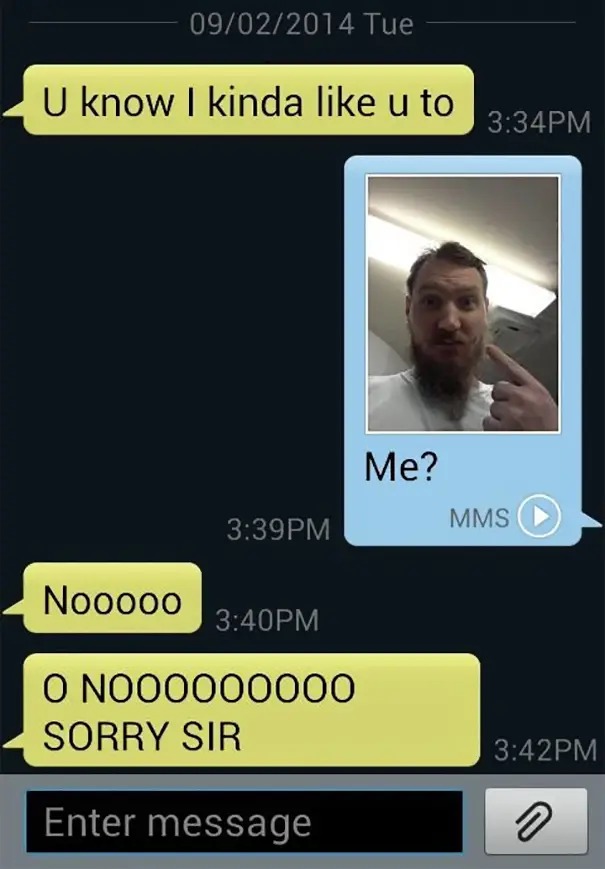 At least this sender gave respect to his stranger by calling him a sir. Even if they did have a very quick 'nooooo' once the picture was sent.
Content created and supplied by: Shanelize (via Opera News )