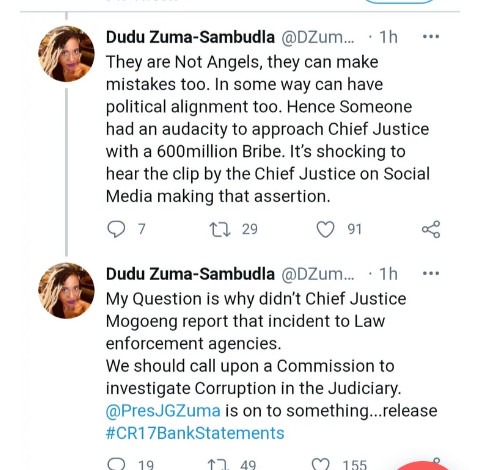 A lot seem to be going wrong at the Zuma house, the roof seem to have fallen off and a lot is showing and they are racing against time to save their skins.
With all the charges against Zuma, his children are also holding guns , ready to fire their shots at whoever comes for their father. They are protecting him at all costs and they will stop at nothing to make sure,his name is cleared.
Zuma have missed court cases and then wrote a statement calling out Zondo commission and said, they have sat down amd discussed him in his absence and people were quick to correct him and reminded him that, he was summoned but he never pitched.
Now Dudu also took it to Twitter to call out people who acts all saints, in her tweet said wrote" They are not Angels, they can make mistakes too. In some way can have political alignment too. Hence someone had the audacity to approach Chief justice with R600 million Bribe. It's shocking to hear the clip by the chief justice on Social media making that assertion.
Content created and supplied by: Pamart92 (via Opera News )