House sensation Heavy-K and House music legend DJ Cleo were at each other's throats and it started when Heavy-K posted his own achievements that he has achieved over the past 10 years and he was proud of being consistent with his music. DJ Cleo was not happy about with Heavy-K posting his list of achievements. He labelled him being consistent at with negative energy for years and the House DJ thought it was enough. Heavy-k replied him and told him to mind his own business.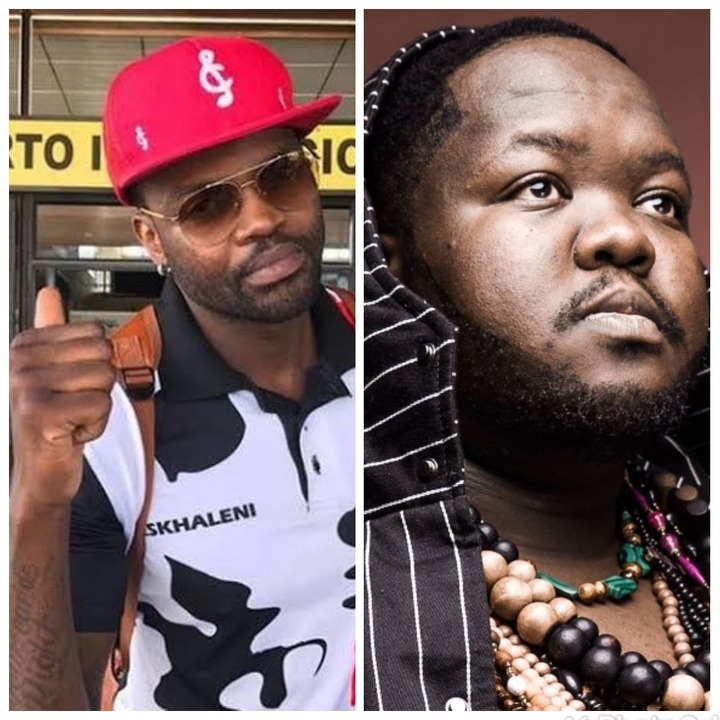 image cred : Twitter
It all started with Heavy-K's tweet :
#KHUSTA @HeavykDrumboss - "2010 : Lento 2011 : Gunsong 2012 : Wena 2013 : Beautiful War, Yini 2014 : Easy to love 2015 : Sweetie, uMoya 2016 : Celebration, Hamb'lala 2017 : Inde 2018 : Ndibambe 2019 : Siphum elokshin 2020 : UYEKE All these singles are either multi or platinum"
Then DJ Cleo started the a Twitter war by posting this tweet :
Eskhaleni Tanks Vol 1 @djcleo1 - "1. But there's no quantification called multi ... Multi means 'many, plenty' 2. Asilwi nawe boy, we know your work & worth. I don't need 2 remind us with every second tweet. u've been consistent at this negative energy for years now. Enuf bro Spread Positivity #GroomanTalk"
Heavy-K was having none of that when he replied back with a respectful but harmful tweet :
#KHUSTA @HeavykDrumboss - "With due respect grootman, jonga indaba zakho nam zojonga exam."
This words, "jonga indaba zakho nam zojonga ezam" means mind your own business and I will mind my own business too.
Heavy-k without a shadow of a doubt, he has released great songs for the past 10 years and he keeps them coming. He will never stop, no matter what. He was born for this and it also puts bread on the table for him each and every month. He was born in Veeplas which is located in Nelson Mandela Bay, Eastern Cape and his dream were different from what he got.
DJ Cleo has ventured into the new music called Amapiano as you can hear him from time to time mentioning them as "Yanos" which is short for Amapiano. Who can forget, DJ Cleo's Es'khaleni albums that he produced ever year, it was hit after hit. Recently, he has been low-key in the music industry while DJ Kabza de Small dominates the music industry.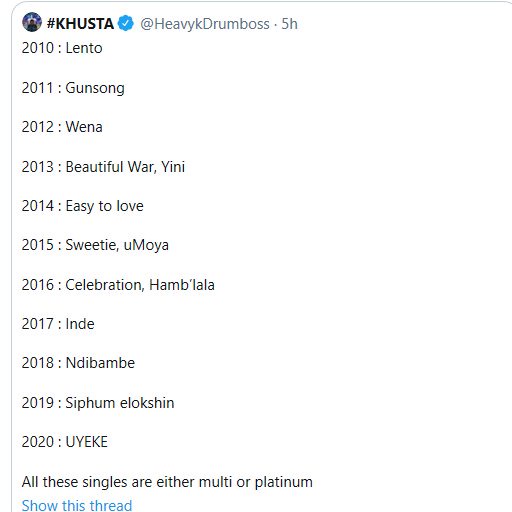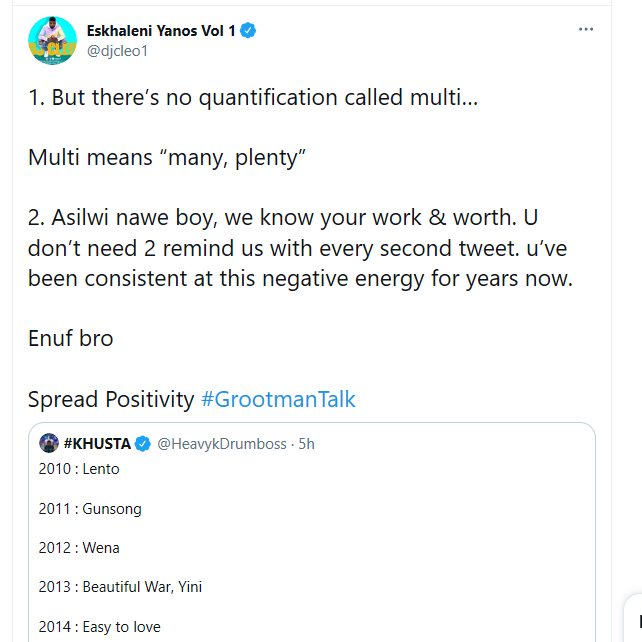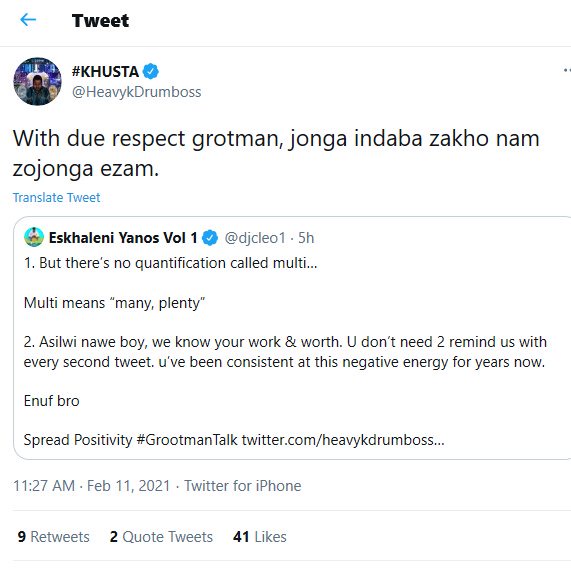 image cred : @HeavykDrumboss & @djcleo1
Thank you for taking your precious time to read our article.
Please don't forget to share, like, comment and follow us for more articles.
You can also follow us on our social media accounts at News Flash Gordon on Facebook and @NewsFlashGordo1 on Twitter.
Content created and supplied by: News_Flash_Gordon (via Opera News )