Yes women are taking up the space and they are always trending for such actions. Many women want love and also they want to be respected. Many people have advised them not to do such on social media. But unfortunately they do, who is there to judge. Women also deserve to share their stories and also things that make them happy. As much as men do this there are many women who also want to do such. 
A woman on twitter has so many followers and also it is always hot at her DMs. This lady receives a lot of DM's were people ask and also request things from here. She then shares them on her timeline on twitter so that interested people can engage.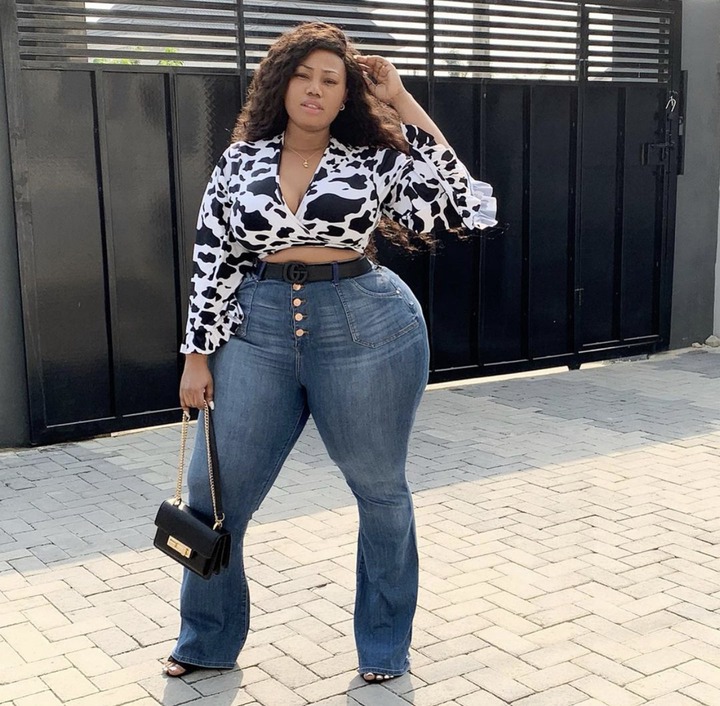 A Direct Message was sent to her. It was a woman who is on her forties and also divorced. The woman was asking for a relationship with a young and also energetic young man. She explained that she wont give the person money. The man was explained that he should have his own money.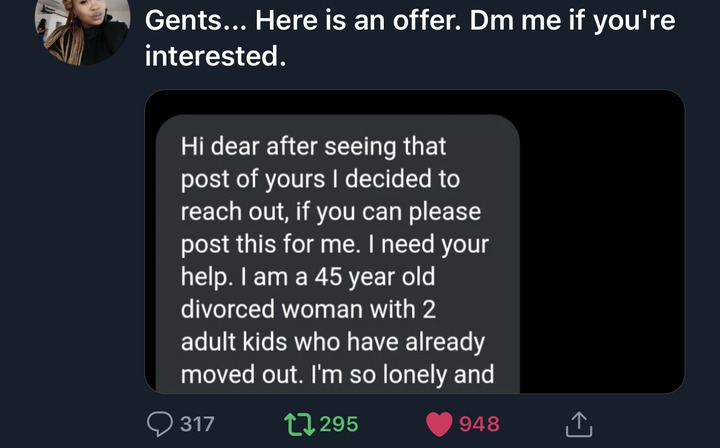 Unfortunately followers did not understand that, they have attacked the poor woman. The explained on how that is not possible and also that she knows that. 
Link to the post and also full comments- https://twitter.com/thembisile_q/status/1356926496405880833?s=21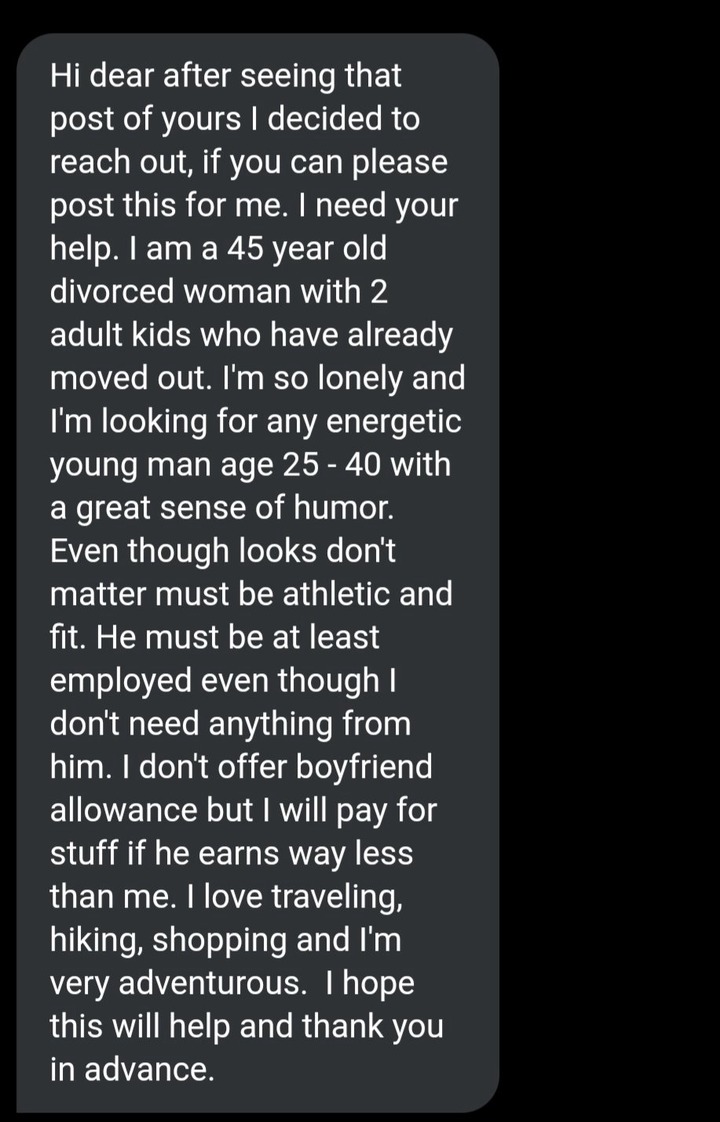 @musa, "We want the allowance we can't h*t old for food"
@kagiso, "Something tells me she is reading the comments open6 your DMs guys she might read them"
@Rick, "The guy on that picture deserves to drink Oros. You cannot have that quantity of ice for such a fine bottle."
@Lumko, "Lol...chief me I'm finished...i'm done,energy is gone..a complete MABENA"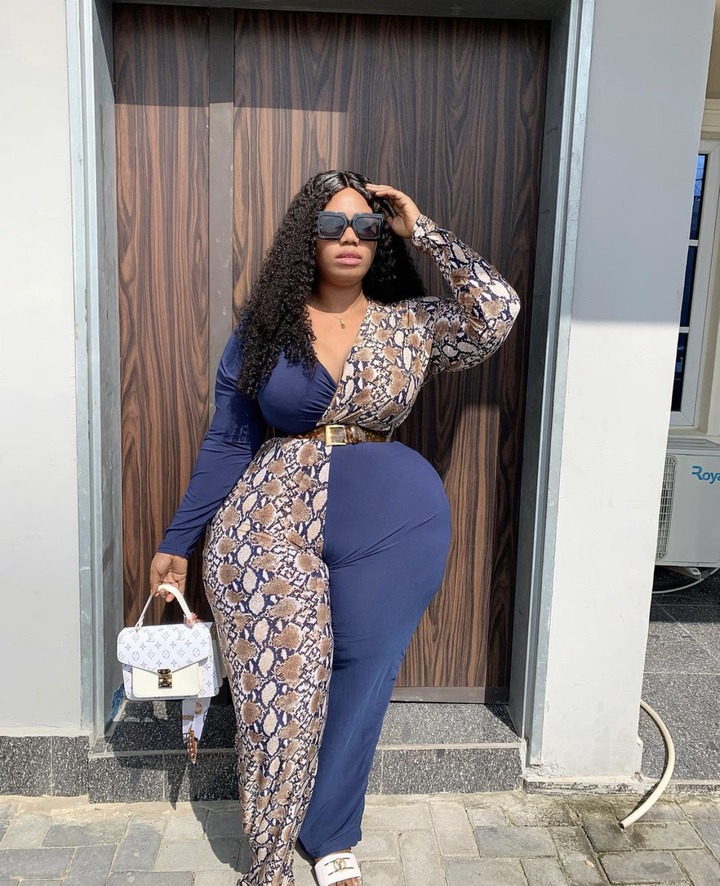 Many people instead laughed at the whole situation. They could not understand as many young men want money. Followers explained that they want allowance. They have revealed that they cant go in for such without an allowance.
The woman explained that looks don't matter and also that she wont be demanding anything from him. She said that she has daughters and they are old and have moved out. She said that the man if he is earning less than him she will then pay for some of his things. Mzansi failed to understand that and they said that the age of 45 is a bit tricky for them.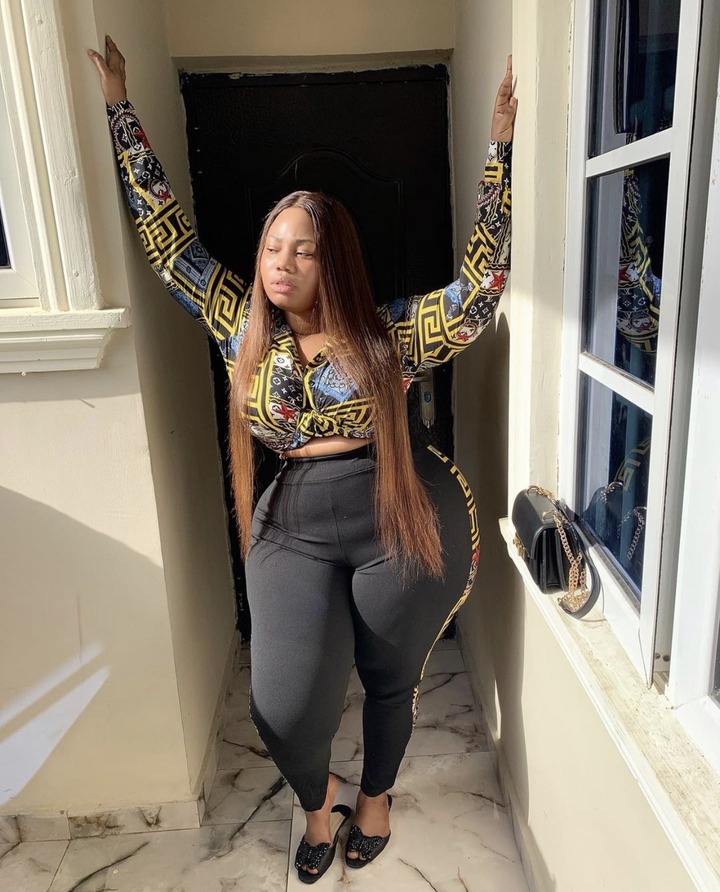 This woman's identity and also social media handles were protected. That way people wont be able to go through her media and also try to make her trend. The feedback that was given to the lady that posted this was not that good and many kept asking. Some demanded the pictures so that they can see what they are dealing with. 
Many women out there need love and also they are ready. They are willing to meet people on social media and also try their luck. Who knows? Maybe your partner can be on facebook or twitter. People will talk and even disapprove but the happiness it is yours and it comes first before anything. Love is a beautiful thing. 
SOURCE: SOCIAL MEDIA TWITTER 
Content created and supplied by: TumiMore (via Opera News )