With the announcement of Matric Results, South Africans have taken the time to appreciate one exceptional educator who is based in Eastern Cape he is know as Mr Butshingi.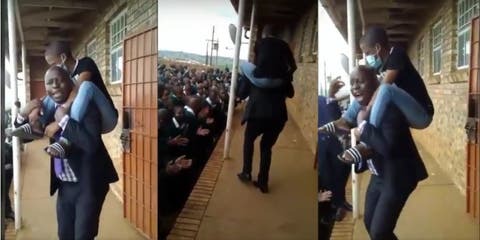 The world is a big place, meaning there are those people who choose to be exceptional. With the announcement of Matric Results, there are teachers who are dedicated to their work and one of those people is Mr Butshingi. Mr Butshingi is the Eastern Cape-based principal hailed for being strict and for hyping learners in which even the learners where believed in themselves. Mr Butshingi is said that he is demanding and supportive, leadership style raised his school pass rate in the past few years to the extent that parents transfer all their children from long distances to enrol the in the school which Mr Butshingi is teaching in.
Mr Butshingi who is the principal based in the Eastern Cape province gets flowers for excellent results.
In a video making rounds on Twitter uploaded by Twitter user @Mkhu28, Principal Mr Butshingi was seen carrying a top performer in 2020 NSC results on his shoulders singing for him in front of the whole school.
A few students shared a few words regarding Principal Mr Butshingi.
1.) Thabo Maphutha
"I see that his love for education hasn't changed a bit. I am so happy that he inspires our children to dream and I am his staff is the happiest and very motivated".
2.) fezeka gwayi
Principal Butshingi has a tracking record of success and producing 100% pass rates.
"Indeed he is simple the best manager I know, whatever Mr Butshingi touches, it turns into gold. Even from his previous school he was producing 100% year after year".
People like Mr Butshingi and many more all around our country deserve everything that we are currently giving uninterruptedly to politicians. Hero status, respect, trust, hero-worshipping, undivided loyalty, dedication, rewards, high salaries, cult hero status, and etc.
Content created and supplied by: Latest_Trendz (via Opera News )