A graduate shocked so many people when a photo of what he wrote in his application letter went viral.
The Letter was written on 29/01/2021, and it looks like a young men is applying for a position of becoming a teacher, but when you read the letter I'm sure you gonna think otherwise cause it is bad! Real bad, but don't take my words for it.

This is the guy... Meet akinpelu Ayobami (he is Nigerian). Now this guy graduated at the university of Oyo. It is the guy who wrote Somethings I don't even know what to call.
What is fustrating the most is that he is applying to become a teacher, and I wonder to myself what and who on the world he be teaching, cause I tell you again; it bad.
Now read: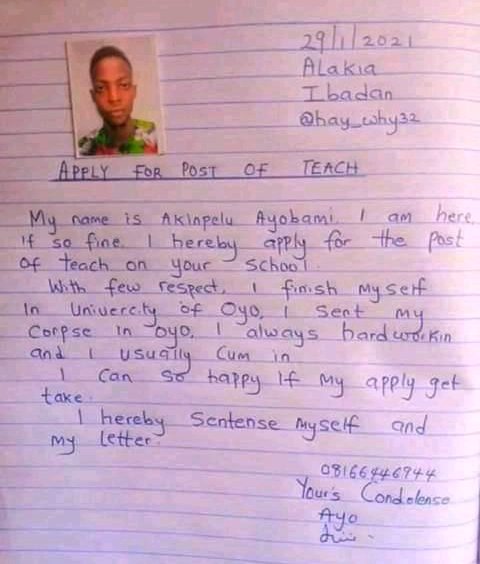 Date "29/1/2021"
Address "Alakia, Ibadon"
Email "@bay_why32"
Heading "Apply for post of teach"
Introduction "My name is Akinpelu Ayobami I am here if so fine"
Body "I hereby apply for the post of teach on your school with respect I finish myself in univercity of Oyo, I sent my corpse in Oyo. I always hardworkin and I usually cum in"
Conclusion "I can so happy if my apply get take. I hereby sentense myself and letter"
No! Guys no Matter how good hearted you are, You can never hire the guy, especially as a teacher! No ways.
I'm sure it took the guy the whole day just to write this paragraph. My question still stands 'what is he going to teach'.
What is best for him is to go back to the university of Oyo and ask for some change. Can't be a graduate and not know how to write a letter and wanna be a teacher at the same time.
Lol... What your take on this Leave a comment on the comments section below
Content created and supplied by: TUDERUDE (via Opera News )