Please like, comment, follow and share
On March 15 2020 President Cyril Ramaphosa halted almost everything in our country. Jobs were lost, people had no income, 500Billion Rand went missing and learners couldn't go to school. It's been a difficult time for anyone who has been hit by Covid-19.
With the second wave of infections hitting the country early December, it was inevitable that certain parts of the economy could not be opened. But one thing that does not stand still for anything and anyone is time. And with so much time already lost as a result of the pandemic, Teachers Unions still feel the need that learners and teachers should remain at home while everything else around them goes back to the new normal.
The revised academic calendar has been released and as it states, schools with commence with operation 15 February 2021 until 15 December 2021. This is three days less that the previous years which accounted for 195 days of schooling.
At least one teacher's union is consulting legal experts due to the new calendar only offering 19 holiday days, while being extended by a number of weeks. The amended calendar comes after the return of public schools was delayed by several weeks until 15 February, due to the impact of a second Covid-19 wave in the country.
The new term dates are as follows:
15 February – 23 April;
3 May – 9 July;
26 July – 1 October;
11 October – 15 December.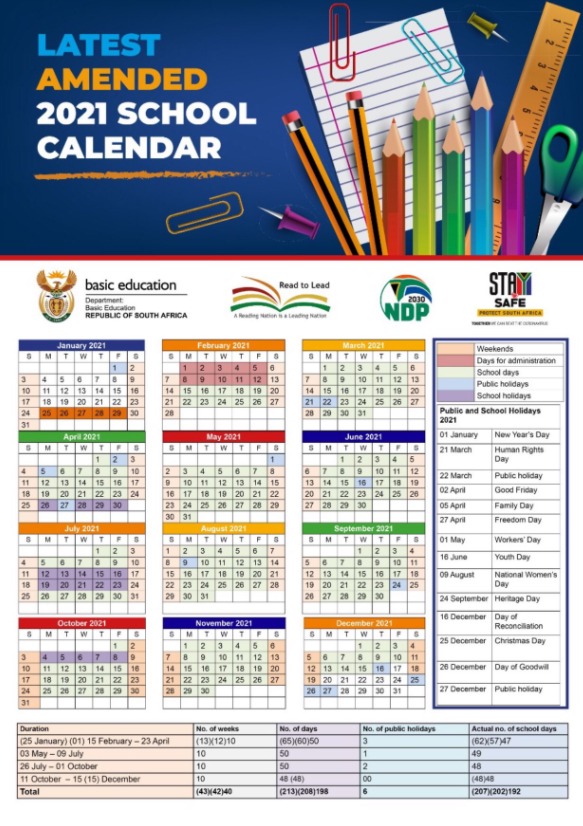 With the economy already at Junk Status, it will not be advisable to hinder any development to the country. South Africa already has one of the worst education systems in the world and hindering any further development of learners could make it the worst not long from now.
Teachers, teachers unions, education departments and all stakeholders involved in education needs to realize that covid 19 is not going away anytime soon. All that the country can do is to protect their children. And with children running around in the streets all day, unsupervised, the only way they can be taught is at schools.
Unions may feel that they are protecting lively hoods and lives, but they forget, children are safer at schools and with them being given homework the chances of them contracting the virus will be much less.
Source: https://businesstech-co-za.cdn.ampproject.org/v/s/businesstech.co.za/news/government/467019/south-africas-new-school-calendar-could-face-legal-challenges-over-a-lack-of-holidays/
Please like, comment, follow and share.
Content created and supplied by: Carisma86 (via Opera News )