Well I personally do not have many facts, but won't it be to late for those who might in any way have failed matric and still want or decide to repeat, as we all know that in life we can not make it all with high standards, the some applies to schools, were not every one is a gunius, now as the classes resumes today for grade 12, while the previous matriculants are still waiting for their results, according to you as readers do you think those who might decide to go back will survive? or do they have some alternatives for them like to advise them to right supplemental examinations, well drop your opinions towards the issue by commenting below on this article.
Monday,15 February 2021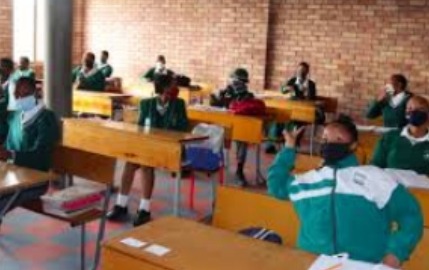 Image: Pupils in a class room observing all Covid-19 protocols and procedures
Well this assumptions is just my point of view to find out what is to happen, as this is atually reality, and you as well as a reader you are mostly welcome to drop your opinions towards the issue by commenting below, this will in any way create a platform were people can in any way get a chance to speak out, seek answers which will definitely benefit all of us as one nation of South Africa in the nearest future.
People have in any way also started to drop their opinions towards the issue on the whole internet and various social media platforms concerning this issue of matriculants.
Content created and supplied by: Ntrsa1-0228 (via Opera News )