'We are not leaving this University until the officials meet our requirements.'
These were the words coming from 44 student councils who were at the gates at University of KwaZulu in Westville campus. These student councils were carrying sleeping blankets. They want the University to let students return to their residence.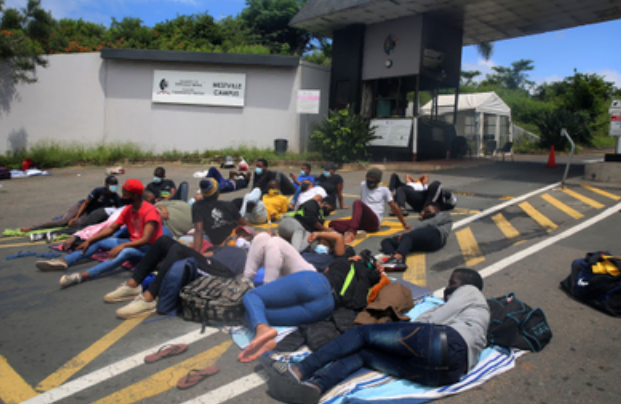 Philani Mncwango stated that they have been sleeping at the gates since from Monday because they want to show their angerness towards the bad treatment on students.
'The University has taken a decision that they would only take 13 000 students in each campus's residences this year. These numbers are too small as there are also first time students and returning students.' stated Philani
Philani mentioned that when the country was on lockdown, the University continued taking residence payments from students though there were students who last stayed in March when lockdown began.
'We want the University to pay back all the students their monies, especially those who are not sponsored by the National Student Financial Scheme ( NSFAS) as Dr Blade Nzimande has promised that NSFAS students would be payed back.'
'According to our understanding, residence fees are calculated from the number of days a student has stayed. What the University is doing is daylight robbery.' stated Philani
Another thing that worries them is that the University denied their request to cut off 50% on the money that students owe as the country was facing a decrease in the economy, loss of jobs and resources because of the pandemic. This has added to the load over parents shoulders.
They are also not happy with online registration as they mentioned that this might confuse first time students. They request the University to allow these students to register via the ordinary usual way.
These students stated that they are in contact with the officials and they are not leaving the gates until their requirements are met.
Sources : www.isolezwe.co.za
https://www.facebook.com/208155592545442/posts/4269629763064651/
Content created and supplied by: Jikelele (via Opera News )