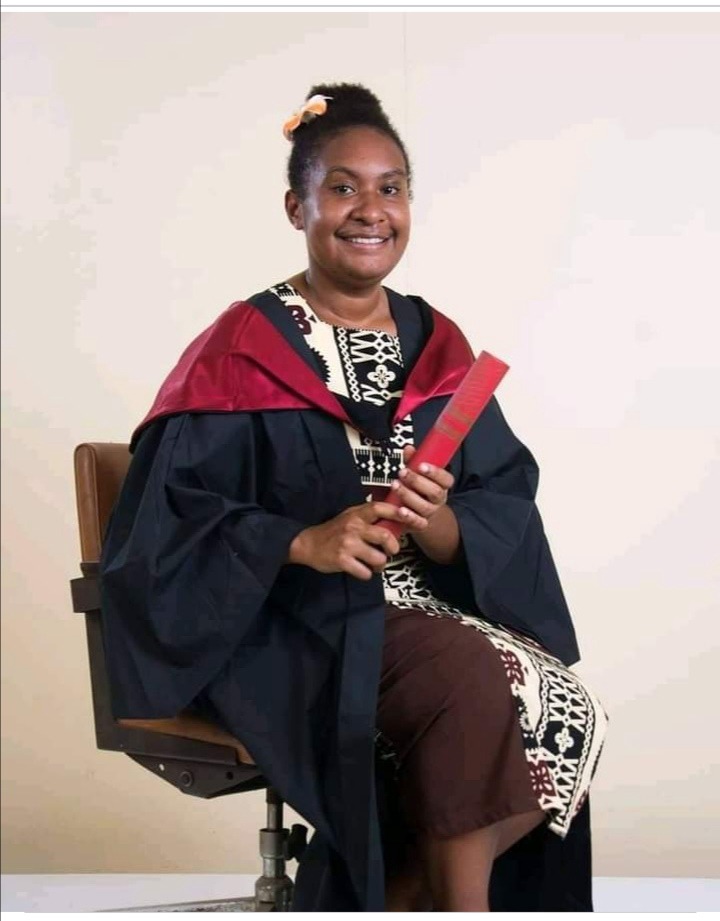 Five years ago (2015) she found herself as a grade 12 "drop out". It was the lowest point in her life. She cried and thought life was unfair and questioned herself, capabilities and her talents. Other's looked down on her, some made demeaning comment's saying that she would never get anywhere in life, and many doubted her which greatly affected her self esteem and self worth. But She thank God that she Never Gave Up! He gave her the Strength to Endure on! That year she became a teacher's assistant to get some little money to upgrade her marks. She worked hard, prayed and persevered on.
Flash forward five years on and she stand humbled and blessed to have graduated from Papua New Guinea University of Technology with flying colours👩‍🎓👩‍🎓. On the 24/11/20, she received a Bachelor of Science in Applied Chemistry Degree with Merit, and she was recognized as the Best Final Year Student with Highest Academic Performance in Bachelor of Science in Applied Chemistry - Research Project. Five years ago, she would have never imagined such an achievement to be possible. But I first thank God for His continuous guidance and strength upon her life and I secondly thank her parents for never giving up on her. This achievement would never have been possible without them and she dedicate this degree to them.
My message to non school leavers out there who might find yourself in such a situation that she found herself in is that NEVER EVER EVER GIVE UP! ALWAYS PUT GOD FIRST IN EVERYTHING! AND NEVER LISTEN TO THE NEGATIVE WORDS OTHERS MIGHT SAY TO YOU. Always strive to push FORWARD and Never settle for less than what you are capable of! 
Because of the OVERWHELMING response I received from my story on LinkedIn, I have decided to share it here on Facebook and hope that it also encourages and inspires those young people out there who might need it. I share this story not to boast, but to inspire other who might find themselves in the situation that she found herself in five years ago and to always believe in God in all situations in life and to always believe in themselves no matter how hard things might seem.
image by Renee Nuina Manus.
Source: sowetan/newsroom_page7
For more updates on the latest breaking news happening around South Africa please like and follow my page and articles @ Breaking _news_sa
#Help stop the spread of Covid19
#COVID19
Content created and supplied by: Breaking_News_worldwide (via Opera News )