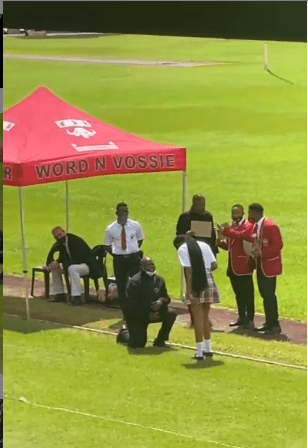 In full view of the pupil a teacher went down on one knee and proposed his girlfriend who is a pupil in front of the students to marry him in a soccer field. It looked like there was a big event that was anticipated or happened at the school or they were having sports activities because there were huge sound speakers and a microphone for the speakers. The students jumped to capture the moment with their phones. The pupil that was proposed looked so nervous and scared like he didn't expect such a huge ask in full view of the whole school.
The teacher gave her the microphone to respond as if it was planned by the teacher to let the whole school see it. The teacher seemed to be smitten by the pupil. The other pupils screamed, "you don't reject his proposal in front of people!" whilst others were cheering in jubilation.
For me, I think he is still living in the 90s, when there were no tight laws that made it a crime for a teacher to be on a relationship with a pupil. He seem to be ignorant about the laws of the country because he did it openly and there were other teachers around him under the tent. They should have told him what he was doing is wrong wrong and he can be punishable. I think most men are living in ignorant of the anti-patriachal laws that were put in place by the current government.
https://africaupdates.co.za/teacher-who-proposed-high-school-girl-is-in-big-trouble-video/
Content created and supplied by: Manamela (via Opera News )