Two schools Shut down in Midrand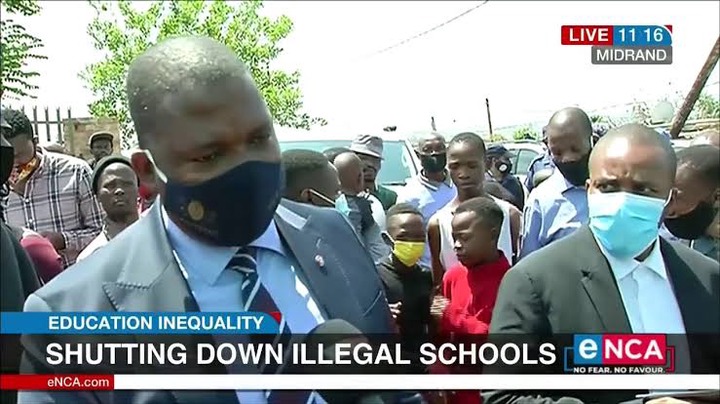 Leaners were taken out of illegal schools and are now to be placed in new schools


The MEC Panyaza Lesufi for Guateng Education has threatened to close down two schools which have been operating illegally in ivory park on the 8th October 2020.
The MEC was accompanied by the city of Johannesburg councils officials of the Department of Education and the ivory park police to visit one school in ivory park and another one in Ebony park.
Schools which were not properly registered were closed down ,the department had advised the parents of the learners to take them to public schools but other learners went back to the sa.e old schools and reopened again.
The schools were asked to fix their mistakes and comply with the law ,for them to make sure their documents are in place,that they must also make sure they are registered with the south African council of Educators.As a teacher you cannot call yourself an educator when you are not registered in this country.They must also ensure that the municipality gives them proper Documentation.
"
One of the illegal schools which was shut down. Photo: Ofentse Ditlopo
They were given 48 hours to shut down the schools and learners where to find new registered schools to enrol to ,says MEC Lesufi.
Masibudi Makhubela (Director for independent schools) said they needed to provide documentation for fire ,health ,occupation and Zoning and also supply an analysis for their learners.
It has been official that the schools were indeed shut down on the 12th of October, After they met with the learners parents and now they are busy looking for placement for the learners says Makhubela.
On the 14th of October there was a meeting that they will open admission center for the new learners and that they will place every learner under their district as they are from different places ,and that they will make sure their language and curriculum needs are met.
Content created and supplied by: Pinkyza (via Opera News )