They writhe, they slither, they burrow and they breed – and for Alwyn and Alet Pieterse they're lifesavers. Most people don't really pay worms a second thought but for this couple from Kempton Park, Ekurhuleni, Gauteng, these wriggling creatures have rescued them from a life of poverty. A decade ago, former traffic cop Alwyn (61) and office worker Alet (65) suddenly found themselves unemployed – and with years to go before they were due to retire, they needed to make a plan fast. To put food on the table, they decided to sell bags of biltong sticks and sweets, packaged with a pretty colourful bow. Alwyn would then trudge around local businesses trying to sell them. On weekends, the couple walked the banks of the Bloupan Dam between Kempton Park and Benoni touting their wares to peckish fishermen. But at the end of the day, tired and footsore, they were faced with the grim reality: this was never going to be enough to earn a living wage.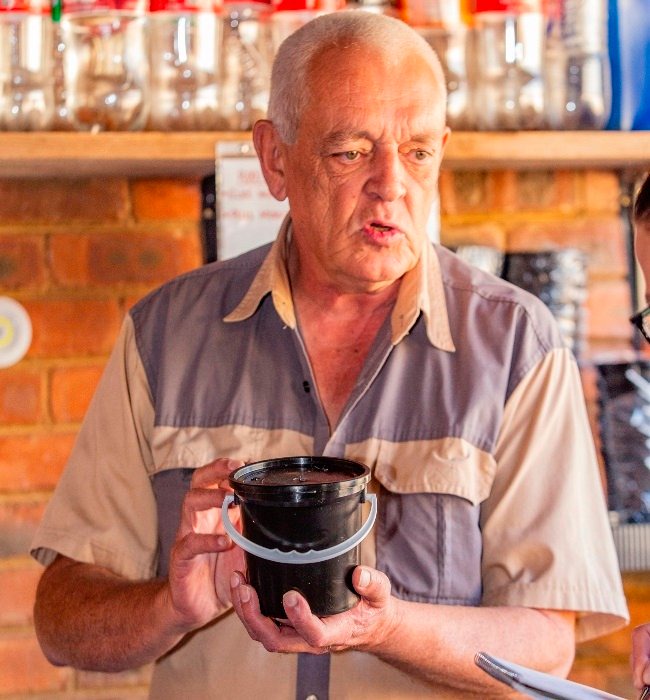 Then one day, like a bolt from the blue, Alwyn realised the solution to their financial woes had been in the ground beneath his feet the whole time. It all started while he was playing around on Google one day. "I came across people overseas who farmed with earthworms," he says. So he thought: what if he took R500 of his biltong money and invested it in a worm farm instead? Alet thought he'd lost the plot.
"He wanted to take the money to buy worms? And he told me, 'But we can just keep the worms under the kitchen sink.' I said there's no way they'd be in my house. Thankfully, he decided on the garage." However, Alet's resistance to the slimy creatures crumbled when their first dish full of worms, which they'd bought for R500, resulted in a profit of R1 500. One Bloemfontein man bought 400 worms, Alwyn says, and it was all systems go for their business. Their goals were modest, he admits.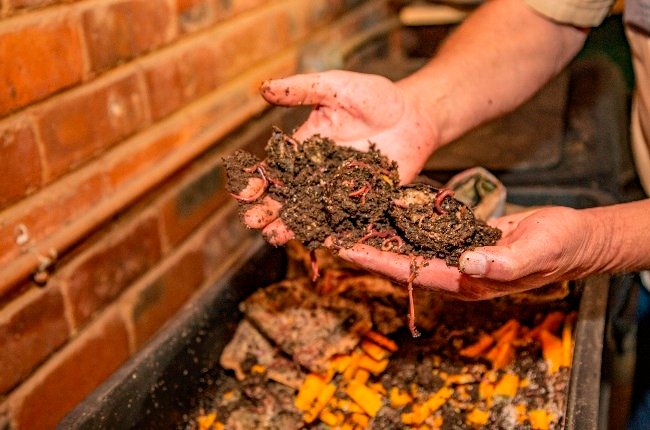 "At one point Alet said, 'If we could just make R1 000 a month extra...' These days, it's much more than that. We won't get rich doing this, but we live a lot more comfortably." Whereas before they were living from day to day, they once again know the joy of filling up a trolley with a month's worth of groceries. Alwyn has always been interested in farming but they live in a small house and buying a plot of land was simply out of the question. He never would have imagined that Caribbean red wigglers, as the species is known, would become his livestock.
As a bonus, it's also not the type of back-breaking farming that can be tough for a newbie past his prime. He and Alet spend barely eight hours a month tending to their worm farm, Alwyn says. Their capital input is low because the worms work hard and expect no wages. And there's always a demand for a variety of "worm products". The soil that passes through the worms' bodies is sold as fertiliser to vegetable farmers. So too is the urine, known as "worm tea".
Worm tea is a remarkably potent fertiliser for "anything that can grow", Alwyn says. And of course, fishermen are always looking for fresh worms as bait too. These days, the couple also sell "readymade worm farms", including a colony of live worms, to aspiring farmers. If you're squeamish about worms, the Pieterses' garage definitely isn't the place for you. Alwyn meticulously designed the worm farms himself and even Alet has a soft spot for their "workers" now.
"Each worm farm has two containers that fit inside each other, because the worms live in the top container with their own compost and food. They eat the food and make fertiliser," Alwyn explains. They buy plastic containers from a wholesaler and Alwyn drills holes in the top container for oxygen, and also so the "worm tea" can drain through into the bottom container, from where it can be harvested. Through trial and error, he's discovered that the worms thrive on a mixture of raw pumpkin and newspaper.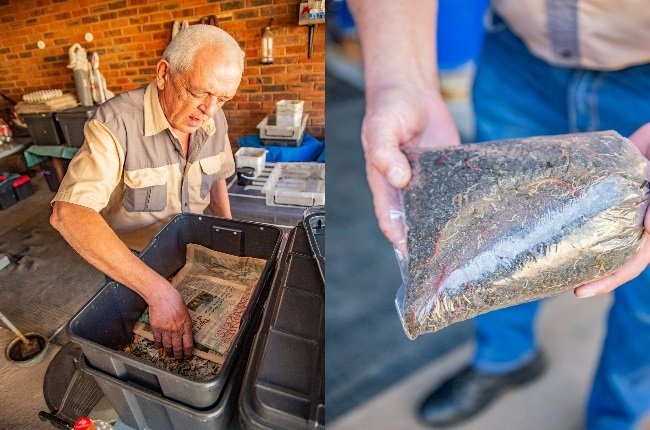 "As long as they have food and their environment doesn't dry out, they keep breeding," he says. "There mustn't be mud – the compost must just be kept moist." The couple have perfected the worm-farming routine. It's a cycle, just like any other in agriculture, Alwyn explains. "Let's say one of the farms is nearly full of compost. I'll take an empty ice-cream container and fill it with the contents of the worm farm. I spread it out on a surface, take the worms out and set the compost aside.
"Then the worms are sorted: some to be sold, and those with eggs to a separate breeding dish with compost where the eggs will hatch before the baby worms are returned to the farm to produce more compost and worm tea," he says. "The aim is to build a solid farming business because every worm is a worker that produces compost." A worm takes 42 days to reach maturity and lives for about two years.
"Each worm lays two to four eggs a week. A single worm can produce about 468 babies a year," Alwyn says. Like a seasoned farmer, he can easily tell when his worms aren't happy with their environment: they literally try to climb out of their containers to get away. But here in the garage, there's none of that. These worms are clearly happy with their working conditions. Ten years ago it all started with a single dish of earthworms. How many does he have now?
"There's no way of counting them because their numbers double every three months," Alwyn says. His best guess is thousands. He also can't calculate how much each worm produces. "It works like a honey farm. You can't say, 'I have a thousand bees now, so I'll get this much honey a week,' because it's a natural process. We have to wait and see what we get." The monthly income from the worm farm fluctuates, but the couple say someone they know had a turnover of R55 000 from 23 000 worms once. This after he'd bought 7 000 worms from Alwyn and Alet. It's successes like this that keep their faith in worm farming as a business strong.
"Lots of older people complain they don't make ends meet. This is something anyone can do," Alwyn says. The couple aren't looking to grow their business because, "we're not young anymore". Their colonies give them all they need. And now that the Pieterses no longer walk the banks of the Bloupan Dam selling biltong, local fishermen still have reason to smile when they spot them. Fish go mad about Alwyn's fat worms – and at 50c a worm, it's excellent value for a day spent fishing.
Source
https://www.news24.com/you/news/local/how-this-retired-couple-turned-r500-into-a-profitable-earthworm-business-20220523
Content created and supplied by: MBCNetwork (via Opera News )
Opera News is a free to use platform and the views and opinions expressed herein are solely those of the author and do not represent, reflect or express the views of Opera News. Any/all written content and images displayed are provided by the blogger/author, appear herein as submitted by the blogger/author and are unedited by Opera News. Opera News does not consent to nor does it condone the posting of any content that violates the rights (including the copyrights) of any third party, nor content that may malign, inter alia, any religion, ethnic group, organization, gender, company, or individual. Opera News furthermore does not condone the use of our platform for the purposes encouraging/endorsing hate speech, violation of human rights and/or utterances of a defamatory nature. If the content contained herein violates any of your rights, including those of copyright, and/or violates any the above mentioned factors, you are requested to immediately notify us using via the following email address operanews-external(at)opera.com and/or report the article using the available reporting functionality built into our Platform See More