The parallel exchange rate is back in the fold and the stretch, is being felt which have seen prices of goods and commodities going up beginning of January 2021. It is not a surprise though because after individual ecocash merchant lines were closed due to serious exchange rate distortions, there is now a rebound on the financial indiscipline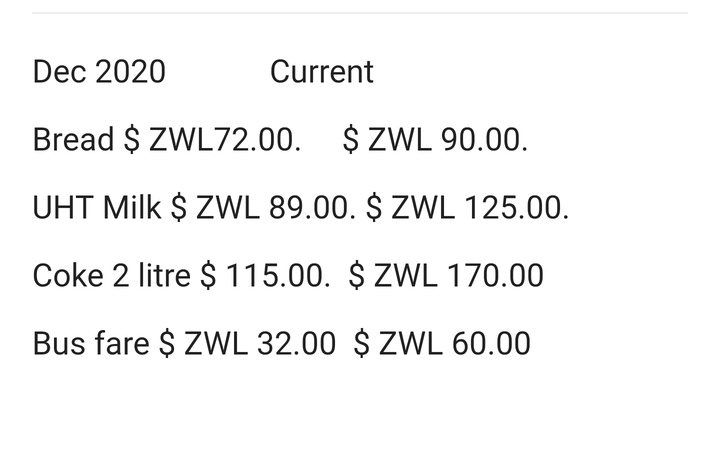 The new methods and platforms to counter RBZ official auction exchange rate, have firmly come on board which include swiping and send money via ecocash registered lines. That has literally pushed the parallel market rate, which had gone almost frozen when the central bank, introduced auction rate based exchange rate in June 2020
RBZ rate closed at about 83 against the greenback but in comparison to black market exchange rate, it is fluctuating between 120 to 130 against the United States dollar. This distortion and variance has indirectly pushed pricing index upwards, seeing catalogues increasing drastically even against the official stability of exchange rate
Taking stock on the thorny rise of goods and commodities, on a random sampling comparing to December 2020 prices makes a huge difference
Dec 2020             Current
Bread $ ZWL72.00.     $ ZWL 90.00.
UHT Milk $ ZWL 89.00. $ ZWL 125.00.
Coke 2 litre $ 115.00.  $ ZWL 170.00
Bus fare $ ZWL 32.00  $ ZWL 60.00
Looking at the few examples above it shows that the inflationary environment, is now in full swing despite the official auction exchange rate remaining stable. Zimbabwe local currency is being made to be credible locally but it hasn't been acknowledged, or admitted in the external markets, which include being legally exchangeable in banks and other channels
The noticeable rice of goods and commodities is a serious cause, for concern which have seen the informal sector dumping $ ZWL 5.00 note of late. That is a strong testimony that our currency, is never regaining credibility and where in the world have we seen small denominations demonetised by citizens ?
It is a measurement of a failing economy and poor Zimbabweans, continue to grapple with hardships which never siezes to end
https://www.facebook.com/106981807640485/posts/259372629068068/
Content created and supplied by: MangenaC (via Opera News )