This is Sihle Magubane who is the founder and a chief executive officer of Sihle's Brew. Sihle's Brew is a South Africa's first individually owned Coffee Brand.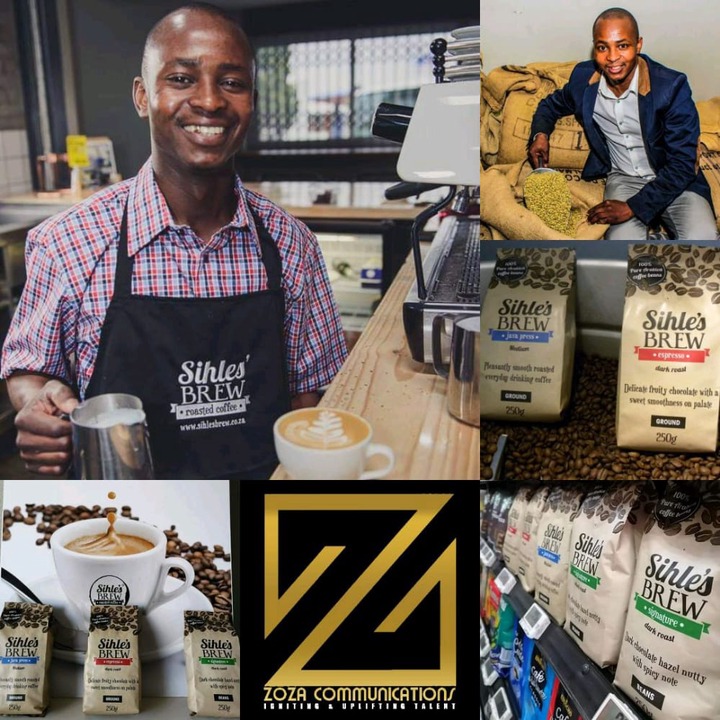 Sihle lost his mother at the age of 16 years. that pushed him to work as a gardner and Pizza maker somewhere in Durban. he took those piece jobs while studying and taking care of his two siblings.
he says one day a friens of his asked him if he wanted to kame extra money and he would not say no to such so they worked at the Hilton Arts in Kwazulu Natal.he says his job description was cleaning and serve tea to the guests. he says after drinking Cappucino for the first time, he could not sleep and that is where he developed feelings for Coffee.
he did not have money to further his studies after completing matric but luckily he met Roberto Monterrege from Ciro.Roberto gave him the opportunity to be trained as a Barita.
he went on to work for PicknPay as aproduct specialist in Coffee, opening all the concept stores. Sihle joined the Ciro Coffee Academy as the Barita trainer.
in 2012 he started his own business, Sihle's Brew. for the past 8 years, he has been personally selecting, blending, roasting and retailing beans under his business.
his product is now available in supermarkets such as spar.
Find full story on: https://www.linkedin.com/posts/valentine-zoza-349701169_zozacommunications-activity-6769526900009250816-5cuB
Content created and supplied by: Mphiwe (via Opera News )