Foreign shareholders now control almost half the JSE's Top 40 companies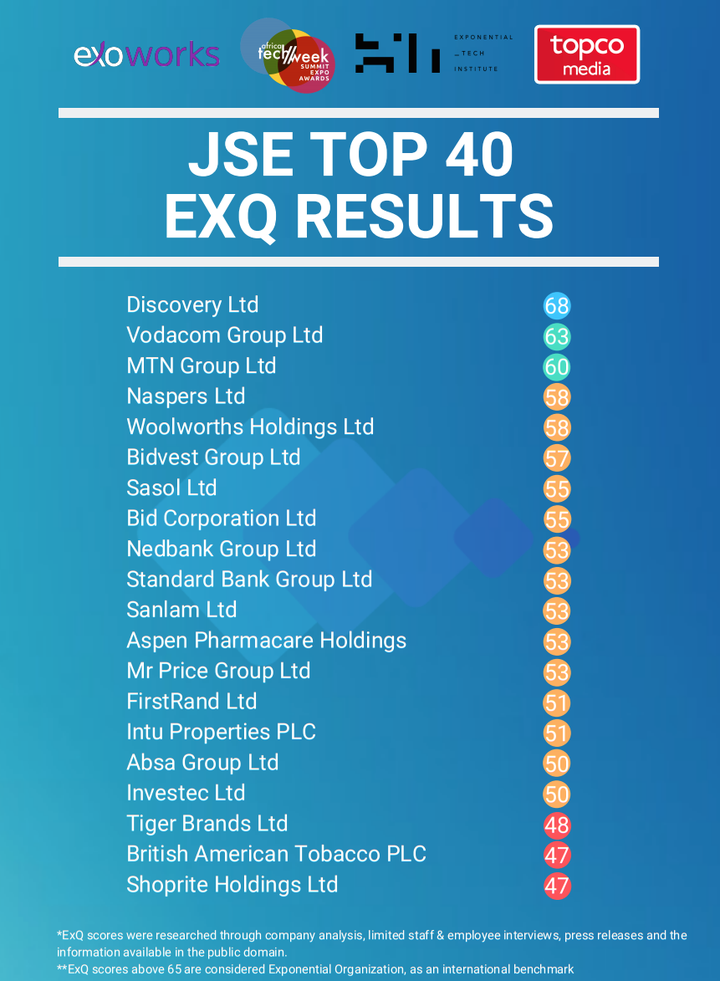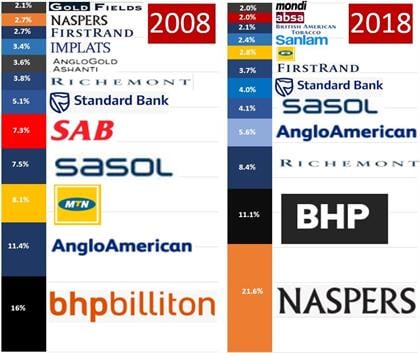 Urban legends are often created by mischief makers. Too often, someone wanting to support their argument will pull a figure out of the air and state it as fact. In this Internet age that often gets picked up online and before you know it, the myth has been repeated so often it becomes authoritatively quoted truth. Predictably, the situation deteriorates when politicians afflicted with dyscalculia enter the fray, as we've seen with idiotic claims on ownership of JSE-listed companies. The team at investment data number crunchers Timbukone.com regularly analyse the detailed breakdown of the local shareholder register of South African public companies. The latest results to end October, taken together with the total shares in issue (many companies have their primary listings in London) delivered some serious myth-busting results as our interactive table at the bottom of the page illustrates.
The geographical breakdown of shareholders reveals that virtually half of the JSE's Top 40 companies are controlled by foreigners.
The geographical breakdown of shareholders reveals that virtually half of the JSE's Top 40 companies are controlled by foreigners. Information is not available for two of the Top 40, RICHEMONT and REINET, whose share registers are offshore. Figures accurate as at end October 2015. Source of SA register information: TimBukOne.com
Almost half of the companies which make up the JSE's Top 40 are now majority owned by foreigners. Only eight of the Top 40, mainly the smaller companies in the JSE's key index, are more than 75% owned by South Africans.
This data, compiled from a comprehensive analysis of the Top 40's South African shareholders by TimBukOne.com, provides a reality check to politicians who are preaching nationalisation – and those spreading propaganda about JSE company ownership being weighted towards "whites".
In recent years, Corporate South Africa has moved aggressively into the global arena. The lion's share of the Top 40's profit is now earned outside of the country's borders. And along with growing profit, the companies have also worked hard at telling their story to offshore investors, resulting in a surge in foreign ownership.
During the first ten months of 2015, fresh investment by foreigners in the Top 40 exceeds R100bn. Steinhoff accounts for the lion's share of this new portfolio investment with a R40bn net increase in the foreign ownership of its shares. Around two thirds of this increase was via existing offshore shareholders in Pepkor being added to the Steinhoff register after its's R63bn acquisition, which took effect in February.
Foreign shareholders also made substantial fresh investments into Sasol (R8.3bn), MTN (R7.5bn), Aspen (R6.5bn) and FirstRand (R5.7bn).
Steinhoff switches its primary listing to Frankfurt next week. According to the local share register, the group is still majority owned by South Africans (62.2%) with UK investors the biggest net new buyers raising ownership from end 2014's 11% to 13.3%; Germans are next at 10%; and Americans at 8.5%.
The Top 40 stock with the biggest foreign ownership is SABMiller, recently acquired by AB Inbev, whose South African domiciled shareholding is down to just over 10%. As our table below shows, troubled mining operation Anglo Platinum and RMB Insurance Holdings are the only Top 40 constituents with over 90% South African ownership.
Click on the arrows next to the headings to re-order the table.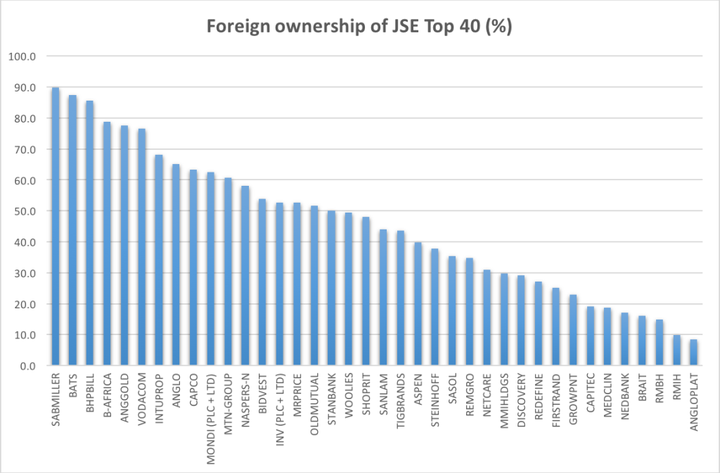 Ownership of the JSE's Top 40
Company SA ownership (%) Foreign ownership (%)
ANGLOGOLD 22.5 77.5
ANGLO AMERICAN 34.9 65.1
ANGLOPLAT 91.6 8.4
ASPEN 60.2 39.8
BARCLAYS AFRICA 21.3 78.7
BATS 12.5 87.5
BHPBILLITON 14.4 85.6
BIDVEST 46.1 53.9
BRAIT 83.8 16.2
CAPCO 36.7 63.3
CAPITEC 80.9 19.1
DISCOVERY 70.9 29.1
FIRSTRAND 74.9 25.1
GROWPOINT 77.1 22.9
INTUPROP 31.9 68.1
INVESTEC (PLC + LTD) 47.4 52.6
MEDICLINIC 81.2 18.8
MMI HLDGS 70.3 29.7
MONDI (PLC + LTD) 37.4 62.6
MR PRICE 47.4 52.6
MTN-GROUP 39.3 60.7
NASPERS 42 58
NEDBANK 82.9 17.1
NETCARE 69 31
OLDMUTUAL 48.3 51.7
REDEFINE 72.2 27.2
REMGRO 65.3 34.7
RMBH 85 15
RMIH 90.2 9.9
SABMILLER 10.23 89.8
SANLAM 55.9 44.1
SASOL 64.6 35.4
SHOPRITE 51.9 48.1
STANDARD BANK 49.9 50.1
STEINHOFF 62.2 37.8
TIGER BRANDS 56.3 43.7
VODACOM 23.4 76.6
WOOLIES 50.5 49.5
Breakdown of the ownership in the equity of the Top 40 companies listed on the Johannesburg Stock Exchange. The share registers of RICHEMONT and REINET are not domiciled in South Africa so have not been included.
From biznews community member Derek Sumption
Our friend Julius has been touring the UK to sell his idea of what SA should look like. One of his mantra's is that all the shares on the JSE should be nationalised because the whites control all the wealth on the stock exchange and the blacks are not getting any benefit from the capitalist whites. Zuma has also been known to trot out this old chestnut.
Let's take a look at this claim in a bit more depth:
There are 54 million people in SA.
16.2 million are under the age of 15.
3 million are over the age of 65.
Therefore, there are potentially 34.8 million eligible workers in the country. 7.1 million are unemployed which leaves us with roughly 28 million workers.Of these, roughly 22 million are black.
The Government Employee pension fund has 1.3 million members, unions and bargaining councils have another 4 million members. Then there's Transnet, the Post Office, the SABC, SAA, etc. On top of that, there are all the blacks employed by corporates who belong to their company pension funds and lastly, the individual investors in shares and unit trusts.
46% of all the shares on the JSE are foreign owned, leaving only 54% in the hands of South Africans. Of this 54%, the government owned PIC manages 40% of all retirement assets on behalf of the government pension fund and other state institutions, which leaves very little in the hands of the "white capitalists".
If Julius or Zuma had their way, the biggest losers would be the black investors.
Source: TimBukOne.com
Content created and supplied by: MzansiMgozi (via Opera News )
Opera News is a free to use platform and the views and opinions expressed herein are solely those of the author and do not represent, reflect or express the views of Opera News. Any/all written content and images displayed are provided by the blogger/author, appear herein as submitted by the blogger/author and are unedited by Opera News. Opera News does not consent to nor does it condone the posting of any content that violates the rights (including the copyrights) of any third party, nor content that may malign, inter alia, any religion, ethnic group, organization, gender, company, or individual. Opera News furthermore does not condone the use of our platform for the purposes encouraging/endorsing hate speech, violation of human rights and/or utterances of a defamatory nature. If the content contained herein violates any of your rights, including those of copyright, and/or violates any the above mentioned factors, you are requested to immediately notify us using via the following email address operanews-external(at)opera.com and/or report the article using the available reporting functionality built into our Platform See More