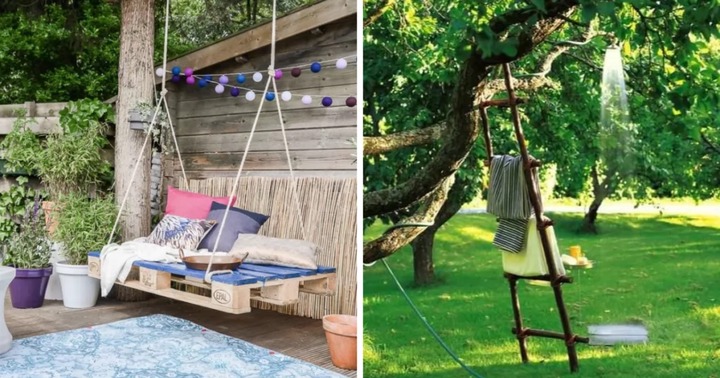 1) Hanging Planter Tire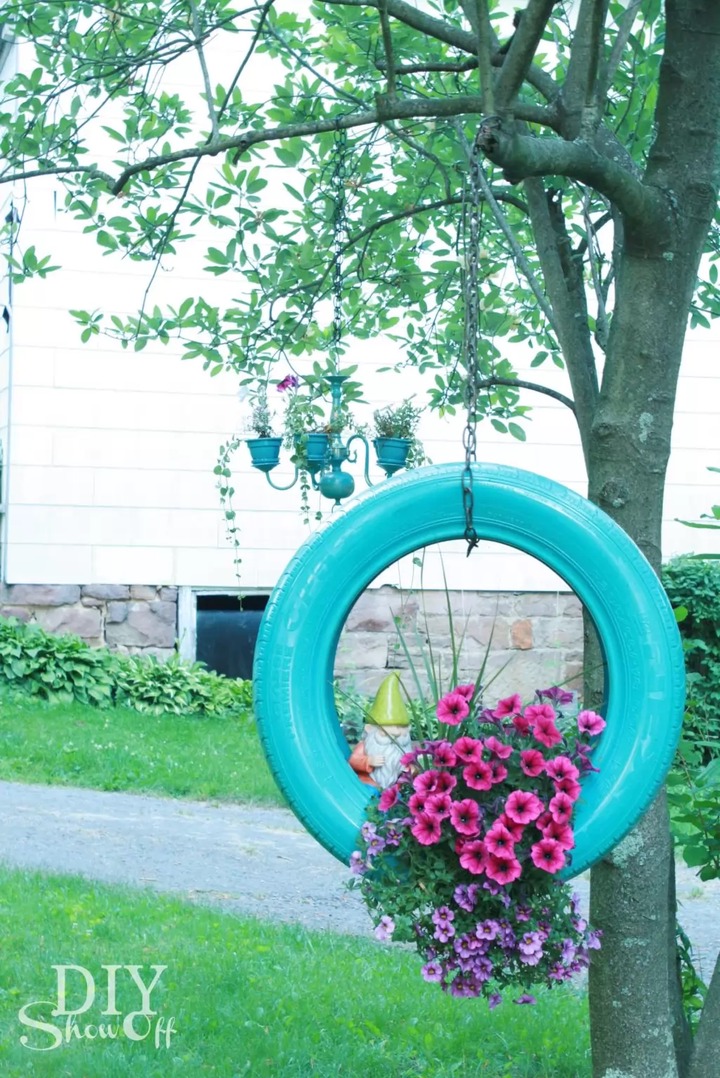 Incorporating unique looking planters is a great way to create reverie in your backyard. You can take common objects like a tire. Just paint one, drill some holes in it for drainage, and add some flowers to it. Get the details on this project here.
2) Use String Lights For Light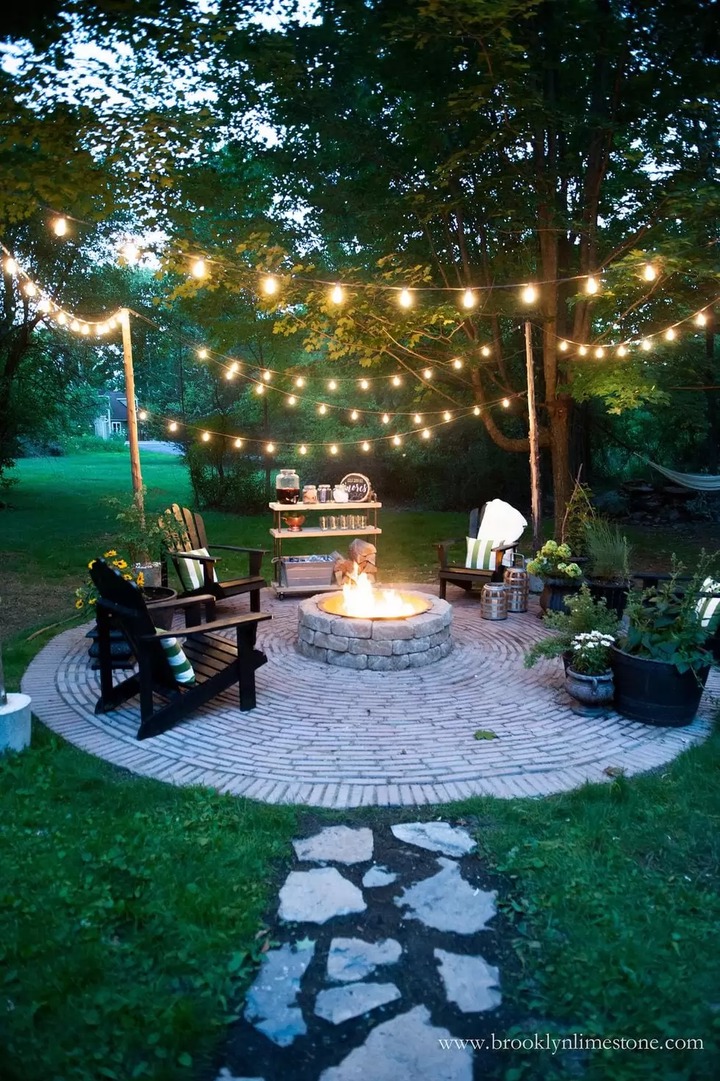 String lights are an inexpensive way to illuminate your backyard. They give your backyard a fantasy-like feel.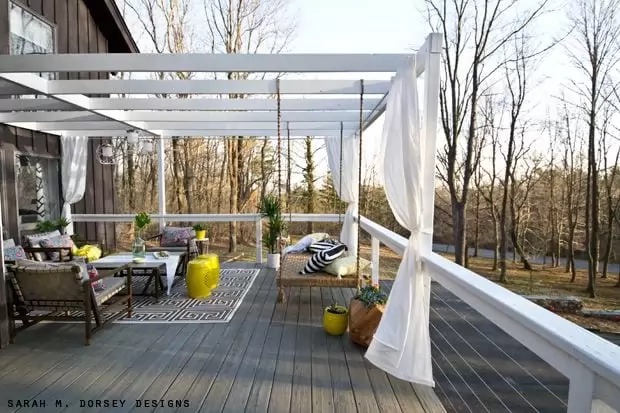 Bulky wooden fences can cheapen the look of your porch. You can easily create a safe wire fence that will give your outdoor space a more modern look.
4) Rolling Grill/Drink Cart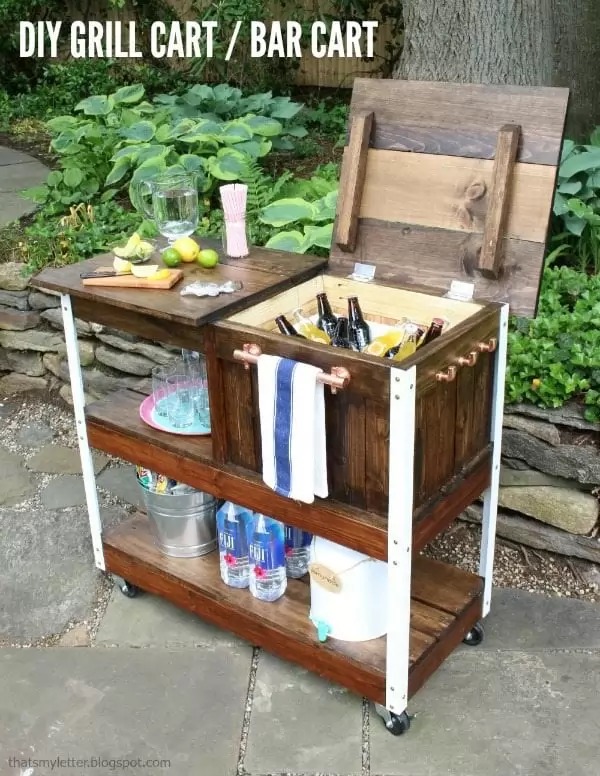 Having an outdoor grill/bar cart can make entertaining a lot easier. There are a lot of different designs but this one can be made after a trip to Home Depot.
5) Teapot Fountain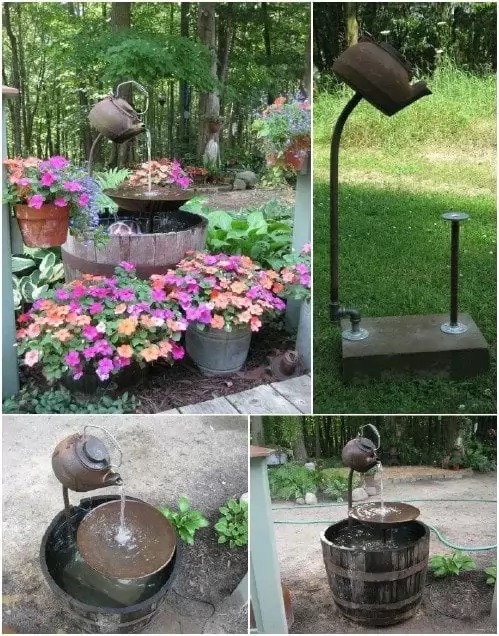 Water features are so much fun. And this one looks like a magical floating teapot.
6) Hanging Planter Shelf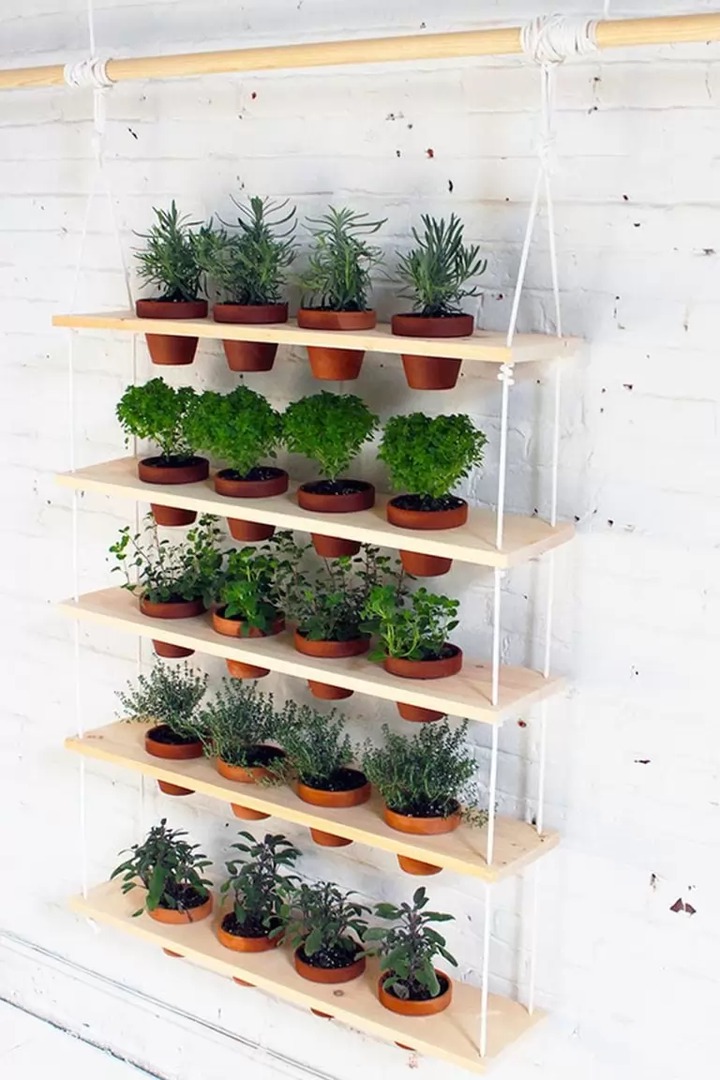 This hanging plant makes for a beautiful display. It's also fairly easy to create.
7) Hanging Herb Garden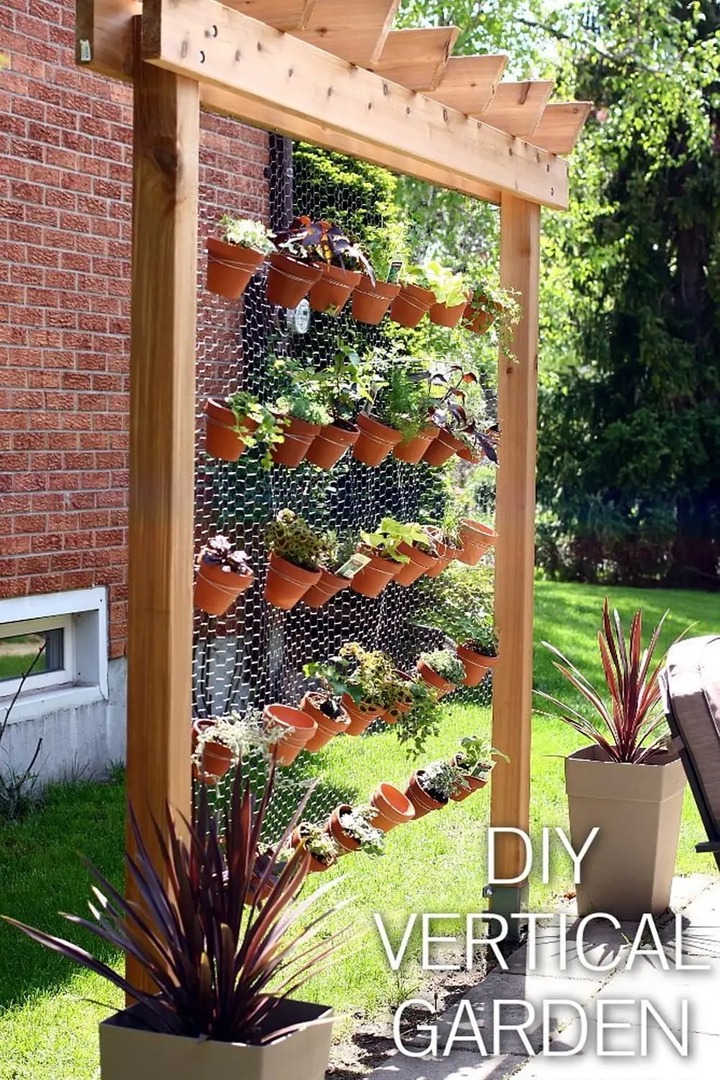 This chicken wire herb garden is a great way to create division in your garden. It also creates a wonderful focal display.
8) Glass Door Window Pane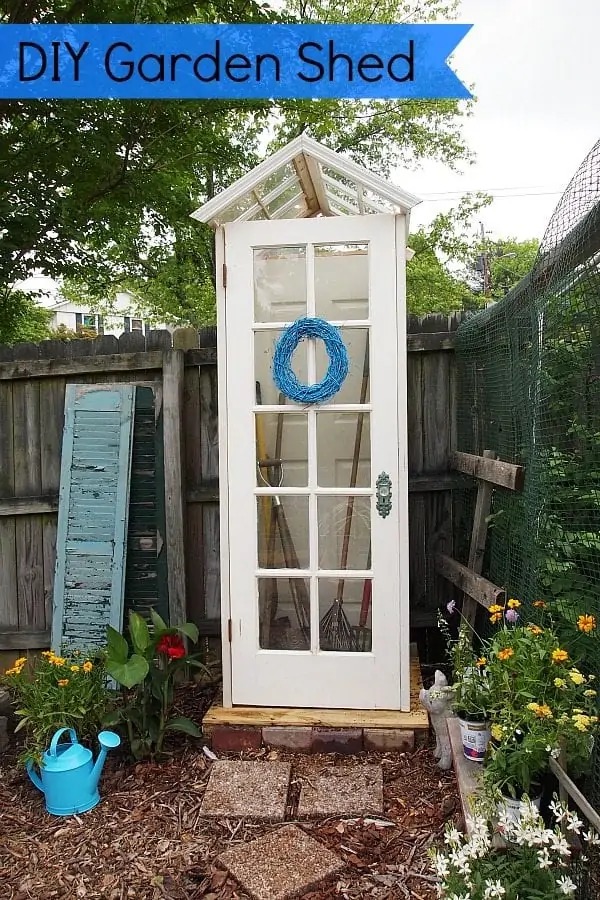 Sheds don't have to look ugly and industrial. You can create really pretty looking ones from old doors or window panes.
9) DIY Potting Table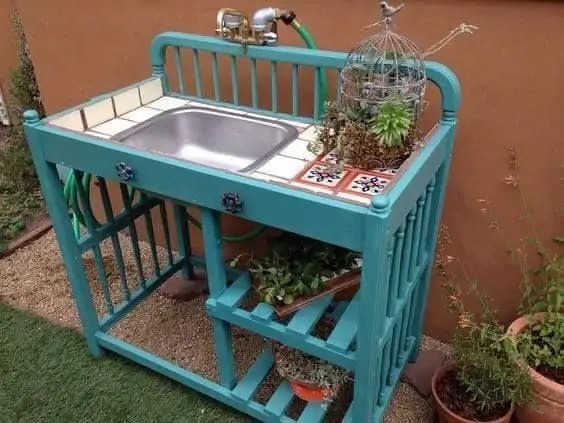 There are lots of different designs for potting stations. You can make a really cute one from a repurposed changing table.
10) Fancy Picnic Table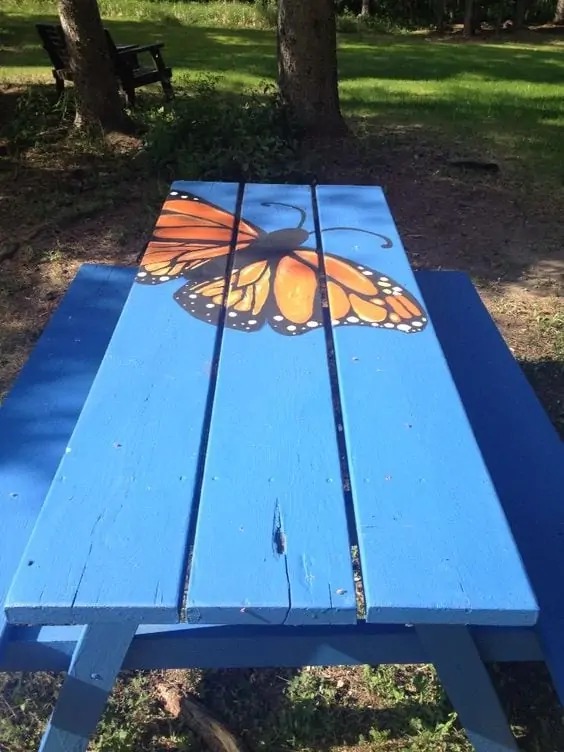 Why have a boring picnic table when you can have a really cool looking one. All it takes is a coat of paint and some creativity.
11) Modern Outdoor Playhouse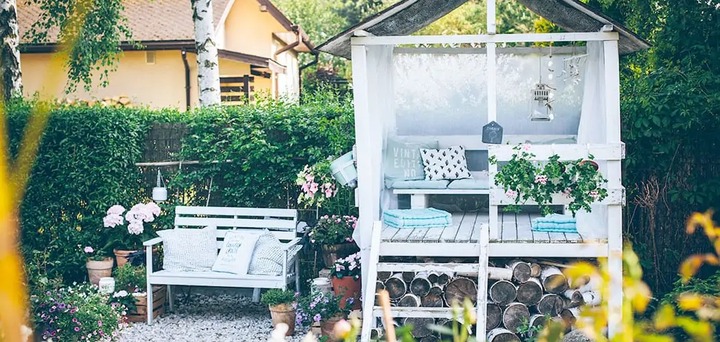 Playhouses don't have to look ugly and cartoony. You can make an outdoor playhouse for kids that you'll want to hang out in too
12) Outdoor Lounge Area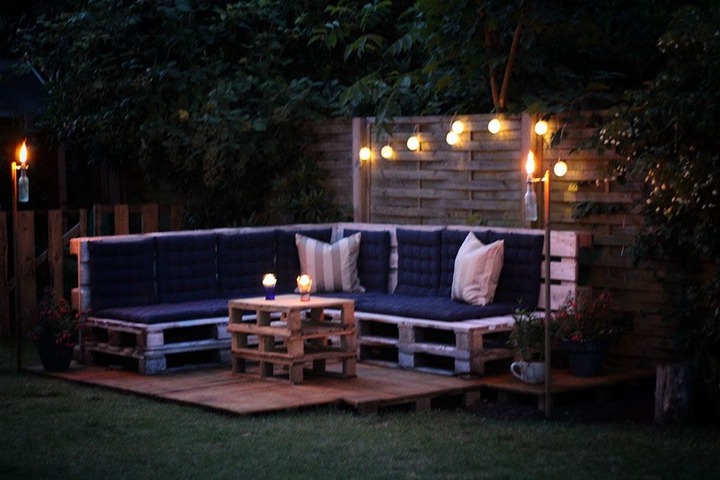 Nothing is more magical than lounging. You can create inexpensive lounge furniture with pallets and or cinder blocks. You'll find tons of ideas and tutorials with a few internet searches.
13) Crochet Hammock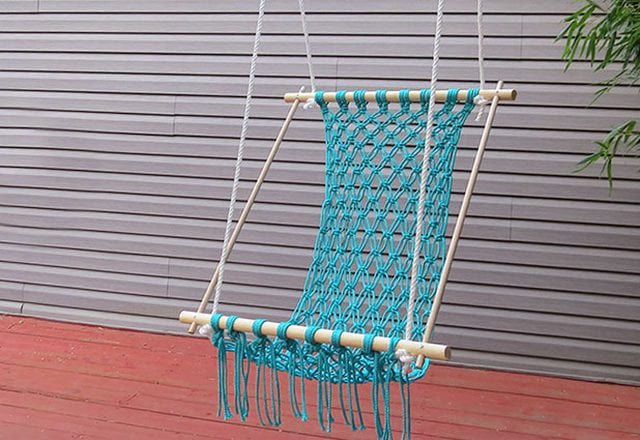 Storebought hammocks are nice, but having a crocheted one really makes a beautiful statement. You can make it any color you like to enliven your backyard. 
14) Colorful Paper Lanterns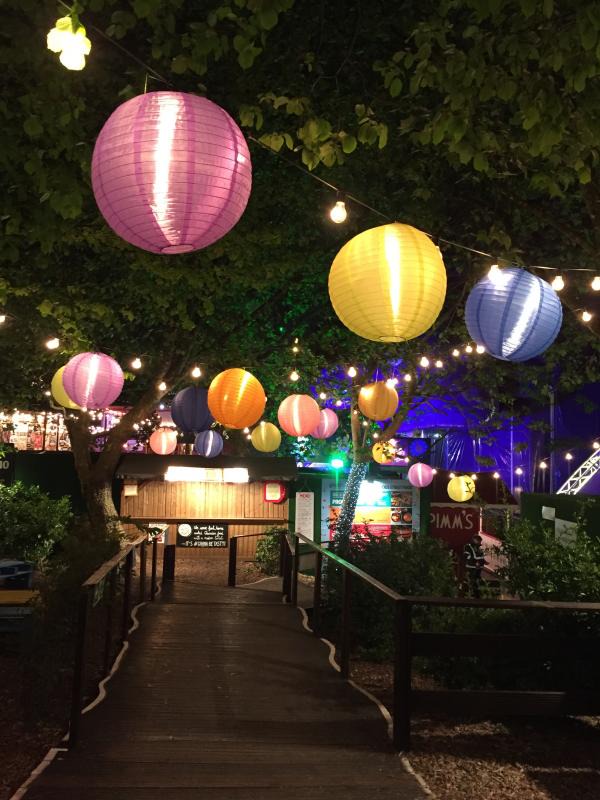 Lanterns will bring some light to your backyard without having to plug anything in. Colorful paper lanterns will brighten up the whole backyard. It will create a fairytale-like atmosphere.
15) Build a Pergola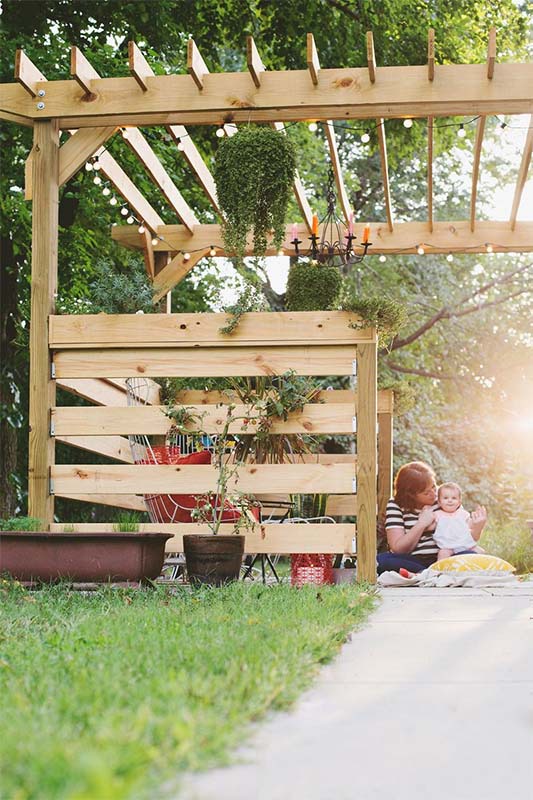 You have to have some craftsmanship for this project. But it's way less expensive to build one yourself.
16) Personalized Statement Planter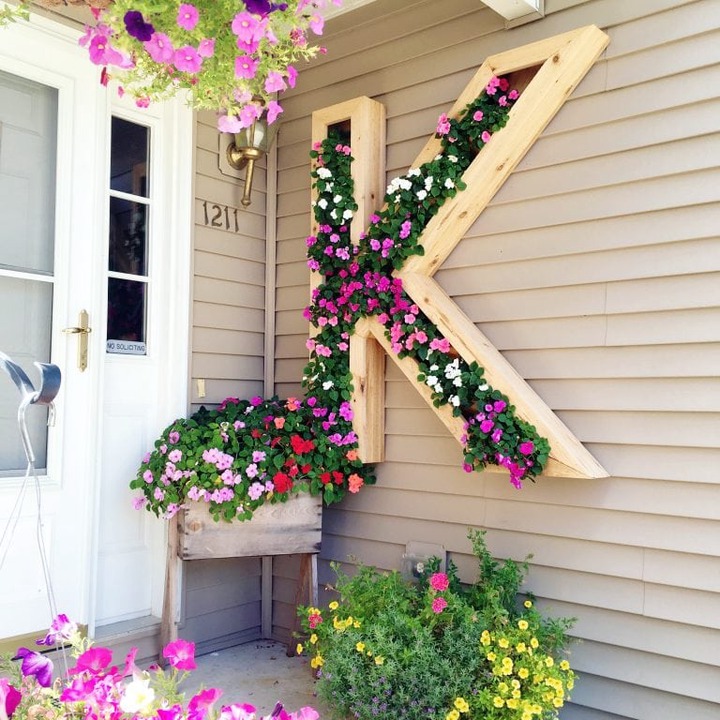 This project really is a beauty. You wouldn't be able to find something personalized like this in a store and it's fairly easy to build. 
17) Build A Beach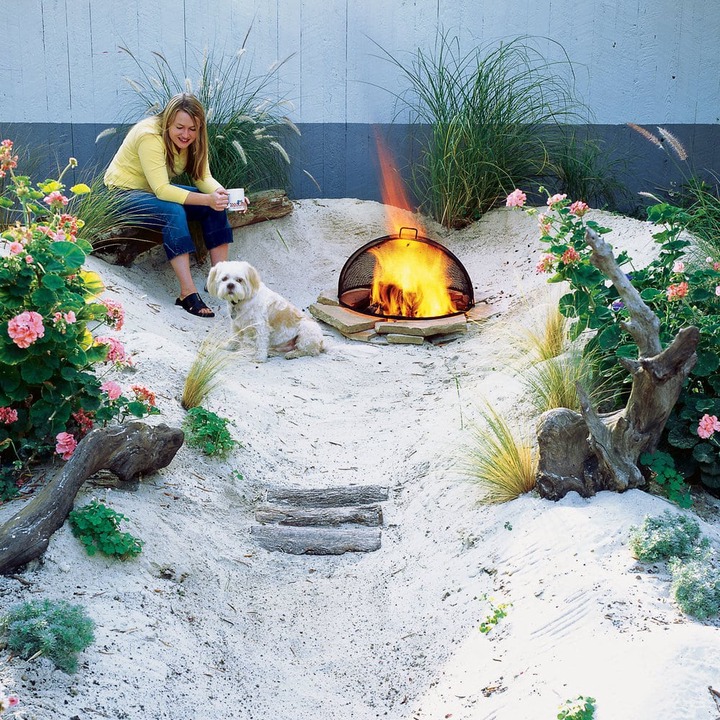 You can create a whole new world in your own backyard. Just turn it into a beach. 
18) Outdoor Shower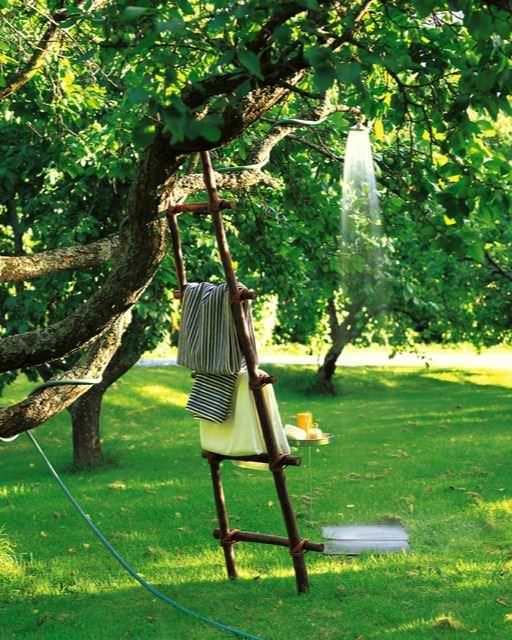 Need to rinse all that sand off? Create a simple outdoor shower
19) Garden Mirrors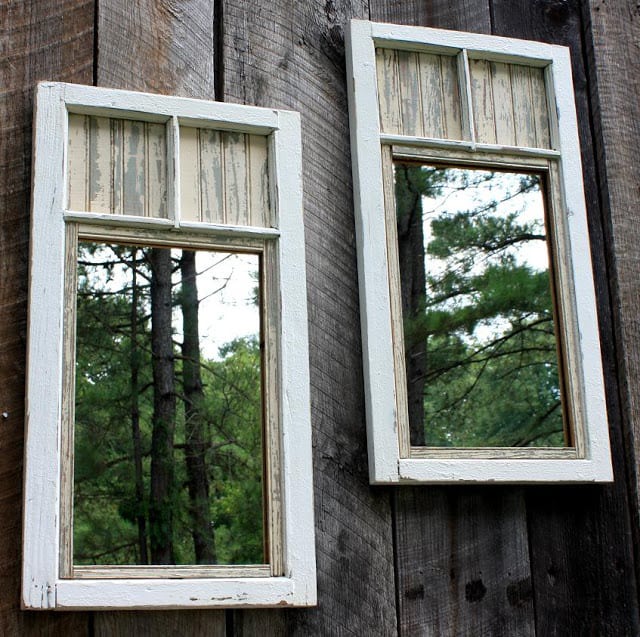 These garden mirrors make it look like you're looking into a new dimension. It also makes your outdoor spaces look a lot larger. 
20) DIY Wind Chime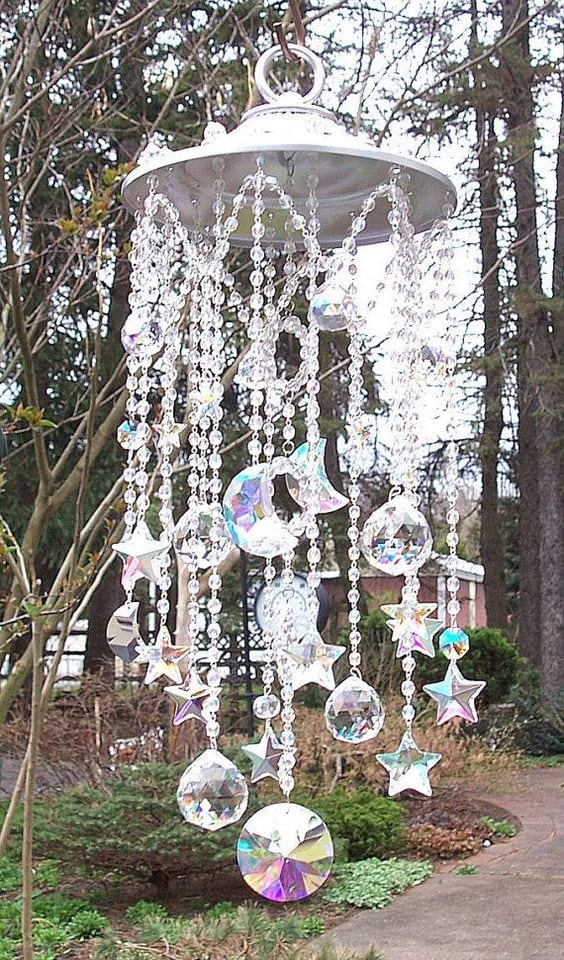 You can make your own wind chime with just about anything. This crystal one is gorgeous. But you can make them from old broken jewelry, seashells, and just about anything else you can think of.
21) DIY Fire Pits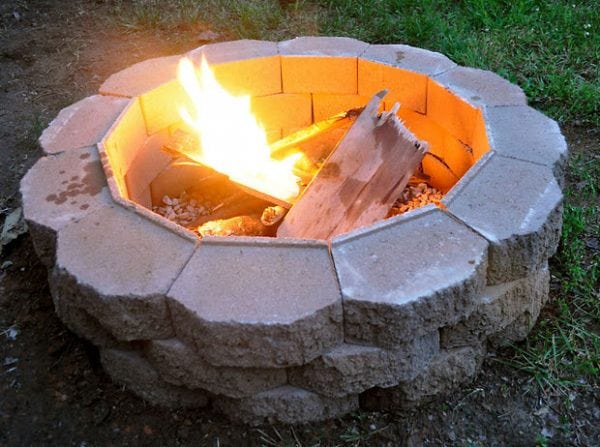 DIY fire pits can be super simple to make or intricate. It depends on what kind you'd like to build. 
22) Kiddie Car Wash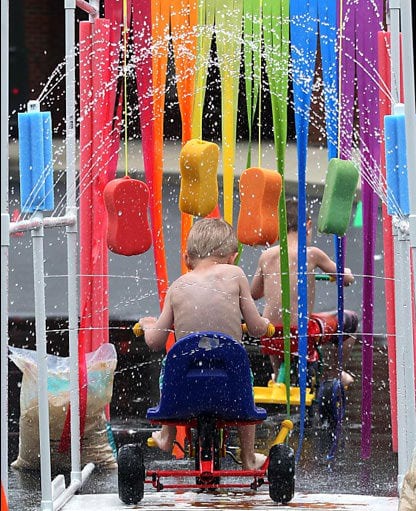 Backyards should be fun. And what's more fun than a kiddie car wash sprinkler? 
23) Backyard Movie Theatre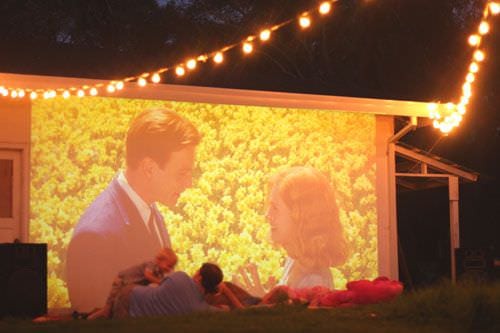 Creating a home theater doesn't have to be expensive if you're making one in your backyard. There are lots of different ways to go about this.
24) Outdoor Bar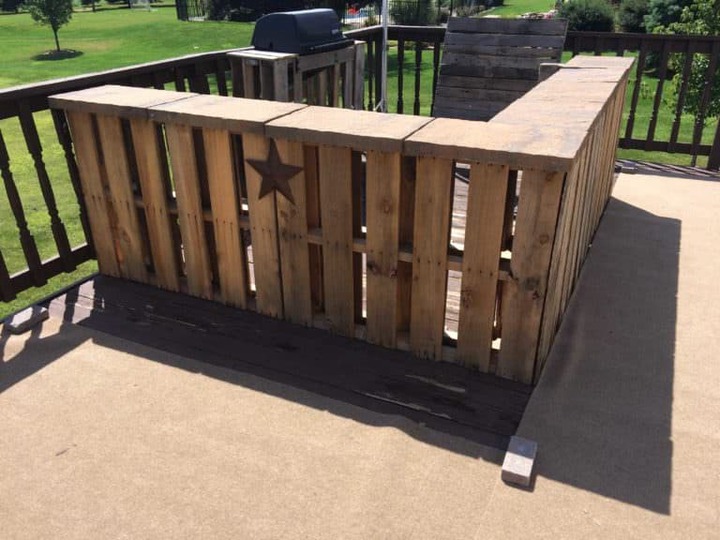 Your house will be the most fun on the block if you have a bar. Problem is, people might never want to leave! 
25) Plant Allium Flowers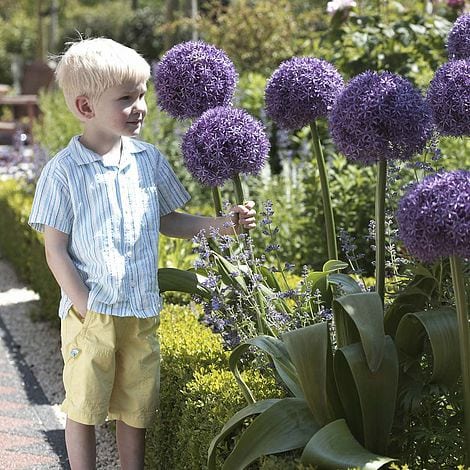 Allium flowers are fun and make you feel like you're in a Dr. Seuss book. Their stems can grow 3 to 4 feet tall.
26) DIY Tree Post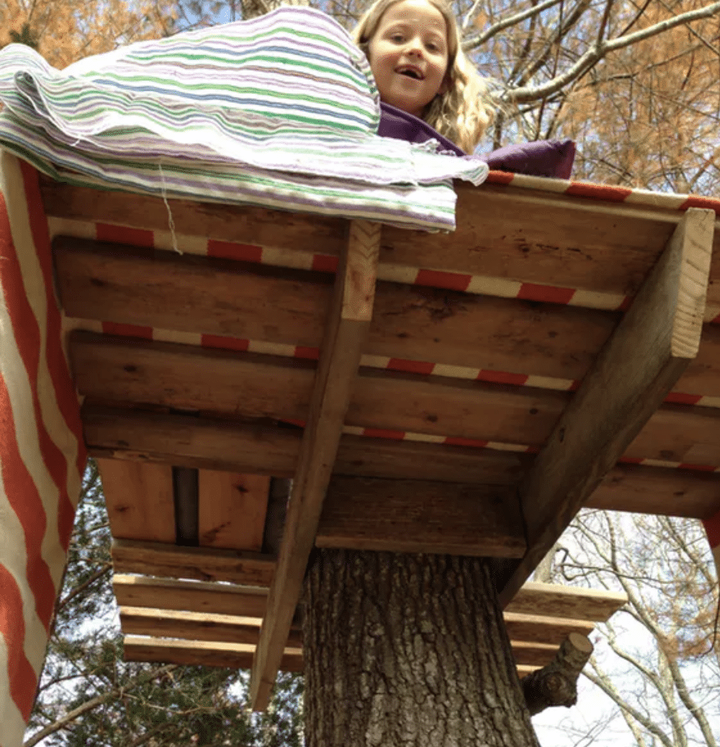 Making a full tree house can be a lot of work. You can meet the kids halfway with a fun tree post. 
27) Beer Cooler Table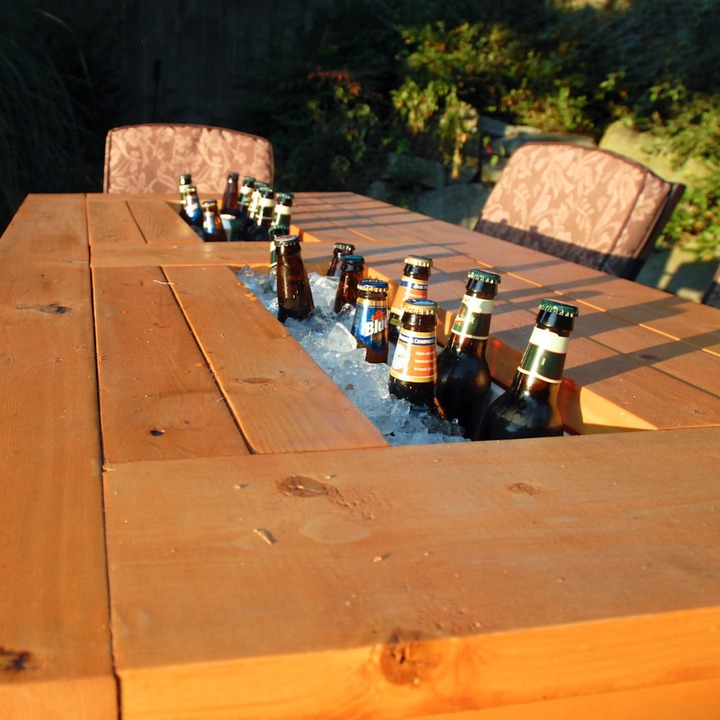 Never get up to get a drink again. Just make yourself a table with a built in beer/wine cooler. 
28) Marble Fences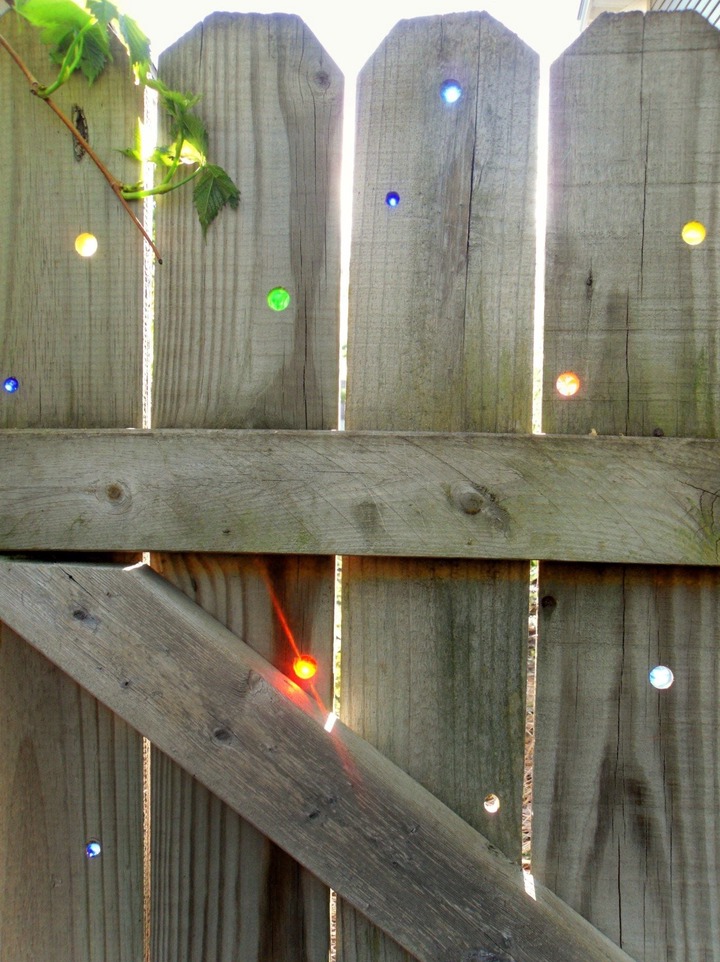 Make your fence fun. You can do so by drilling holes into it and shoving marbles in the holes. The sun will shine through them and look super pretty.
29) Trampoline Diving Board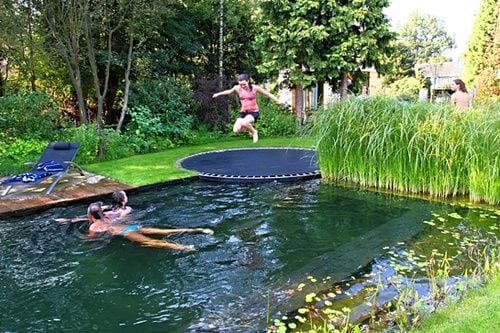 No need to go out and buy a diving board to have it installed. Get a used trampoline instead. It works just as well!
30) Porch Bed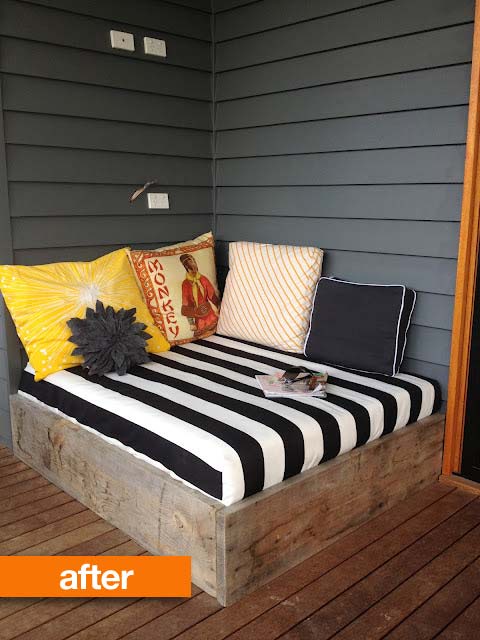 The best naps are outside naps. You can nap outside with an outdoor porch bed.
31) Outdoor Lounge Area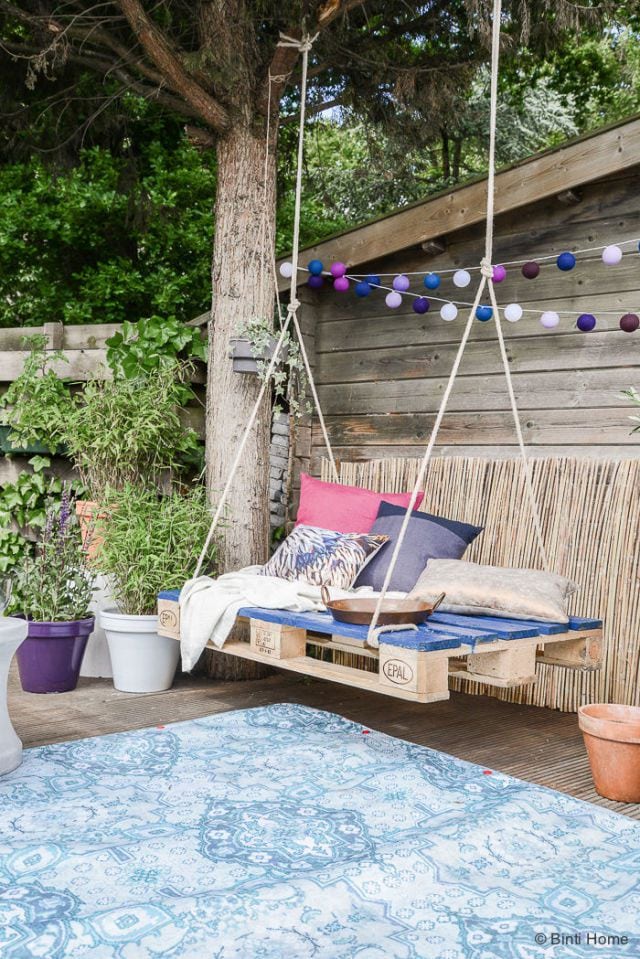 If you're going to have a magical backyard, you're going to have to have a swing. You can make a swing from a tire, a pallet, or an old bedframe. 
32) DIY Greenhouses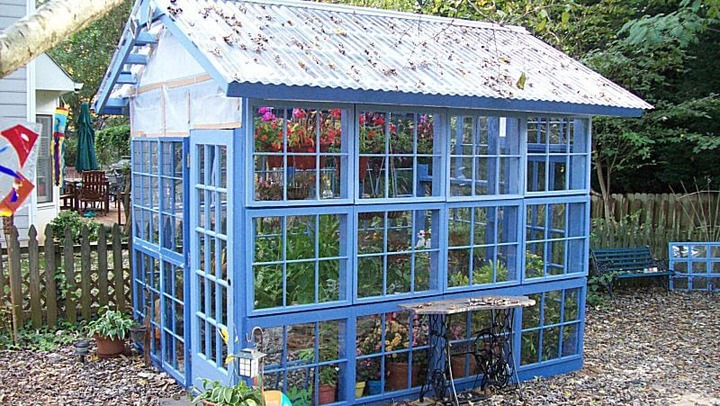 You can grow all sorts of beautiful plants and herbs in a DIY greenhouse. You can make one from old windows or other reclaimed materials
33) Gather Around A Tree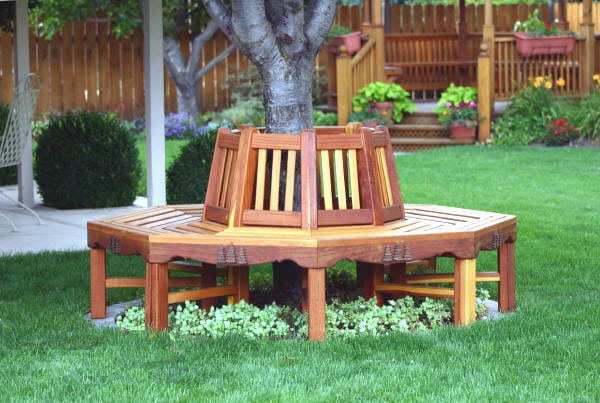 Sitting under a tree and receiving its beautiful shade is a gift. One that you can recieve over and over again if you create a tree bench. 
34) Make a Secret Hideaway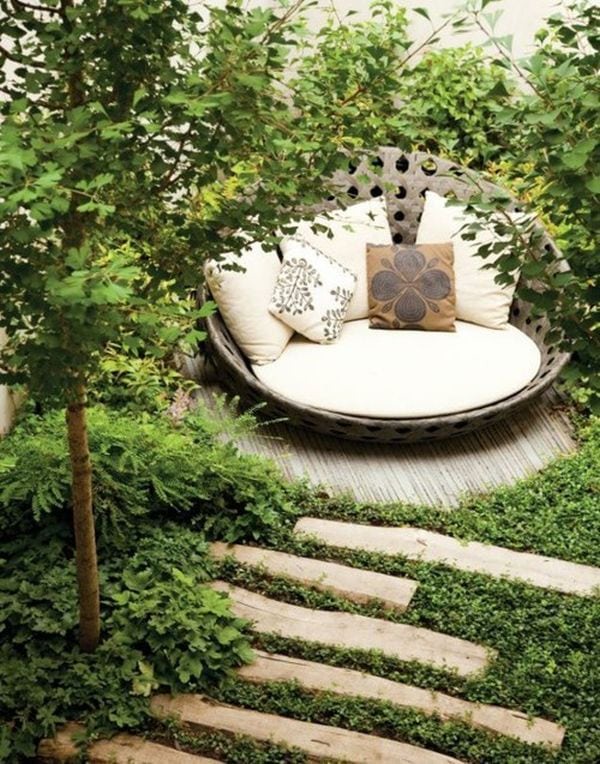 Have a secret little place in your backyard will make it feel special. Use steps and shrubbery to create your secret spot. Make sure you leave some cushion to get cozy.
35) Decorate a Tree Stump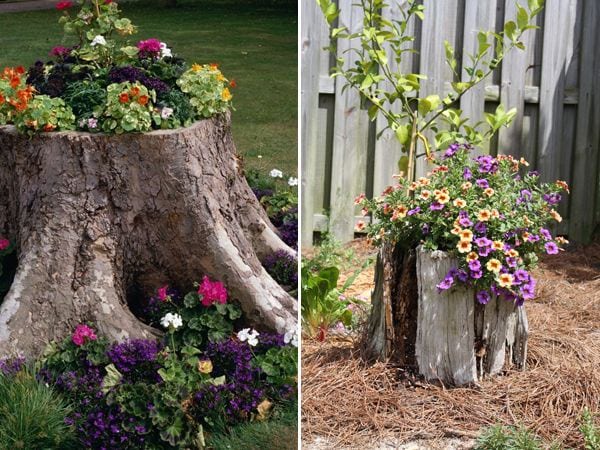 Don't let your tree stumps sit around and look ugly. Spruce them up. You can paint them or you can scoop out the insides and add flowers to it.
36) Hoola Hoop Chandelier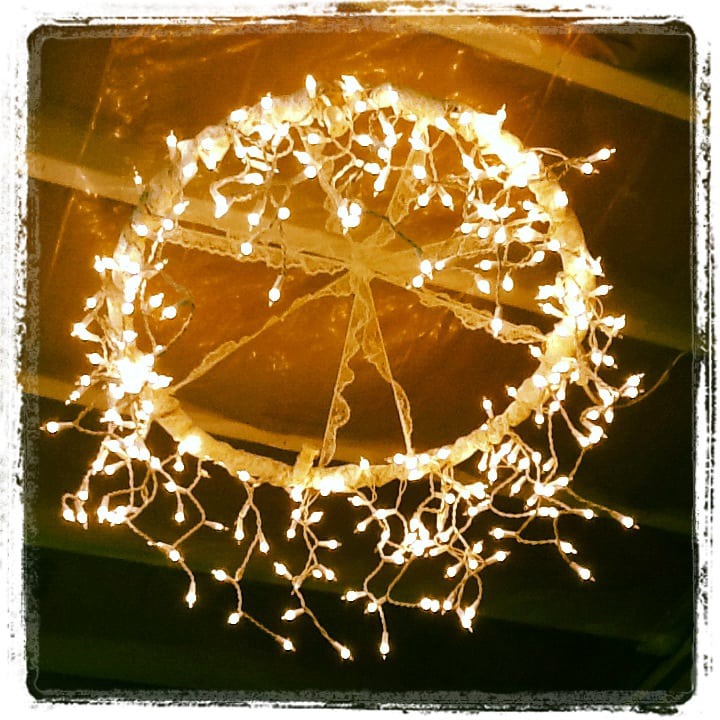 Why can't you have a chandelier outdoors? You can make a simple one from a hula hoop and some string lights. You can also hang some crystals from it.
37) Glowing Outdoor Orbs
Glowing orbs create an instantaneous magical feel. Their illumination gives off a soft glow that your guests will become curious about. You can find really cheap solar powered ones online.
38) Chandelier Planter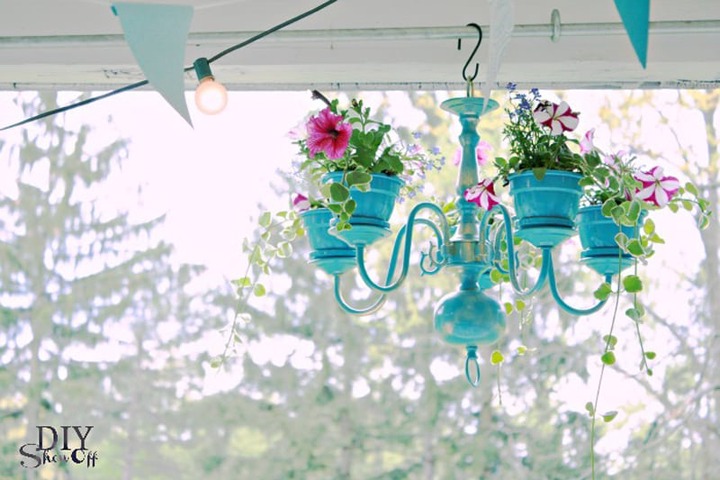 You can repurpose an old chandelier by using it outdoors. You can turn the lighting fixtures into a sweet hanging planter. You can also paint it to give it a pop of color. 
39) Fill Furniture With Succulents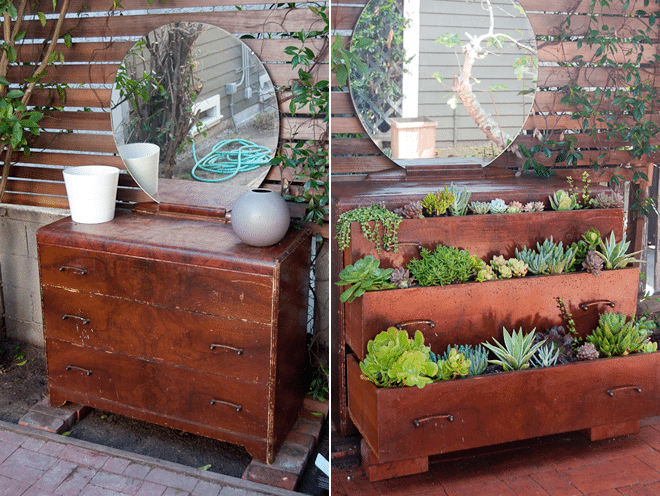 Create a beautiful focal piece in your backyard with an old piece of furniture. Open up its drawers and fill it with succulents. You can also fill it with flowers.
40) Fun Garden Markers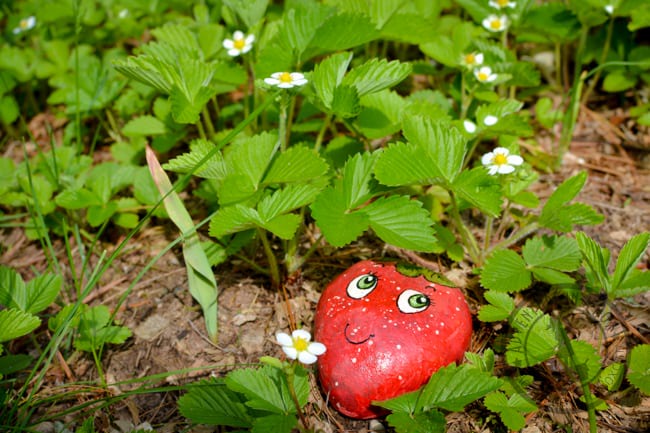 Garden markers make sure we don't forget where we plant stuff. But why not have a little fun with them? You can paint rocks to look like the item you planted, like strawberries, carrots, or pumpkins.
41) Your Kids' Little Greenhouse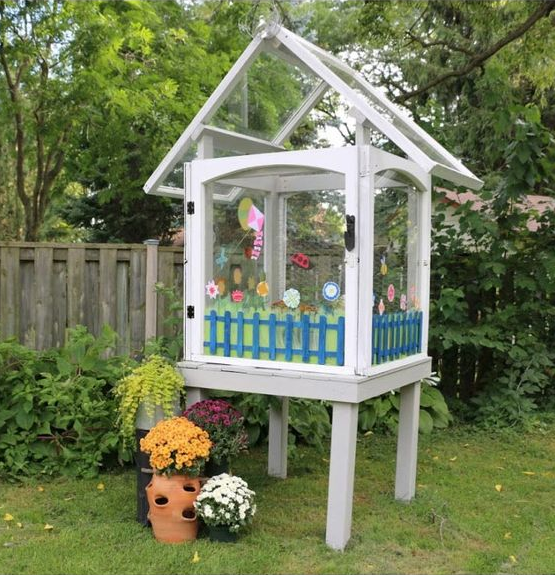 Do you have any old window panels just lying around unused? Well, you and your children can make this together
42) Your Own Mattress Swing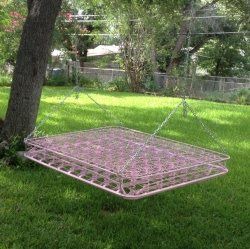 Have you always longed to have your own garden swing but you didn't know how? Well, here we have the solution for you, you just need some sturdy chains and an old mattress. Don't waste any time and get to work!
43) Make Your Own Fairy House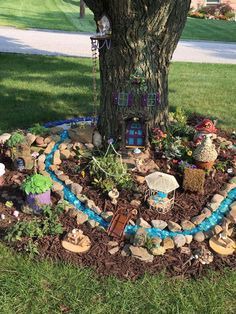 Do you like to give your garden a more fairy-tale vibe? Well, this is exactly what you have been looking for! Make your own little Fairy House using material easily found around your house or in inexpensive stores
44) Chicken Wire Flowers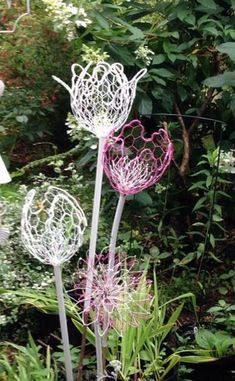 Do you want to create something really special and unique for your garden, but you don' want to spend too much money?
45) Bird House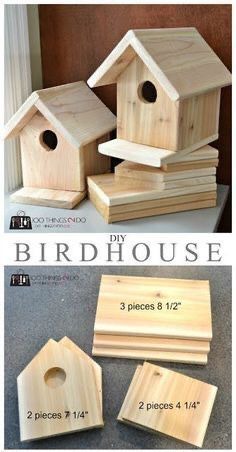 Do you love birds and you would like to have something for them exclusively in your back yard? Well, why don't you consider making your own little bird house? 
Content created and supplied by: Shanelize (via Opera News )