Principle Heating and Cooling Mechanisms in Organic Farming
1. Active/Supplemental Heating can be delivered to the greenhouse environment several ways:
a) Conduction: Conductive heating occurs when growing containers are in direct contact with the heat source. Heat is transferred from the source to the soil media and then to the plant roots and canopy. Electric heat mats, benchtop hot water piping, and radiant floors are all examples of conductive heating.
b) Convection: Convective heating occurs when warmed air is moved around plants via fans or other means of air circulation, transferring warmth to the soil and crop. Unit heaters and perimeter fin/pipe systems, combined with fans, are examples of convective heating.
c) Radiation: Radiant heating occurs by way of infrared waves transferring heat energy to the crops. This takes place when crops are placed close to the heat source, such as when growers install hot water piping under benches, and for the crops closest to perimeter fin/pipe systems. Most mechanical heat sources actually deliver a combination of radiant and convective heat.
2. Heating mechanisms
a) Unit heaters, functioning by convection, are normally suspended from the upper structure of the greenhouse, and can be gas or electric powered, depending on available energy sources and costs. A unit heater consists of a heating element/ fuel combustion chamber and fans to move the heat from the source through the greenhouse. In larger greenhouses and in colder climates, growers use multiple unit heaters and/or perforated duct systems to more uniformly distribute heat.
b) Hot water systems, such as the perimeter fin/pipe, and under-bench hot water piping, heat the air of the greenhouse, which then radiates and is moved by convection to the containers/soil and crops. These systems can be powered by natural gas, propane, oil, wood waste, geothermal, or solar batch collectors, depending on resource availability and costs.
c) Micro-climate heating: In the form of bottom heat, whether electric mats or hot water tubing directly on the bench tops, can be the most energy efficient because the grower does not necessarily strive to heat the air of the entire greenhouse, but rather the soil/ root zone and by extension the leaf canopy through conduction. Heat mats are normally electric, must be plugged in to a power source and generally are used for smaller-scale operations. Closed loop, bottom heat hot water tubing, such as the Biotherm system, can be powered by electricity, gas, or be connected to a solar hot water system to efficiently heat the root zone. This type of system can be particularly useful for heat loving crops such as Solanums and Cucurbits.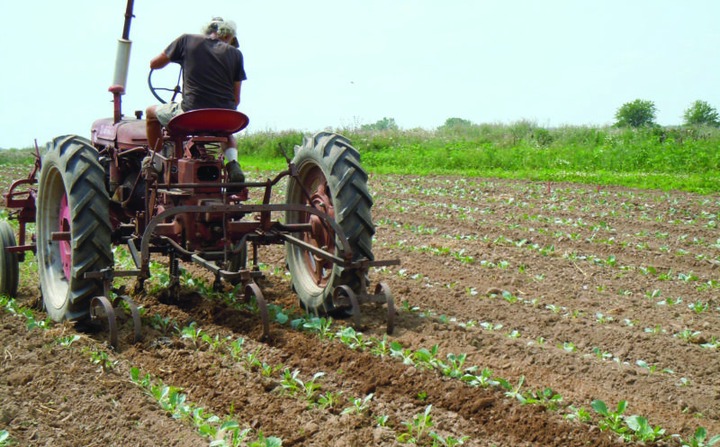 3. Cooling mechanisms
Cooling mechanisms are required for summer greenhouse production in all but the mildest environments. In virtually all other growing environments, trapped solar radiation can create an environment too hot for most seedlings. The importance of active cooling mechanisms cannot be overstated unless you are only producing heat-loving crops. Depending on the crops you grow, the size of your facilities, and the nature of your climate, different cooling mechanisms may be available to you
a) Evaporative Cooling i. Fan and pad systems combined with exhaust fans are commonly used in actively managed commercial greenhouses  
• Fan and pad systems are electrically powered and are made up of corrugated cellulose pads housed on one wall of the greenhouse. A water reservoir and pump system saturates the pads, and a fan evaporates the water in the saturated pads. Air coming into the greenhouse is cooled via the heat energy absorbed as the water evaporates.
• Fan and pad systems, combined with exhaust fans, must be appropriately sized for the greenhouse structure, and the environmental conditions that need modification  
• These systems work most efficiently in drier climates; in high humidity environments, systems should be over engineered by approximately 20% to compensate for the inefficiency of evaporative cooling in already water-saturated air 
• While highly effective, fan and pad systems can be costly to operate during peak electricity rate periods, which coincide with the times/conditions when the systems are most needed  
• Typical fan and pad systems operate at about 85% efficiency and have a temperature differential of as much as 7–10ºF because cooling is centralized at the fan and pad, and depends on the fans and exhaust system for distribution across the structure
b) Swamp coolers work on the same principle as fan and pad systems, but are usually installed in smaller structures, often without active exhaust fans. Instead, the evaporatively cooled air is moved across the structure by strong fans within the swamp cooler; warmed air exits the structure passively through ridge and end wall venting. 
c) Fog systems also work on the same evaporative cooling principles, but distribute fog across the entire greenhouse through careful placement of atomizing nozzles
i. Results in nearly 100% cooling efficiency, with temperature differentials at no more than 1ºF
ii. Can be used in greenhouses with only natural ventilation and/or mechanical ventilation 
iii. Operate under high pressure, with water forced through very fine-aperture fog nozzles. Clean water and regular maintenance are required to keep the systems operating properly.
4. Physical methods for heating and cooling Additional heating efficiency and cooling can be achieved through physical/mechanical means such as the use of shade cloth, white washing, and energy curtains
a) Shade cloth can be purchased in a range of shade densities and can be installed on the interior or exterior of the greenhouse. Shade cloth reduces light intensity and thus heat from solar radiation. Relatively inexpensive materials can provide years of service and reduced cooling costs. However, excess shade for sun-loving crops can lead to weak, leggy growth that will be more vulnerable to pests and to damage by winds and frosts when transplanted. 
b) White washing, a traditional method of reducing light intensity and temperatures, reflects solar energy away from the greenhouse, thus reducing interior heat and the need for cooling. Very inexpensive, but must be removed in the winter months to improve solar heating potential and reapplied the following season. As with shade cloth, reduced light levels can lead to weak, leggy growth in some crops. 
c) Energy curtains, are the most expensive but most versatile of these physical/mechanical tools. Energy curtains are retractable coverings, made of either plastics or aluminized polyesters. When deployed, they trap an insulating layer of air between the crops and the greenhouse roofing; they reduce the total volume of air that must be heated to satisfy crop requirements and the metallic fabrics heat energy back into the crop zone. Additionally, on hot, sunny days, they can be deployed to act as a shade barrier, thus reducing greenhouse temperatures and the need for additional cooling. Energy curtains can cost several dollars per square foot to purchase and install, but with every rising energy costs, the improved energy efficiency they provide can be recouped in as little as two to three years.

From Opera
The views expressed in this article are the writer's, they do not reflect the views of Opera News. Please report any fake news or defamatory statements to [email protected]
Content created and supplied by: PATRICKHE (via Opera News )