Cool Season Greenhouse Management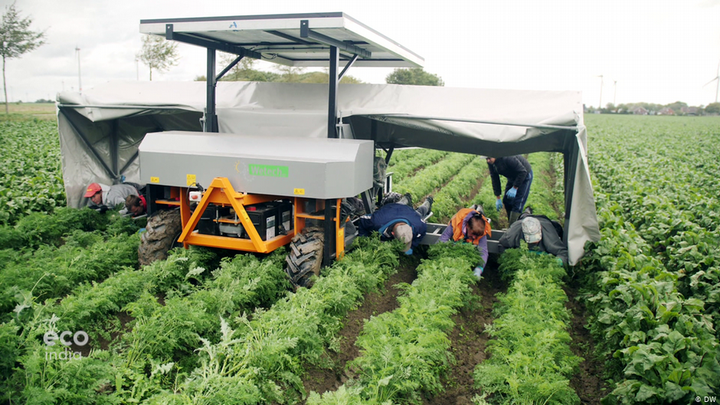 Sunlight, appropriate irrigation, temperature management, and air circulation are of paramount importance during the cooler period of limited sunlight.
SUNLIGHT
During the winter, prime plant growth by way of photosynthesis takes place principally between 9:30 am and 2:30 pm. While we cannot control the amount of sunlight available to plants during the cool season, we can optimize crop use of what light is available by working with the microclimatic differences within our greenhouse structures.  
1 The impacts of nearby trees, buildings, and greenhouse infrastructure may all be exaggerated in the winter and early spring; plants and containers should be placed so as to optimize growth.
2 It may be necessary to turn flats/containers 180° 1–2 times per week to compensate for phototropism, the natural leaning of plants towards available sunlight. Phototropism is a common challenge in the winter due to the sun's low trajectory as it moves from east to west.
3 Typically, recent prick outs (seedlings that have been transplanted to larger containers) don't need shade protection, and can be immediately returned to one of the greenhouses. However, if we are experiencing a heat wave or a pattern of intense sunlight, prick outs will need to be held over in the shade for 2-4 days to minimize transplant shock.
4 If necessary, cleaning the glass/plastic glazing increases sunlight penetration.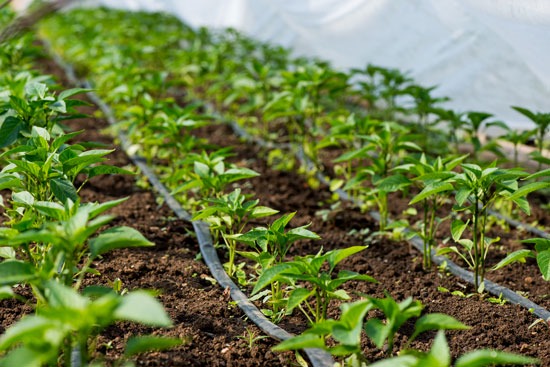 WATERING
1 Cool season conditions dictate a more conservative approach to watering in order to ensure options "subtract" water if once your soil is overly wet. Under more extreme weather conditions it can take upwards of a week to achieve adequate dry down. 
2 One watering a day is usually the maximum. Check depth of water penetration before and after watering, especially if flats are very dry.
TEMPERATURE MANAGEMENT
1 Temperature management in a passive solar structure is a balancing act between heating and cooling. Heating occurs via solar radiation/trapped air mass as dictated by available sunlight. Cooling happens by way of ventilation, or the importation of cool exterior air into the "heated" greenhouse environment. 
2 Managing temperatures is a sophisticated art that requires careful attention to daily weather patterns, awareness of changes in sunlight intensity over the course of the day, and attention to fluctuations in outside air temperatures.  
3 As greenhouse managers we must use this heightened awareness to manipulate venting appropriately, thus maintaining optimal temperature conditions within the greenhouse. In a greenhouse filled with diverse crops, target temperatures are:
Daytime temperature range: 60-80°
Optimal temperature: 65-75°, 70-85° for warm season crops
Nighttime temperature range: 55-60° 
4 Temperatures greater than 50° are needed for steady/stocky growth.
5 Temperatures greater than 85°, if not sustained for more than a few hours, such as when vents are closed in the afternoon, should not be a problem. In fact, this spiking is necessary in a passive structure to allow for a buffer and the gradual dissipation of heat into the evening, rather than an abrupt drop in temperature as the sun passes off of the greenhouse.
6 Winter concerns: Too cool/too wet. Damping off occurs during extended wet and cool periods. Always sacrifice air temperature in favor of air movement.
VENTILATION/AIR CIRCULATION
Airflow is critical to avoid damping off, which can be a problem when we have consecutive cool, wet gray days with little day/night temperature fluctuation. 68º–86º is the optimal temperature for damping-off fungi to thrive. This is also approximately
3:00-4:00: Close all venting and doors half to 1 hour before sun moves off of house. Exact timing will change as days lengthen.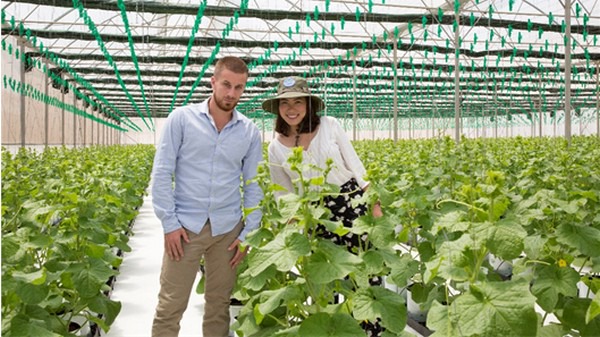 From Opera
The views expressed in this article are the writer's, they do not reflect the views of Opera News. Please report any fake news or defamatory statements to [email protected]
Content created and supplied by: PATRICKHE (via Opera News )