Ever since i moved to limpopo for educational reasons (varsity) i got to a point where I started felling like i should loosen up and do a little bit of parting here and there so i can get to refresh my mind and make freinds.
Onetime i went out i met a blesser who offered to buy me me drinks and all that i wanted and he did after the groove we went to his place to spend the night.in the morning he took me and showed me all over the house and he did not show me around 1 of his bathrooms in the house.i asked him about it he got furious and warned me not to go anywhere near it with me being an understanding person that i am i made peace with the fact that i must not go in there.
Few hours later i started hearing some weird sounds in tge bathroomand at first i thought it was my earth but the sounds kept going on.i tried ignoring them but then my curiosity got the better of me and i went and opened the bathroom door and found this.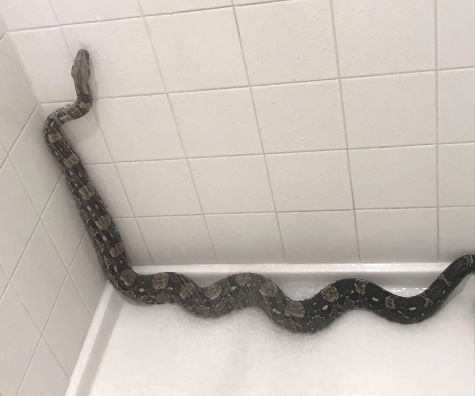 Well it turns out that the sounds i was hearing from the other side of the door was being made by this snakes movements for this surfaces was slippery for it.
at first i thought it was just a regular snake which might have made it in the bathroom through the window and probably at the wrong place at the wrong time so as scary as it was i took pics of it and sent my Blesser.
as i was taking the pics my hair started to stands and I could not not (it was as if am having a sleep paralysis) luckily me Blesser came and took me to safety in one of the rooms.
when i finally gained my movement back i then ran for my life and left the apartment without even saying goodbye.
Something tells me that there is more to that snake is it possible to report it and have it killed by the police for it seems very dangerous for any human well-being.
Content created and supplied by: RastaWrites01 (via Opera News )