Her love of potatoes; led to her being the producer of a cooked and spiced up potato; called; frozen cream potato.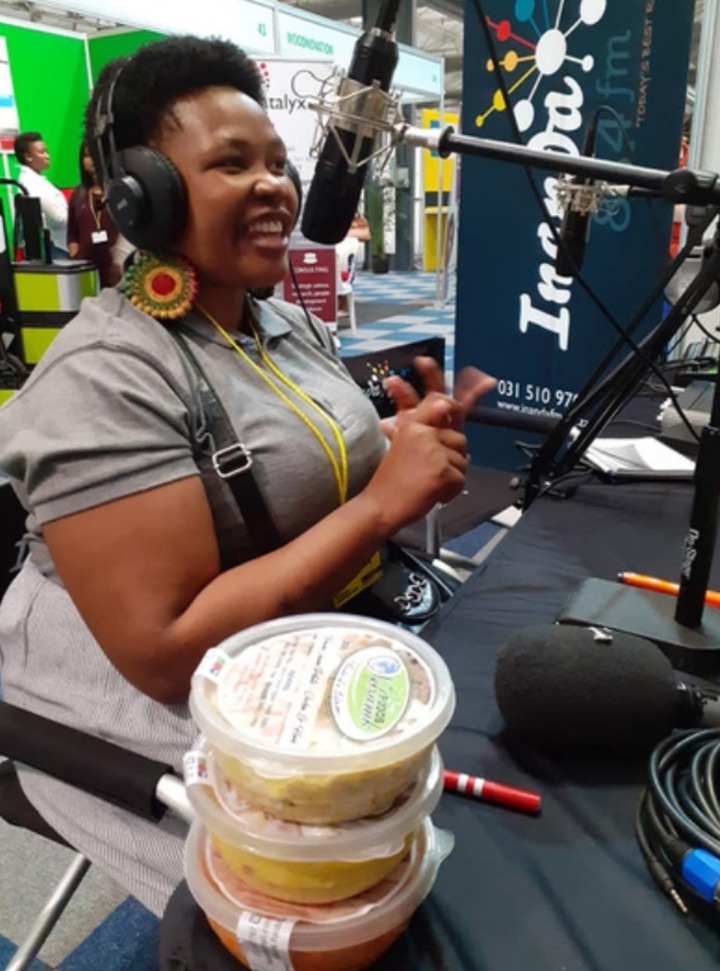 Nelisiwe Mkhize says; though she has not reached her target; there is progress in her cooked product. Picture: supplied.
Nelisiwe Mkhize from Mthwalume; Southern Coast of Durban; is the creator of NelzaMk Foods; which makes cooked and frozen products. Her love of potatoes made her to always think about ways to change it into something delicious.
She told a local newspaper that there is a friend of hers who sold chilli sauce; which she bought and added into potatoes she had cooked; she found it tasty; she then used various things to spice up her potatoes; like herbs; mushrooms and many other things. She eventually put the cooked meals in containers and sold them.
"I thought that the potato that I love so much; can become food that one can eat at work and be satisfied; spicing it; makes it nutritious. This product makes things easier for a busy person because you buy it frozen then warm it up and eat it." Said Mkhize.
"It can be eaten with meat or turned into a salad. When I started out; I would sell the product to people while carrying it in a cooler box." Said Mkhize.
She said she kept advertising her product on social networks.
"I started this business in 2017; after trying to enter the property building business; but failed. When I started out; I got a call from someone who had seen my product and asked me if I can produce a ton; they will buy it. I did not even know how much a ton weighs; but I agreed." Said Mkhize.
"My head started spinning when I found out how much a ton weighs. I failed to make a ton because it was too big and I had just started and did not have space big enough to make such an order." Continued Mkhize.
"That is when I realised that I need to be well prepared in order for my business to be at an expected level. I did branding and put labels on the product. I had to find university students to inspect my product; and see which nutrients have been added and at which temperature it should be kept and other details concerning food that need to be written on the label." Said Mkhize.
She has now added spiced amadumbe; creamy chicken and moringa; sweet potatoes and rabbit meat as additional products.
"Most people like nutritious food; that is why I chose to add certain nutritious spices." She said.
She said she was sponsored by Agriculture Development Agency (ADA); they paid for her to learn more about business.
She said she wishes for her product to penetrate the retail shop market but it's difficult because there are many requirements needed for her to enter this type of market.
She said other retailers want to take the product and put their name on it; she will get paid but it will not be known who the supplier is because the product will have the retailer's name.
"This is a quick way to make money. When the Corona virus emerged; I was in negotiations with some retailers; I wanted to see how that was going to give my business growth; but then things were stopped like that." She said.
To make money; she opened a place that sells food in Mzinto; in the siuth coast; this is where she also advertises her products.
https://www.isolezwe.co.za/intandokazi/uthando-lwamazambane-lumvulele-ibhizinisi-9f83769f-b97c-42f6-9ca0-f235bec57fad
Please like; share; comment and follow me for more news.
Content created and supplied by: TingTong1105 (via Opera News )