ECONOMIC GROWTH
Zuma takes credit for tackling the economy by among others: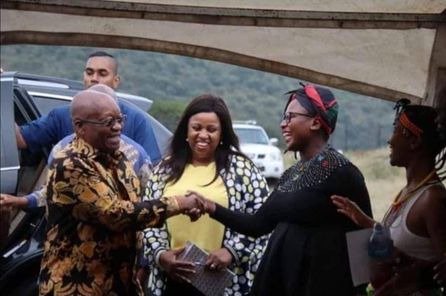 Fostering good relations between government' labour and business.
Creating an enabling environment for economic growth and development.
Ensuring policy clarity and promoting investor confidence.
The nine-point plan to ignite growth
Reducing red tape for business through One Stop Shop centres in Pretoria' Cape Town and Durban' where investors can register companies' apply for water' electricity or tax.
Initiatives like the Black Industrialist Programme (BIP)' which was expected to draw investment of R3 billion in 2017 and create more than 4'000 jobs.
Operation Phakisa' which aims to take advantage of the country's marine resources to drive economic growth.
Establishing the Department of Small Businesses Development' focused on small businesses and cooperatives.
Pre-paid President Ramaphosa administration abo Gwede "The Tiger" Mantashe give exploration rights to Total to explore petroleum our shores already discovered by 9 wasted years. Literally give rights to Total.
LAND REFORM AND OWNERSHIP
President Zuma in forefront in 54th ANC Conference he ultimately led ANC Economic Resolutions (RET) which adopted one resolutions being Land Expropriation Without Compensation, Nationalization of SARB etc.
President Zuma in 2009 established the Dept of Land Reform was in line with ANC Resolutions Expropriation Land without Compensation.
Part 2....
Content created and supplied by: Alupheli (via Opera News )