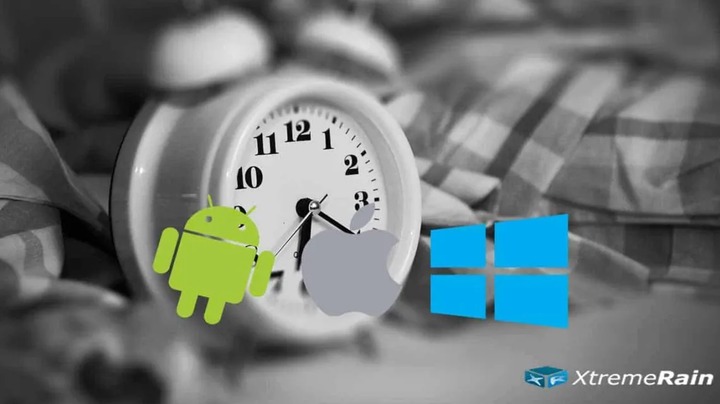 There was a time, When people went to sleep early and could awake up at dawn very easily. In this modern era specially for new generation, It is not so easy. We go to sleep at late night and awake up so early because of work (By forcing ourselves). In holiday, Many peoples awake up later. It is because of some bed effects of technology. But, Technology also gives us solution. Probably, You have an android phone or tab. There are several android sleep tracker and alarm apps that can help you to have better sleep. Most of these apps have excellent feature that can track our movements, sleep time and help us to awake up. But,, Which are the best among them?
I found several apps that you may like. Here are the list.
1. Sleep Cycle alarm clock:
According to my experience, This is the best smartphone sleep app that can track your sleep and help you to have sound sleep as well as awake up in the morning. It is a premium app. Sleep Cycle alarm clock is available for both android and iOS. Comparing to other similar apps, It has not so many features. But, It has all the core features that you need. Its performance is awesome and it works very smoothly. It has amazing sleep aid music that may sometimes work awesome to make you fall in deep sleep. Its alarm music genre rarely can annoy you. This app can wake you up slowly so that you don't feel boring. When you pick your phone in hand, Alarm music will be paused automatically. It will be in snooze mode. After a few minutes, It will play alarm again. It will continue until you unlock your phone. That means, until you wake up completely. Its alarm tones are amazing. Sleep Cycle alarm clock app can track your movements at night. So, It can determine estimated sleep quality and show you the result in graphical chart. Its sleep notes feature can help you how different activities like drinking coffee, workout etc. affect your sleep.
Price: Free (Previously was $1.05)
2. Sleep as Android:
This is an excellent premium sleep app with more features that can track and help your sleep and awake up. It has all the features of Sleep Cycle alarm. Additionally, It has ideal sleep and sound recording feature. You can manually set your ideal sleep length. You also can enable sound recording feature. It will record all noises when you sleep. Like other apps, It has sleep aid music and some pretty cool alarm sound. Another cool feature is Bed Time Alarm. It can notify you when you should go to bed. For this, You will need to enable relevant option. You can integrate it with wearables. Though it will require an extra addon. There a few addons available for this app. These will give you full enjoyment with Sleep as Android. This pretty amazing app is only available for android platform. It's misfortune for iOS and Windows users.
Price: 3.88
Trial Availability: Yes
3. Sleep Better
Another excellent sleep app for your smartphone is Sleep Better with Runtastic. This freemium sleep app is available for both Android and iOS. You can use basic version for free. But, You will need to purchase full version to get complete experience. Sleep Better has most necessary features that you need. But, It has some advanced features which are not available in most of its competitors. It can analyze how moon phase affect your sleep. Sleep better can help you to find out how workout, caffeine, stressful day, Ate late etc. influence your sleep quality. You can try this app for free.
Price: Free & $1.88
4. Sleep Bot – Sleep Cycle Alarm:
SleepBot is another cool sleep app for android. It is one of the top 5 sleep apps that you may consider to use. It tracks motion, sound like other similar apps. You will find all basic features here. But, Comparing two first three apps i have mentioned, It's a bit behind.
Price: Free
5. Sleep Time Smart Alarm Clock:
This is an excellent sleep alarm apps with some cool features. This apps basically helps you to wake up and go to bed timely. It also track your daily sleep times and shows statistics like others. It is free to use. But, It has premium plans which cost monthly subscription fee.
Price: Free, $4.99/Mo & $29.99/Year
There are some other sleep apps which are also good. But, According to my opinion these are top 5 sleep apps that can help you to have better sleep regularly.
Source: https://www.xtremerain.com/best-sleep-apps/
Content created and supplied by: Wesley4658 (via Opera News )