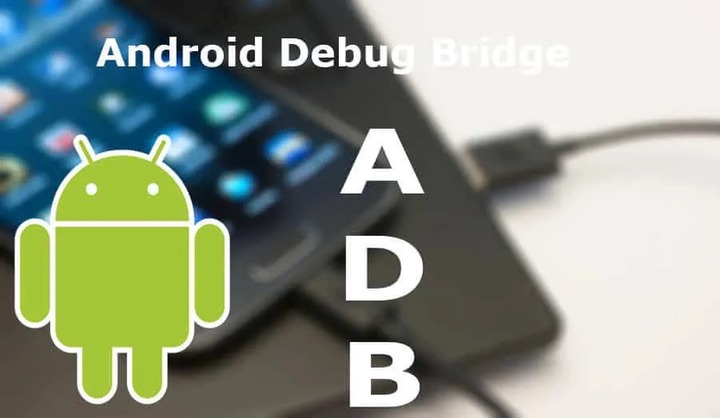 ADB's full form is Android Debug Bridge. It is a command utility that allows users to control android device over USB from PC. You can install or uninstall apps, delete files and run shell commands by it. It is for expert users and developers. In this article, I'll share how to install & use it.
How to Install ADB:
You have to complete it in several steps.
Before installing android SDK, You have to install Oracle's Java JDK. It's full form is JAVA Development Kit. You can install 32 bit version even if your PC is running 64 Bit OS. It depends on you. Download Oracle JDK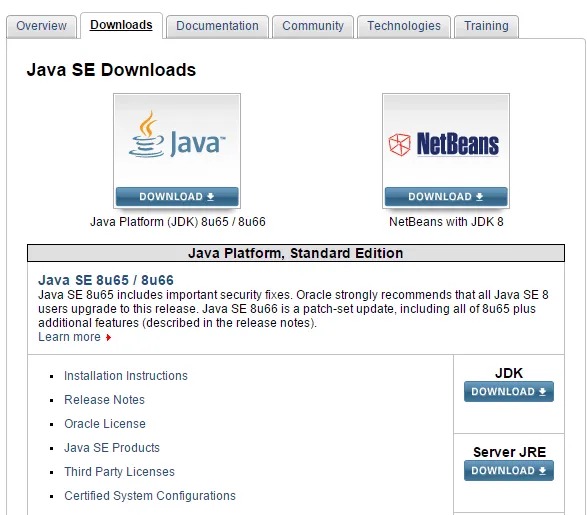 Once JDK has been installed, You have to download the Android SDK (Android Studio).
 Then install it. Download Android SDK
If you complete installation, Now it's time to setup it.
Setup Android SDK:
After completing above process, Run SDK Manager.
You will find it in your start menu. If you don't find it, Just go to C:\Users\(Your User Name)\AppData\Local\Android\sdk\platform-tools.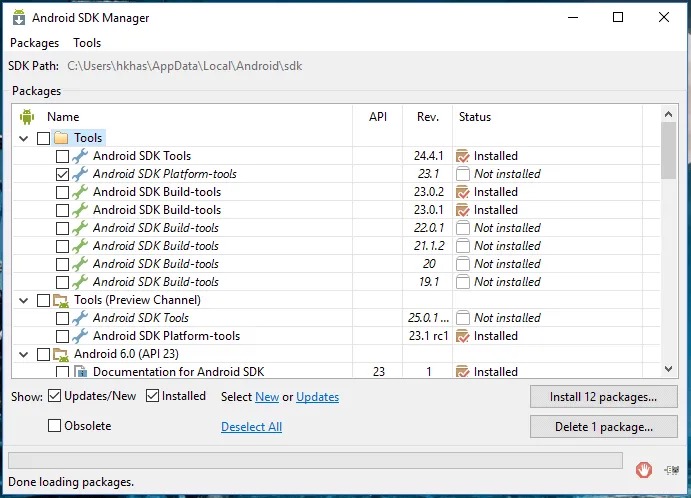 Mark Android SDK Platform tools and click on Install button. It will download ADB and other necessary tools. If you find this is already installed, You don't need to do it.
How to Use Android Debug Bridge:
To start using ADB, You have to do one thing.
Enable USB Debug Mode:
You have to enable USB debug mode before using ADB. It is not complex. Just follow the instructions –
You have to go to your android phone or tab's Setting.
Now go to about.
Tap on your build. You may be required to tap 4 times continuously to enable developer mode.
Now back to settings and scroll down. You will find developer options. Go there.
Now check USB Debugging.
Done.
Test ADB:
First of all you have to locate android SDK folder. If you install it on default location the SDK folder will be here: 
C:\Users\UserName\AppData\Local\Android\sdk\platform-tools. Username is your user name for your PC.
Go to that folder. Find adb.exe. Press & hold Shift and Right click on that. Then select Open command window here. A command prompt screen will be appeared.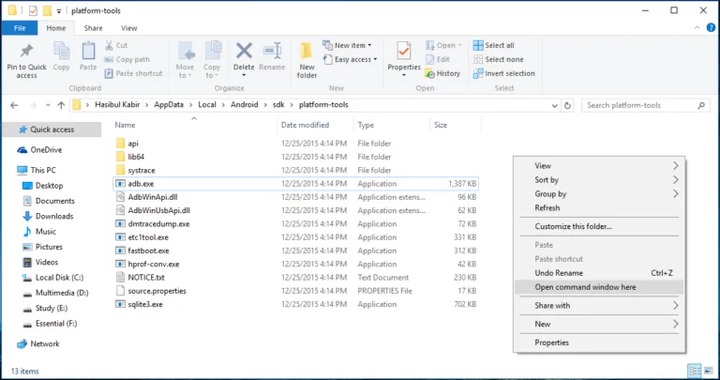 Connect your android phone by USB Cable.
Now, In command prompt, Type the following command.
adb devices
Now, You should see the device see. If you see nothing, You have to install appropriate drivers.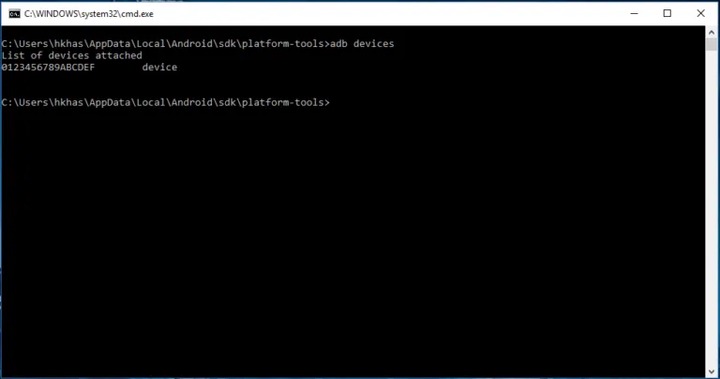 How to Install Drivers:
Installing drivers is very easy. You can Go to your Device manager and find the drivers with yellow sign and install them like other drivers. You also can force windows to install google USB drivers. To do it –
Open SDK Manager
From Extra folder, You will find Google USB Driver. Mark it and click on install.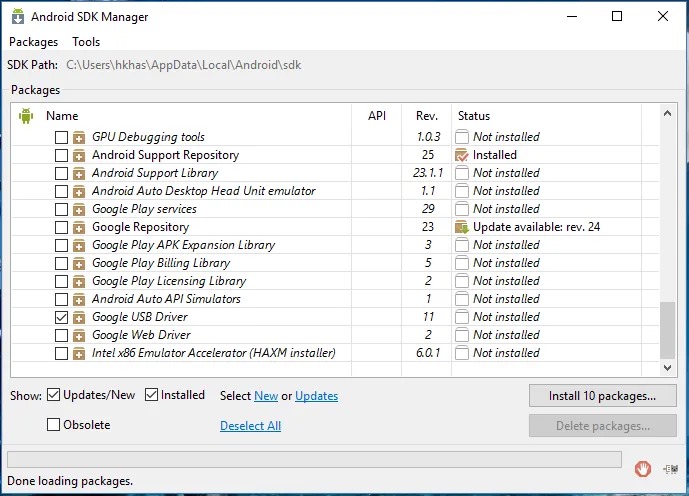 Now, Open your Device Manager. To open it simply open start menu and type device manager and press Enter.
Now find your Device. Right click on it and select Update Driver Software.
Select Browse my computer for Driver software.
Now locate this directory C:
\Users\UsreName\AppData\Local\Android\android-sdk\extras\google\usb driver.
Click Next.
Done.
Some Useful Commands for ADB:
These are some most needy commands –
adb install C:\package.apk
adb uninstall package.name
First one is to install app or game. Second one is to uninstall. 
You have to replace package.apk or package.name with your expected app apk or package name. For example: You want to uninstall Angry Birds. Then you can use the following command.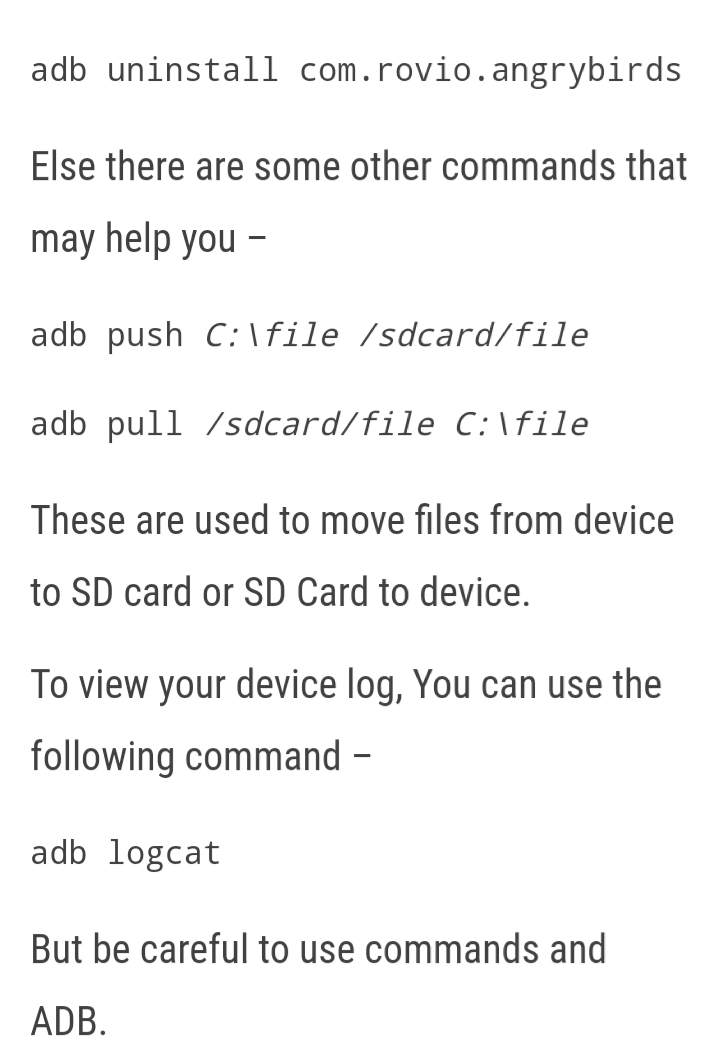 So, Here are the steps to install & use ADB (Android Debug Bridge).
Source: https://www.xtremerain.com/install-use-android-debug-bridge/
Content created and supplied by: Wesley4658 (via Opera News )