The Sassa payout dates have been announced in the Sassa page.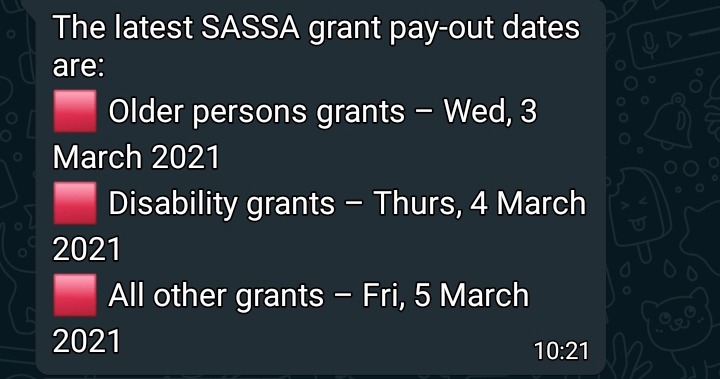 The sassa payout dates have been announced on all Sassa social media pages, Including all big supermarkets have the dates available for the pensioners to know the exact payout date for March 2021.
The Sassa in joints with the government had decided to not pay pensioners on the same day for them to avoid overcrowded places, as it is time where we are affected by the corona virus and it is spreading rapidly.
The payout dates were divided into 3 first pensioners payout is the older persons grant followed by the disability drant next and lastly childrens grants associated with all other grants, The grants will start to be payed from next first week of March 2021.
The latest Sassa payout dates for March 2021:
Older persons grant:Wednesday 3 March 2021
Disability grant:Thursday 4 March 2021
All other grants: Friday 5 March 2021
Source:https://www.google.com/url?q=https://www.sassa.gov.za/newsroom/articles/Documents/updates%2520on%2520social%2520grants.pdf&sa=U&ved=2ahUKEwiCsbfoif3uAhVtRhUIHdPlAwsQFjAHegQICRAB&usg=AOvVaw0P5n2qY6CadBr2rhitMO1I
Content created and supplied by:Esihle
(Opera news)
Content created and supplied by: EsihleR (via Opera News )