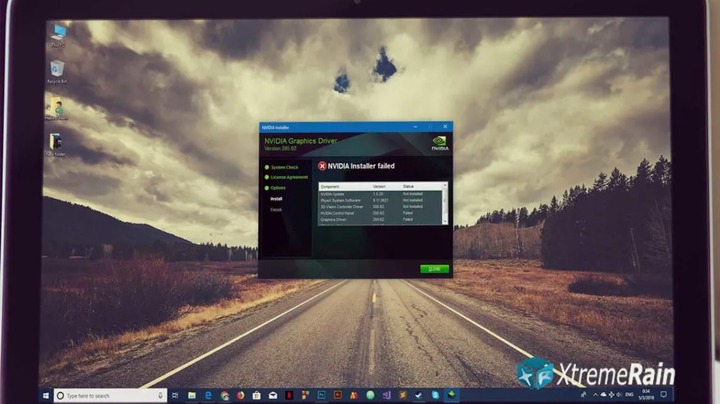 Sometimes, You may face errors while installing graphics card driver software. This article explains how you can fix NVIDIA installer failed problem.
After April Update, Windows 10 has become very smooth and more matured. But, This OS can show you an error at you for no fault of yours. One such error is related to NVIDIA graphics card. More than one user with NVIDIA graphics chip have complained of encountering installer failed error in Windows 10.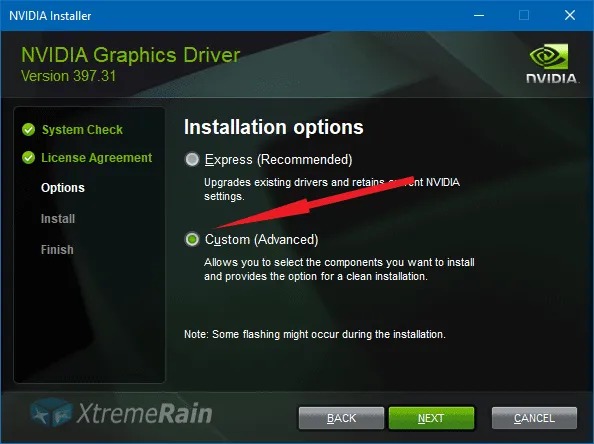 The error message that accompanies this issue is as follows:
NVIDIA Installer Failed

Why does this error occurs is a mystery and many have labeled it is a random error. Nevertheless, solutions listed in this article resolved the error in most cases.
How to Fix NVIDIA Installer Failed Error:
In case you are receiving the error too, try these troubleshooting methods listed here to fix this issue.
Method 1: Select Custom
Every Window version, include Windows 10, comes with a Window Update feature. During the Windows 10 upgrade process, the system automatically tries to download as well as install latest drivers for hardware, including graphics card.
This process usually does not take more than 10 minutes. However, sometimes it does. You might get the "NVIDIA Installer Failed" error if you attempt to install the graphics drivers as soon as the upgrading process is complete. Therefore, do not attempt installation of drivers immediately after upgrading to Windows 10; instead, wait for about 20 minutes.
Then, restart Windows and perform the steps listed ahead to install the required drivers.
Click the Custom (Advanced) option in the NVIDIA Installer window
Click the Next button
Select the option "Perform a clean installation" and follow onscreen prompts
Restart windows
The error should be gone when Windows restarts. If it persists, move on to the next step.
Method 2: Disable Antivirus/Firewall
It is possible that your antivirus software tool or firewall might be interfering with the installation of NVIDIA drivers. Therefore, temporarily turn both off. Next, open the task manager and kill all running processes related to your antivirus tool. Here's how to do this:
At first, Press CTRL+ALT+DEL
Then, Select Task Manager
Click the Processes tab
Now, Press the CTRL button, select every process related to your antivirus and then click the End Task button
Restart Windows
Then, Select the "Perform a clean installation" option in the NVIDIA Installer window
It should fix NVIDIA installer failed error.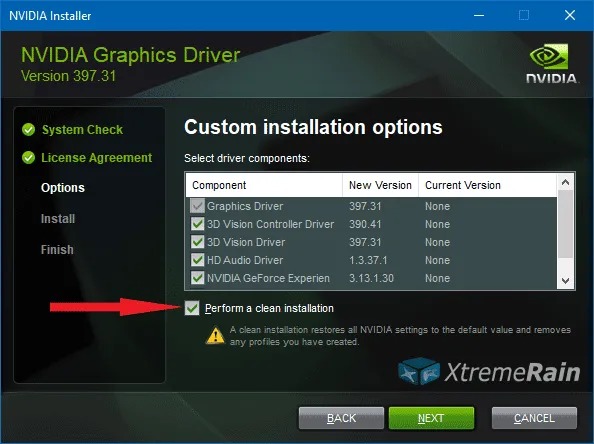 Method 3: Kill Processes
Perform this step in case the last one too didn't fix the issue. In this step, you will need to remove certain files related to NVIDIA installation. To remove these files, you must have administrator's rights on the pc.
However, first close NVIDIA processes that are still running
Open the Task Manager window
Click the Processes tab
Keeping the CTRL button pressed, select every NVIDIA process that you see
Click End Task
Once you've done that, open the C drive and locate and delete the files listed ahead:
C:\Program Files (x86)\NVIDIA Corporation\
C:\Program Files\NVIDIA Corporation\
C:\Windows\System32\DriverStore\FileRepository\nvoclock file
C:\Windows\System32\DriverStore\FileRepository\nv_lh file
C:\Windows\System32\DriverStore\FileRepository\nvdsp.inf file
Restart Windows and install the NVIDIA drivers now. But, Make sure you select custom and also tick "Perform a clean installation." Hopefully, It will resolve NVIDIA installer failed issue.
Method 4: Install in Clean Boot
This one is another cool way to troubleshoot NVIDIA graphics card driver installation errors. If any third party service is behind this problem, the clean boot can help you. So, Read this guide on how to perform the clean boot.
In clean boot state, install the driver software by selecting perform a clean installation.
Method 5: Install Using Third party Driver Installer
This one is another cool method to bypass NVIDIA installer failed error. You can use any third party driver updater. In this case, I recommend the Driver Booster. As I also use this tool. You will just need to do following things.
First of all, Download driver booster from here.
Then, Install it on your PC.
Now, Open it and scan for the not-installed and outdated drivers. You will get the NVIDIA.
Just select it and install.
This time, You will get your driver installed. But, You won't get any error.
As we expect, These methods should resolve NVIDIA installer failed.
You may have any other methods that worked for you. If yes, You are welcome to share in the comment box.
Source: https://www.xtremerain.com/fix-nvidia-installer-failed/
Content created and supplied by: Wesley4658 (via Opera News )