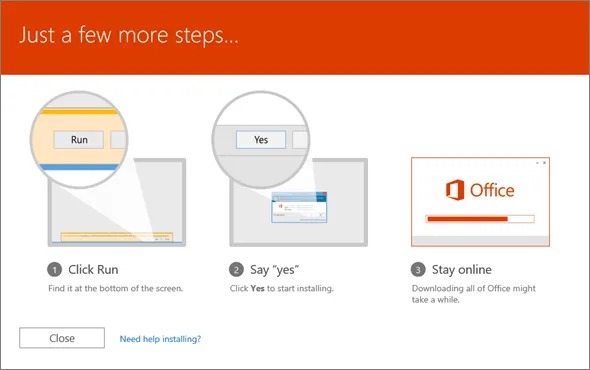 MS Office 2016 is currently the latest office software version from Microsoft. Many peoples like it for new and improved features. But, Some peoples are facing some errors with it. One of the most common problems is error 30015-6 (-1). When you try to install Microsoft Office 2016, You may encounter this error. But, You can fix this error very easily.
If you are fade up with getting the message like –
Something went wrong. Sorry, We ran into a problem.
Go online for additional help.
Error Code: 30015-6 (-1)
Don't worry. It has some solutions. You can get rid of this problem easily.
How to Fix Microsoft Office Error 30015-6 (-1):
I'll share 4 methods to fix the problem. I hope, First or any of the methods will work. But, At first, You should make sure that you have a stable internet connection. Because Connection issues may affect office 2016 installation.
Method 1: Turning Off Antivirus & Firewall:
Any third-party security program installed on your PC may interrupt any installation. It also may cause this MS Office installation error 30015-6-1. So, I would like to suggest you to disable these programs temporarily and try to install office. You also can try to turn off windows firewall. To do it-
Open Start Menu and type "Firewall".
Now, Click or tap on Windows Firewall.
On the sidebar on the left side, Find "Turn Windows Firewall On or Off".
Now, Turn Off it for the public and private network.
Then, Try to install MS Office 2016 again.
I hope you won't face the error 30015-6 (-1) again. If you still face the issue, Follow next method.
Method 2: Resetting Internet Explorer Settings
Some peoples found it helpful. So, You also can try this simple step. To do it-
Press Windows Logo + R from the keyboard to open RUN.
Type inetcpl.cpl and press Enter.
Click on Security Tab.
Now click on Reset all zones to default level.
Now, Try to install again. It should fix the error 30015-6 (-1).
Method 3: Using Office Troubleshooter
If first two methods fail to help you, I should suggest you use MS office troubleshooter. Just download and run it on your PC. Then try to install office again. It should work. But if it still fails to repair the error, Then try method 4.
Method 4: Installing Office in Clean Boot to Get Rid of Error 30015-6 (-1)
This is the last method, You can try. In clean boost stage, You can install any software that triggers errors during installation in normal boot mode. So, MS Office should be installed without any problem in this boot stage. Anyway, Here are the instructions –
At first, You have to uninstall MS Office 2016 or 365 completely and manually. To know how to do it, Click Here.
Now, You have to perform a clean boot. If you don't know how to do it, Read: Do Clean Boot Windows 10, 8 or 7.
Now, Try to install Office 365 or 2016. I hope it will work.
You also can try to install office by using a different internet connection. Sometimes, It works. However, If you know any better methods to fix installation error 30015-6 (-1), You can share with us.
Source: https://www.xtremerain.com/ms-office-error-30015-6-1/
Content created and supplied by: Wesley4658 (via Opera News )