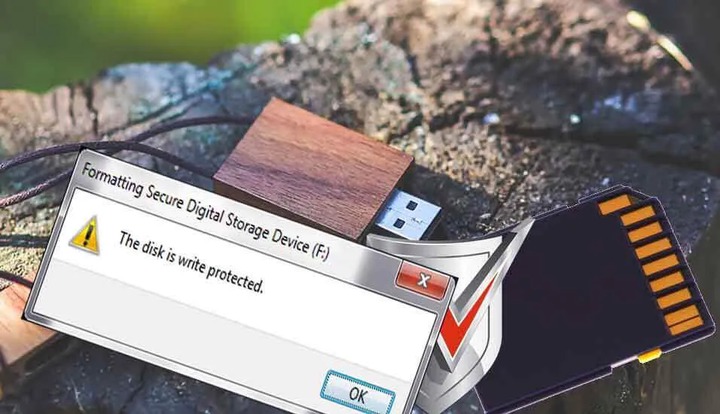 People may experience many problems with their USB flash storage drives like Pendrive, SD Card etc. The disk is write protected problem is very common among them. Now, You will know how to remove the write protection from a protected disk.
When you try to format any USB disks, It may show you this error. It totally, Prevents you from formatting or deleting even doing any changes. Where is a problem, There must be any solution. This is also same. You can easily fix this disk is write protected problem by following some common steps.

What Causes This Protected Problem in SD Card, Pendrive:
Normally, People use write protection to save their data and keep them safe in any disk drive. It can be done by tweaking read-only option enabled or by any third-party software or command. Though read-only and write protection are two different things. Again, Any fault of physical hardware can create this problem incorrectly.
Symptoms:
You may see the following message while trying to format a USB storage drive.
The disk is write-protected. Remove the write-protection or use another disk.
You also may see a Try again button. But, It is nothing. You can click on it thousand times. But, You won't be successful until you follow the actual troubleshooting ways. In some cases, People may see a different message. It may show you a file name and say "This file is set to read-only". It can happen when there is only a single or multiple protected file(s). But, The whole drive is well and writable. I will also discuss its solution.
How to Fix The Disk is Write Protected Error:
Now, I'm going to explain some ways that should work in most cases. But, Before proceeding actual methods, I like you to make sure that the SD or MicroSD or pendrive has no internal problem. However, To remove the write protection, follow those things.
1. Toggle the SD Card Switch 
Some SD cards, Card Readers, Pendrive have the Read-Only switch which prevents users from writing disk. Just, Turn it Off. Another one, Go to your USB drive properties and uncheck "Read Only" option and see what happens. If it is a single file which is protected, Just navigate to its properties and uncheck read only. Now, We can follow the actual tips.
2. Clear Read-Only Using Command
The most common and working method is clearing read-only attribute using the command prompt. I'm introducing it first. Because, You may not need other methods after trying it. If everything is fine, It will definitely fix this issue. To do it, Follow these instructions.
First of all, Open Command Prompt with administrator rights. If you are windows 10 or 8 user, Press Win + X and choose Command Prompt (Admin).
Now, Run the following command and hit Enter for each.
diskpart
list disk
select disk 1
attributes disk clear readonly
Caution: In most cases, Your removable usb disk drive should be disk 1. But, It may vary. So, Choose the correct one among disk 0, disk 1 and disk 2 carefully.
I hope, After trying this method, You will no longer encounter the problem "The disk is write protected".
2. Turn Off Write Protection from Registry Keys:
If first method doesn't go through our expectation, Don't give up. This method still exists. You can remove disable write-protect registry keys in order to fix the disk is write protected problem. Here are the steps to follow.
At first, Press Win + R.
In RUN, Type "regedit" and hit Enter. It will open Windows Registry Editor.
Now, Navigate to HKEY_LOCAL_MACHINE > SYSTEM > CurrentControlSet > Control.
Then, Find StorageDevicePolicies and open it. If you don't see it, Just right click on Control and Choose New > Key and give it name as Storage Device Policies. 
Then, Go to this key.
Now, Right click on it and navigate to New > DWORD Value. You also may see it as DWORD (32-bit) Value. Give it name as WriteProtect. If you already have the key mentioned above, You won't need to do it. Everything you will find there.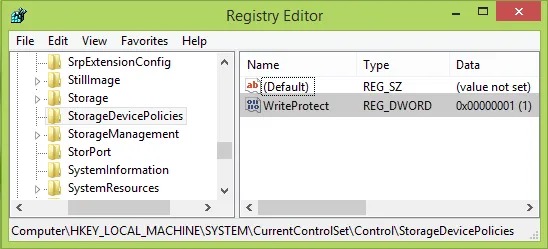 Now, Doubleclik on newly created DWORD and give its value as 1 and click OK.
Then, Close everything and Safely remove USB.
After doing it, Insert USB flash drive again and try to format it. Then see, If it has done well to fix the disk is write protected problem.
If it still fails, Repeat method 1.
Other Solutions:
There are a lot of third-party tools that can remove write protection or format write protected disk. You can search on google for them. If physical damage of your storage drive is causing this problem, You can buy new one. Because, It is very hard to repair SD Cards, Pendrives or any other similar drives and no troubleshooting steps can remove write protected problem.
Like before, I expect this article will be helpful for you. Please, Let me know whether these steps fix the disk is write protected problem or not.
Source: https://www.xtremerain.com/fix-disk-write-protected/
Content created and supplied by: Wesley4658 (via Opera News )