Source: (Fiction piece)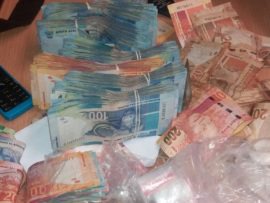 Life without money is so stressful. Since everything a man needs has to do with money. Fortunately for this man from Umlazi who made it to reaches. After finding money at the graveyard. His ancestors Led him to the graveyard where he was blessed to find money hidden there.
Life was tough the only hope he had was to wake up each morning. And go find scrap to sell, living alone without parents was actually a burden on him. Since he never got the family love. Young man lost his mother at a youngest age. And later lost his granny who took care of him.
The lady he found the money he woke up early in the morning. And made it to the graveyard to clean. After his uncle's told him about the ceremony they are about to do. Visiting the graveyard changed his life. While cleaning he noticed a plastic that was, abounded not far from the stone he was cleaning.
The moment he approached he saw money inside a white plastic. Which he took and ram home. In his mind all he could ever think of was the prayer, he started with at the graveyard. Ancestors answered his cries and gave him a sign to money.
Instead of spending on alcohol he used the cash to go back to school. Managed to get himself a license. And later started a small business in the township selling veggies.
Content created and supplied by: wegoNews (via Opera News )