African Covid-19 'Cure' Exposed as a Possible Scam Despite Massive Exports
ke.studio.opera.com
2020-07-05 16:26:46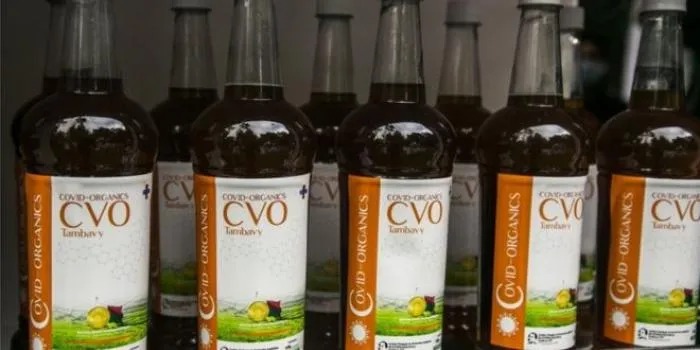 PHOTO: Bottles of Covid Organics, a herbal tea unveiled by Madagascar [TWITTER]
It is barely three months ago when Kenyans on social media put President Uhuru Kenyatta under pressure to import a 'Covid-19 cure' from Madagascar.
Thousands of Kenyans took it to Twitter demanding that President Kenyatta quickly imports the much-touted cure dubbed 'Covid Organics (CBO)' launched by Madagascar President Andry Rajoelina as the state's green gold.
The herbal concoction, according to President Andry could cure and prevent the novel coronavirus. He made nearly the whole world believe in the herb's magic power even before being validated by any scientific study.
Tanzania's President John Magufuli Pombe was among the first East African heads of state to publicly promise his countrymen that he'd import the perceived cure.
In West Africa, Nigeria was reported to have sought the herb's help with countries such as Comoros thanking Madagascar for supply of the said cure.
As of the first week of July, the number of covid-19 new infections in Madagascar implied otherwise. The country that was under the watch of global health experts re-imposed a lockdown on its capital over a new spike in infections.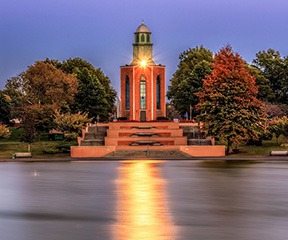 PHOTO: A graph showing a sharp increase in covid-19 new infections in Madagascar [Source/JSosi]
Perhaps, President Andry was too loose of fast to declare the herbal medicine derived from artemisia — a plant with proven efficacy in malaria treatment as a cure for coronavirus.
The country on July 4, 2020 the number of case went up, jumping to a record 216 cases after a total of 675 people were tested.
So far, Madagascar has 2,728 cumulative cases, including 29 deaths by Sunday. President Andry in a statement said, "The Analamanga region (under which the capital is situated) is returning to full lockdown."
There will be no traffic allowed in or out of the capital starting this Monday until July 20 and a strict curfew will be imposed on street movement by people.
"Only one person per household is allowed to go out into the street between 6:00 am (0400 GMT) and 12:00 pm (1000 GMT)," said the presidency in a statement.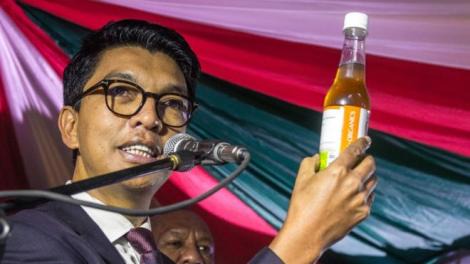 PHOTO:Malagasy President Andry Rajoelina poses with a bottle of Covid Organics on April 22, 2020 [TWITTER]
He explained that the measures were as a result of the sharp increase in number of cases in the country where only 24,000 have been testes.
Over the weekend, more than 30 per cent of those tested were found with the virus with the new restrictions being so unlikely of a country believed to have the cure for the novel.
Source: Opera News