Protect infants from virus, CS Kagwe pleads
the-star.co.ke
2020-07-09 12:20:00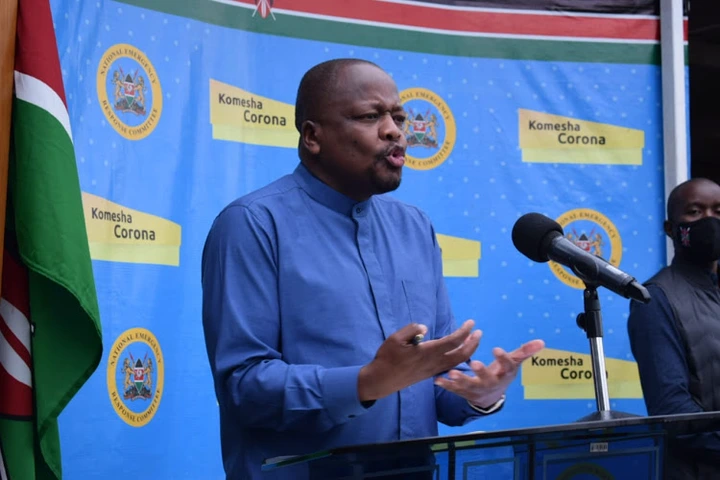 Health CS Mutahi Kagwe has asked Kenyans to protect infants against the coronavirus.
He was speaking on Thursday during his daily briefings in Mombasa.
Kagwe urged people who intend to visit women who have recently given birth not to do so.
"Men are affected by this disease more than women. For example today we have 280 men out of 447 positive cases. This is because women are more careful...," he said.
Kenya on Thursday reported 447 new cases, bringing to 8,975 the total number of infections. The youngest is a one year old and oldest is 79 years.
"Infant cases are not as many because women are very careful. Women keep discouraging people and visitors from visiting them. This is what we should do," Kagwe said.
Kagwe said instead of visiting newborns, people should send money to the parents via M-Pesa instead.
"..we need to protect infants.. tuma hata ka M-Pesa (you'd rather send cash via M-Pesa).. that visit can wait," he said.
Thursday's cases are the highest since onset of the pandemic.
The new cases emerged from 3,803 samples that were tested in the last 24 hours, Health CS Mutahi Kagwe said.
A total of 200,311 samples have been tested to date.
Earlier, KNBS report noted that over a third of Kenyans are still not adhering to the government's directives on practising social distancing.
Some 63.6 per cent of Kenyans said they were practising social distancing.
The survey on Socioeconomic Impact of Covid-19 on Households Report by the Kenya National Bureau of Statistics was conducted between May 30 and June 6.
Respondents were asked on the various measures they have put in place to avoid contracting the c0ronavirus.
The majority of the respondents (95.7%) reported practising washing hands with soap and water as a way of protecting themselves.
About 84 per cent of the respondents were using masks.
Almost all of Kenyans are now fully aware of the current coronavirus pandemic.
On Monday, President Uhuru Kenyatta lifted the cessation of movement in Nairobi Metropolitan Area, Mombasa and Mandera counties from Tuesday, June 7, 2020.
However, the President has extended the nationwide curfew currently in place between 9 pm and 4 am by another 30 days.
Source: Opera News