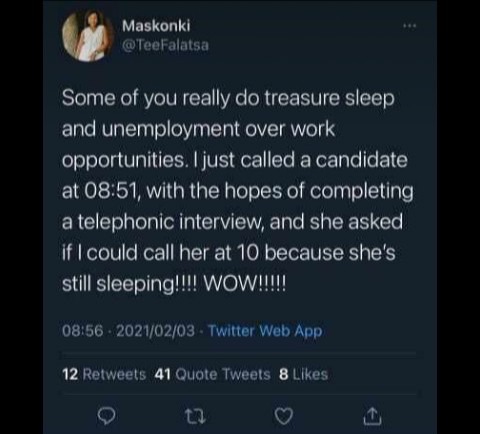 Imagine blowing up the only chance you've been praying for, only because you want to cuddle your sleep, the same sleep that can't get you a job.
We are living in a very difficult times right now, a lot of companies are going under and are being compelled to retrench, others are shutting their businesses and there's no hope of the economy getting better anytime soon.
Applying is one exhausting thing that people go through, because even with their last cents, they still don't get a job, it's even worse now because people with more experience are being let go by their companies, making it hard for those who don't even have one to secure an interview.
The sad thing about the system is that, it's tough and inconsiderate because of the age restriction that they put, other people have been trying to secure internships, apprenticeships and etc with no luck and they are now over 35 years, the maximum age restriction, now what are they supposed to do?
While that may be it, there are people who are playing with opportunities, a lady shared how her Interviewee asked her to call at 10 because she's still sleeping.
Who in their right mind messes with such an opportunity, virtual interviews are much easier than face to face interviews.
People needs to take themselves serious before anyone does.
Content created and supplied by: Pamart92 (via Opera News )