Thomas Vusi who is allegedly an employer for a South African cleaning company was recently exposed by Facebook screenshots.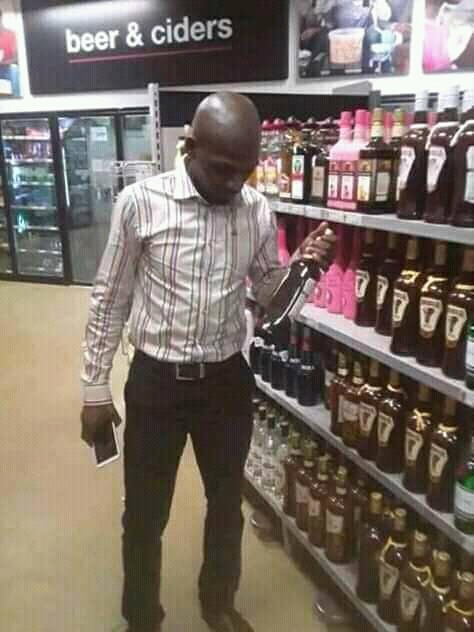 According to these screenshots, Thomas doesn't employ people for free. He even said something like that at the end of a post about an employment opportunity.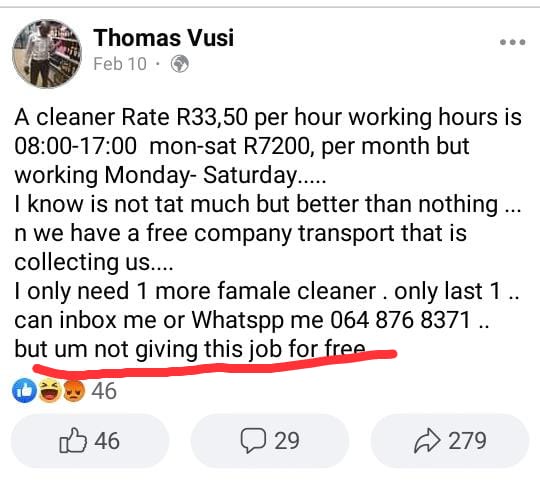 If you are a man, you repay him by cold hard cash but if you are a woman you actually have two choices. Either by cash or your b0dy, like I've said it depend of whichever you can afford.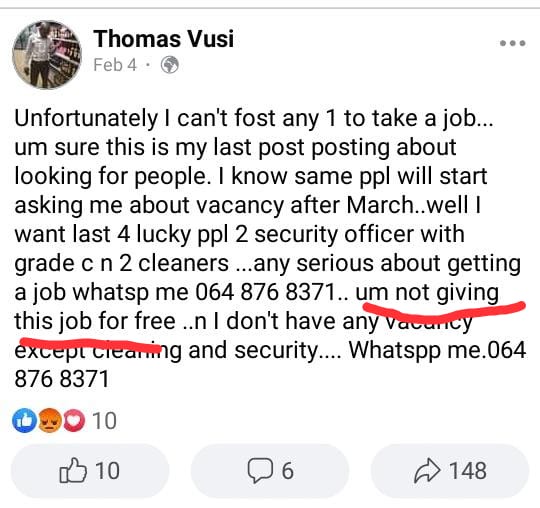 One Facebook lady sent Thomas a message regarding a job opportunity and as usual Thomas was sure to make it clear that he wants to gain something before providing any job vacancy.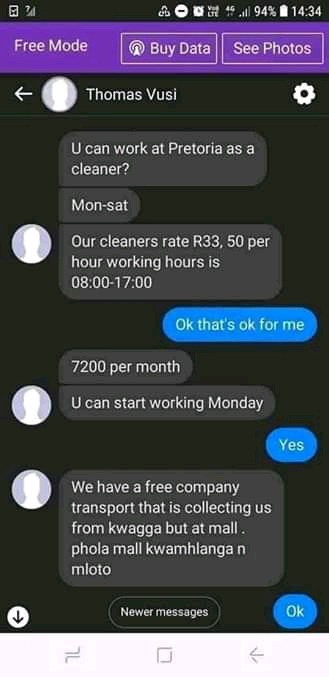 In these screenshots, a mysterious lady is asking for a job from Thomas whonis appardently an employer. He then answered by giving the lady last the full details of the work and even the monthly pay.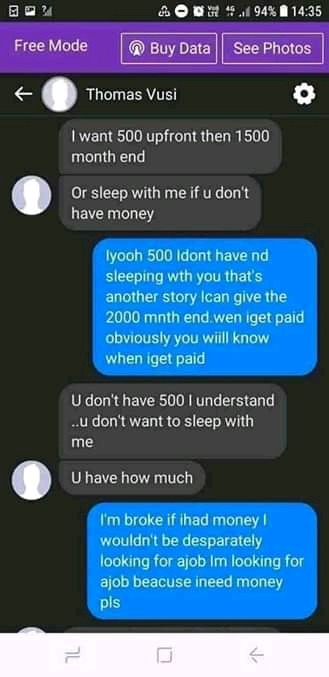 Out of the blue then decloses the last two job details. That is inorder for the last to be fully employed, she should pay R 2000 to Thomas. R500 upfront then R1500 when she gets her first pay. He furthers to insinuate provided she disnt have money, she should her b0dy to pay him.
Because the lady didn't have a R500 and refuses to meet the last demand. She missed out on a job opportunity. "I guess i will give thie job to someone more serious" said Thomas Vusi.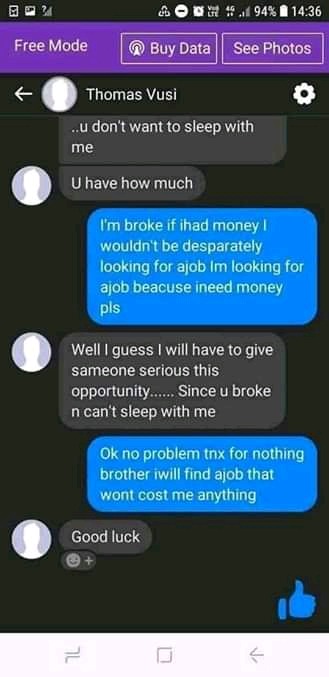 On another post, Thomas was even boosting about his loaded back account. You can say its as result of making people pay for jobs people on the very same post there two women booting about how they are swiftly eployed by Thomas booting.
In a nutshell, this means the two women paid Thomas inorder to get employment. "Thomas Vusi is a blessing" said Thandeka Cindy who probably paid for a job too.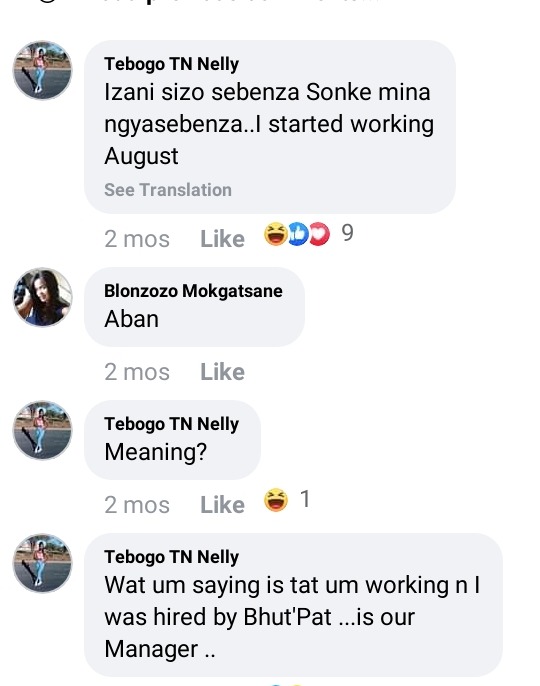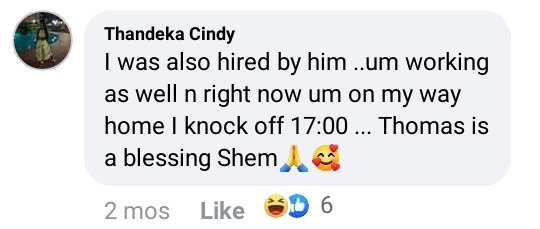 As you can see Some people were seriously fed up with Thomas' behaviour to a point whereby they even wished him death because he is giving all men a bad name.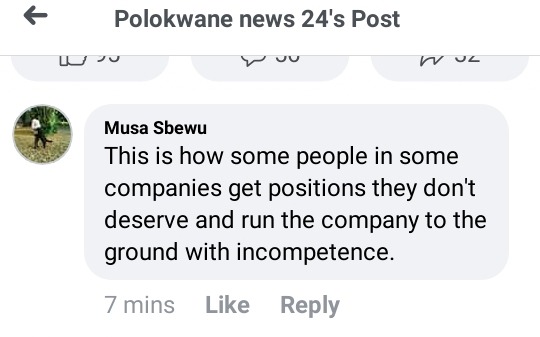 Wise words from Nomalanga who encouraged women to never sell themselves short for a job vacancy.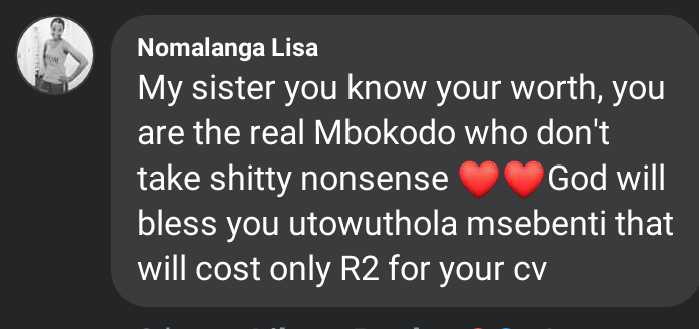 Some people believe he is doing nothing wrong because he is asking them nicely and being open about it.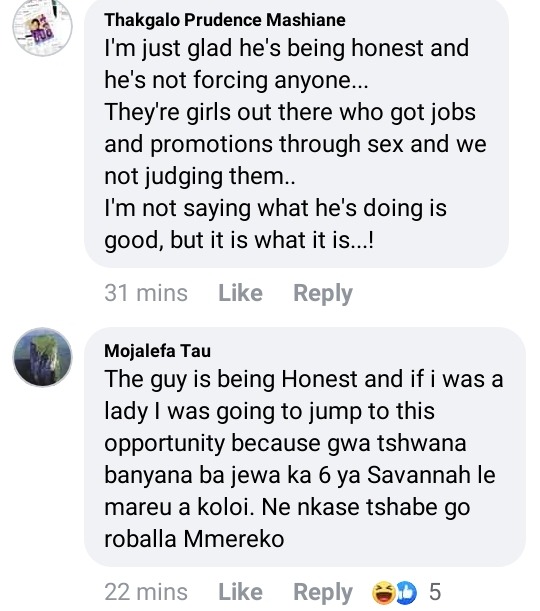 Sources- https://www.facebook.com/100038612889954/posts/408138997149860/?app=fbl
https://www.facebook.com/228193627706328/posts/1006697676522582/?app=fbl
https://www.facebook.com/599420080156332/posts/3572934479471529/?app=fbl
Please Comment, Like, Share and Follow me for more content.
Content created and supplied by: The_Presence (via Opera News )